This recipe has been featured in a post on The Recipe Girl Blog: Cuban Dinner Party Menu.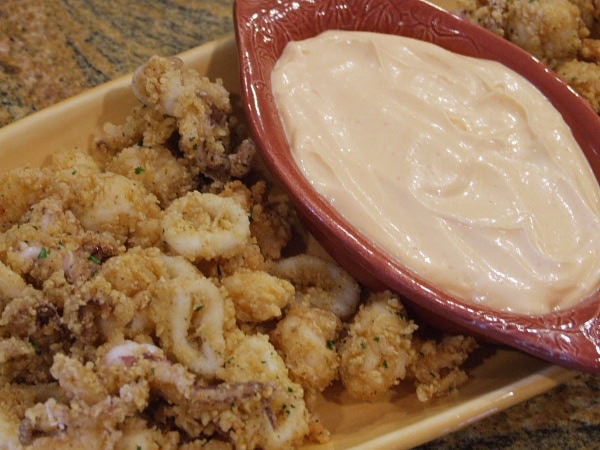 Fried Calamari with Spicy Mayonnaise
Yield:
Serves 12
Prep Time: 20 minutes + chilling time
Cook Time: 30 minutes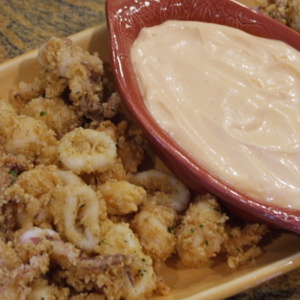 Ingredients:

1 cup mayonnaise (low fat is fine)
3 teaspoon Sriracha or Thai garlic-chili sauce
2 pounds fresh calamari (tubes & tentacles), rinsed & sliced into rings
2 cups buttermilk (low fat is fine)
2 cups all-purpose flour
2 teaspoons salt
2 teaspoons freshly ground black pepper
2 teaspoons paprika
vegetable oil

Instructions:

1. In a small bowl, stir together mayonnaise and Sriracha. Cover with plastic wrap and chill until ready to serve.

2. Soak calamari in buttermilk; chill at least 1 hour. Whisk together flour, salt, pepper and paprika in a medium bowl. Remove calamari from buttermilk & dredge in flour mixture. Shake off excess, and separate rings and tentacles.

3. Pour oil to depth of 2 inches into a large pot; heat to 365°F. Fry calamari, in batches, 1 minute or until done. Drain on paper towels, and serve warm with spicy mayonnaise.