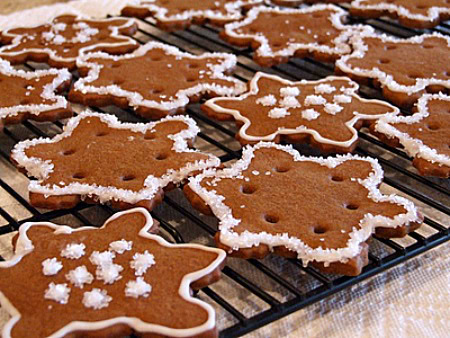 Gingerbread Snowflakes
So pretty! Delicious too. For the Royal Icing, I used a plastic bottle with a skinny tip that I purchased at my local cooking store. It was so easy to squeeze and control when tracing the outline of the snowflakes.
Yield:
5 dozen cookies
Prep Time: 1 hr + chill time
Cook Time: 10 min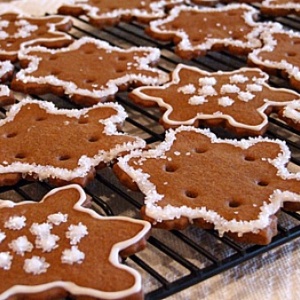 Ingredients:

COOKIES:
1 cup salted butter, softened
1 cup granulated white sugar
1/4 cup water
1 1/2 teaspoons baking soda
1 cup molasses
5 cups all-purpose flour
1/4 teaspoon salt
1 1/2 tablespoons ground ginger
1/2 teaspoon ground allspice
1 1/2 teaspoons ground cinnamon

ROYAL ICING:
16 ounce package powdered sugar
3 tablespoons meringue powder
5 to 6 tablespoons warm water
1 teaspoon light corn syrup

DECOR:
sparkling white sugar (optional)
powdered sugar (optional)

Instructions:

1. Beat butter and sugar at medium speed with an electric mixer until fluffy (3 to 4 minutes). Stir together 1/4 cup water and baking soda until dissolved; stir in molasses.

2. Combine flour and next 4 ingredients. Add to butter mixture alternately with molasses mixture, beginning and ending with flour mixture. Shape dough into a ball; cover and chill 1 hour.

3. Roll dough to 1/4-inch thickness on a lightly floured surface. Cut with a 3-inch snowflake cookie cutter. Place 2 inches apart on parchment paper-lined baking sheets. Poke holes in snowflakes using a plastic drinking straw, if desired.

4. Bake at 350°F. for 10 to 12 minutes. Cool 1 minute on baking sheets; remove to wire racks to cool completely.

5. Spoon royal icing into a small heavy-duty zip top plastic bag. Snip a tiny hole in 1 corner of bag, and outline and decorate cookies; sprinkle icing with sparkling sugar, if desired. Or sprinkle plain cookies with powdered sugar.

Tips:

*Royal icing dries quickly, so be sure to do one cookie at a time- drizzle the icing on a cookie, then sprinkle the sugar right away so it will stick.