Here's my first holiday cookie recipe of the season: Hot and Spicy Gingersnaps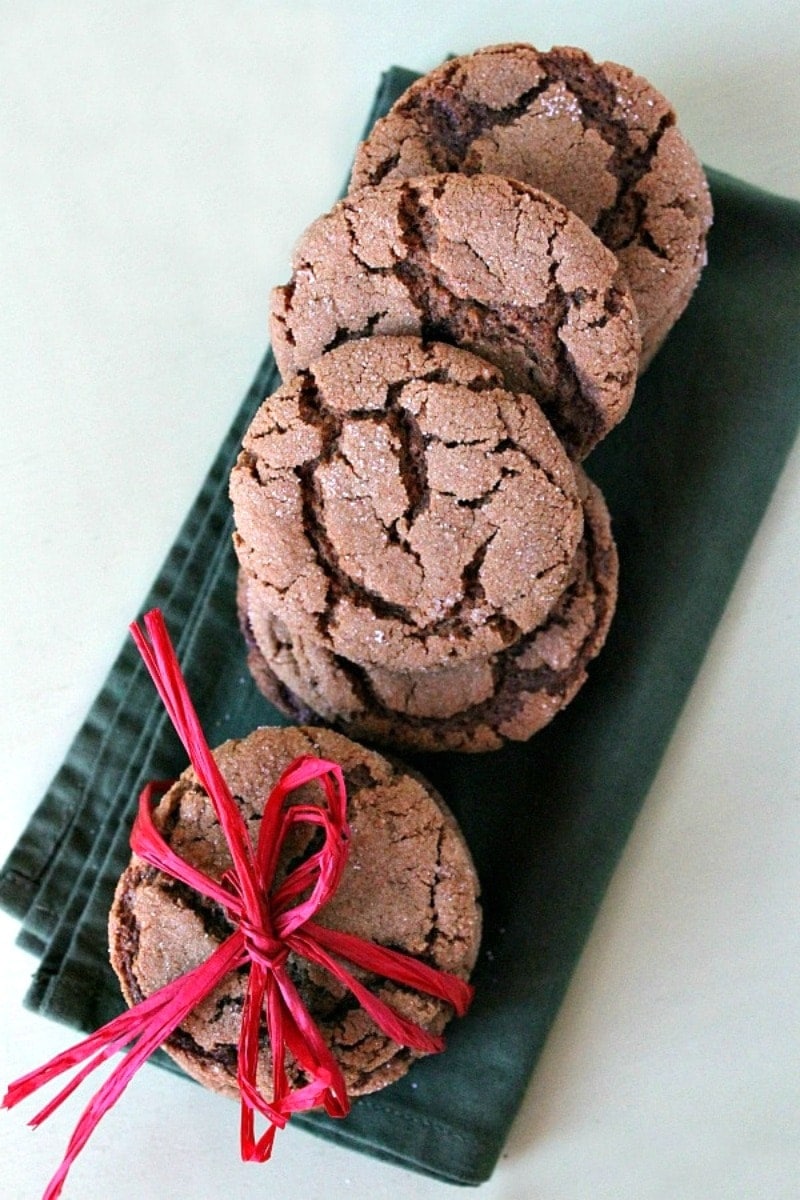 Hot and Spicy Gingersnaps:
With this recipe, I hereby declare that holiday baking season 2012 has officially begun. And if I'm really being honest with you, I'll admit that I actually started my holiday baking about 2 1/2 weeks ago! My Christmas decorations are completely unpacked and already strewn across the house. I love the Christmas holiday so much- you see- that I stretch it into lasting as long as possible.
Way back when I was an active San Diego Junior Leaguer, we put together a cookbook to raise funds. These Hot and Spicy Gingersnaps were one of the recipes I tested for that cookbook. It was tested and rated by 3 to 4 people, and it was deemed delicious enough to make the cut and appear in the finished book: California Sol Food (still available for purchase!).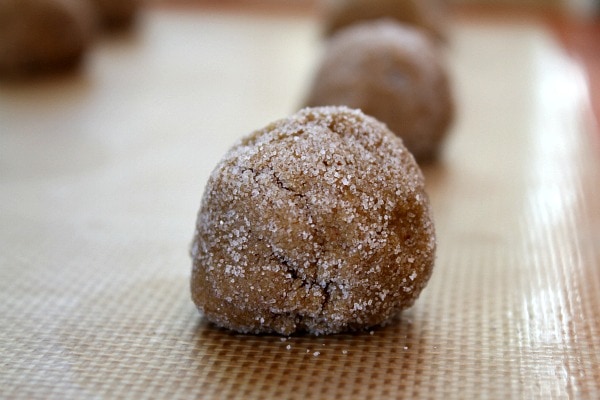 A simple gingersnap dough is rolled into balls and then rolled in sugar. Let me explain about the hot and spicy. The "hot" in the recipe comes from the addition of cayenne pepper. The "spicy" just refers to the typical spices found in a classic gingersnap cookie (ginger, cloves, cinnamon).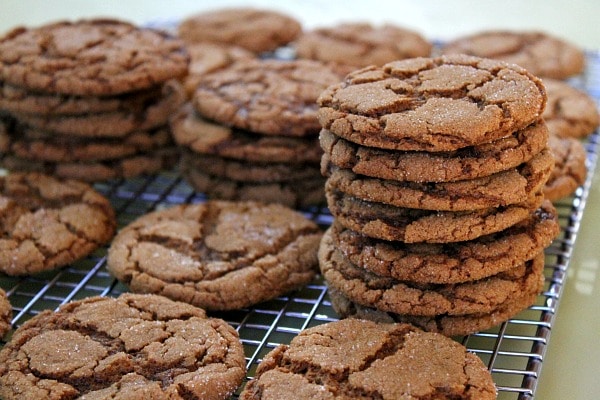 When these cookies bake, they get the best crackles and crevices ever. Check out those cookie crackles! Pretty perfect.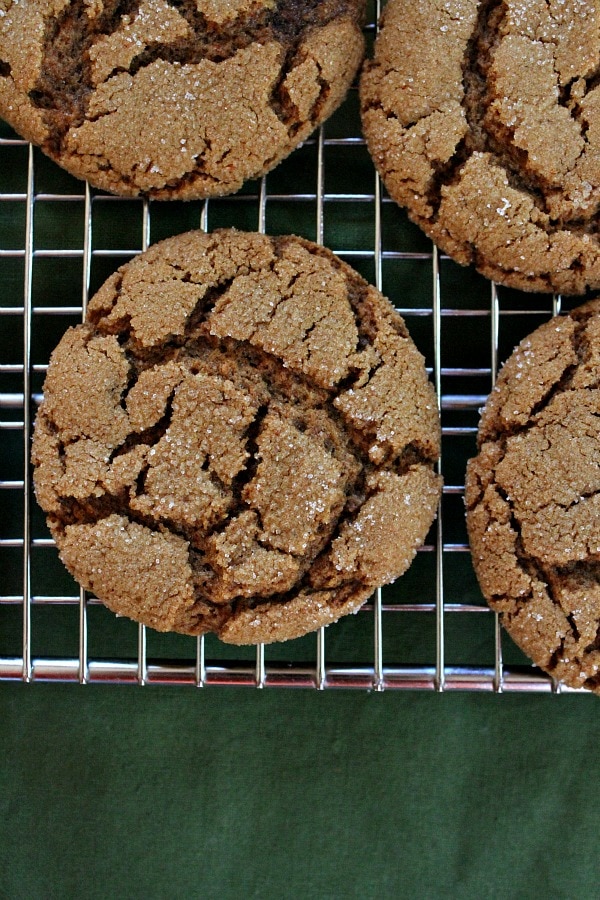 Are these cookies hot and spicy?
More details on the "hot and spicy" reference.
#1: I don't like spicy food. My husband doesn't like spicy food. My kid won't even try spicy food! But we enjoy these cookies!
#2: I gave a cookie to my kiddo, let him eat it and then asked for his feedback.
me: Do these Hot and Spicy Gingersnaps taste spicy to you… as in spicy hot?
kiddo: No. Why, are they supposed to be?
me: I added a little cayenne pepper in there.
kiddo: Oh. (after a couple of minutes…) Now I can taste it. The heat comes through a couple minutes after you eat it, but it's not super hot or anything.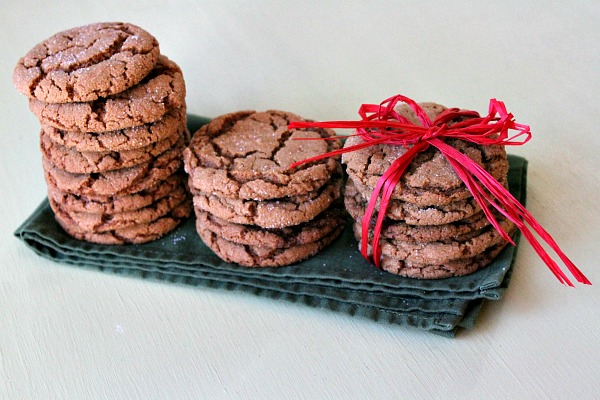 So there you go- some gingersnap cookies that have a teeny tiny "bite" to them… makes 'em kind of unique and special. I have so many goodies in the works this year that I've never made before… some chocolate- caramel cookies, jelly sandwich cookies, vanilla cut-outs, and a couple of gluten free varieties too. I want to make some candies, a trifle and a gingerbread roll. All of that and I'd like to lose about 8 pounds before Christmas. Yeah, good luck with that one, right? My secret… chewing lots and lots of gum and/or drinking green tea while baking! And gifting a whole lot of treats!
What are you baking this year?
Here are a few more spicy recipes you might like to try:
Hot and Spicy Gingersnaps
Cayenne gives it that KICK... not too spicy, but just enough to make it have a little bite.
Recipe Details
Ingredients
COOKIES:
2½

cups

all purpose flour

1½

teaspoons

baking soda

1

teaspoon (or more)

ground ginger

-- if you like a strong flavor, add more!

3/4

teaspoon

ground cinnamon

1/2

teaspoon

ground cloves

1/2

teaspoon

salt

1/2

teaspoon

cayenne pepper

1/2

cup (1 stick)

unsalted butter,

at room temperature

1

cup

packed light brown sugar

1/2

cup

granulated white sugar

1/3

cup

molasses

2

large

egg whites
FOR ROLLING:
4

tablespoons

granulated white sugar
Instructions
Preheat the oven to 350°F. Line baking sheets with parchment paper or silpat mats.

In a medium bowl, whisk together the flour, baking soda, ginger, cinnamon, cloves, salt and cayenne pepper.

In a large bowl, use an electric mixer to beat the butter until light and fluffy. Add the brown sugar and white sugar and beat until blended. Blend in the molasses. Add the egg whites and beat until well-combined. Add the flour mixture 1/3 at a time and beat until blended after each addition.

Spread the rolling sugar on a small plate. Shape the dough into 3/4-inch balls and roll in the sugar until lightly coated. Arrange the balls 1 inch apart on the prepared baking sheets.

Bake 8 to 10 minutes or until brown. Cool on the cookie sheet for 2 minutes. Remove to a wire rack to cool completely. Store in an airtight container.
Nutrition
Serving:
1
cookie
,
Calories:
79
kcal
,
Carbohydrates:
14
g
,
Protein:
1
g
,
Fat:
2
g
,
Saturated Fat:
1
g
,
Cholesterol:
5
mg
,
Sodium:
63
mg
,
Potassium:
51
mg
,
Fiber:
1
g
,
Sugar:
9
g
,
Vitamin A:
70
IU
,
Calcium:
10
mg
,
Iron:
1
mg