This is the most perfect recipe for baked beans that I've ever put together > Sweet and Spicy Baked Beans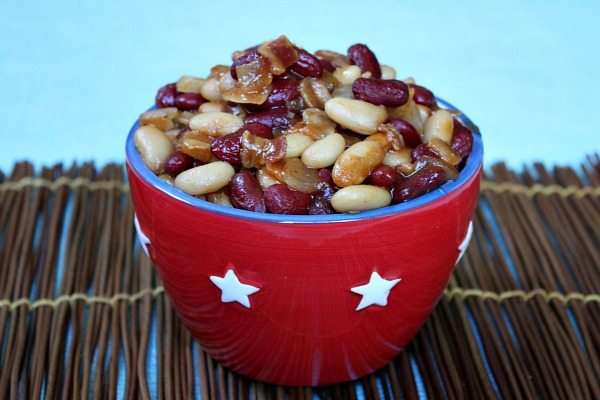 There's a big holiday coming up later this week in the fabulous USA- 4th of July!  We take 4th of July seriously in our house.  In fact, we begin celebrating on the 3rd with a barbecue, friends, family and fireworks.  Then we repeat it all over again on the 4th.  Does anyone else go crazy-overboard in celebrating?  It's the best!  I suppose it's also a reason to have a party.  And my family definitely loves to have parties and entertain.  It's so easy to grill, and make some salads and side dishes to offer guests.  These Sweet and Spicy Baked Beans are definitely going on our menu this year!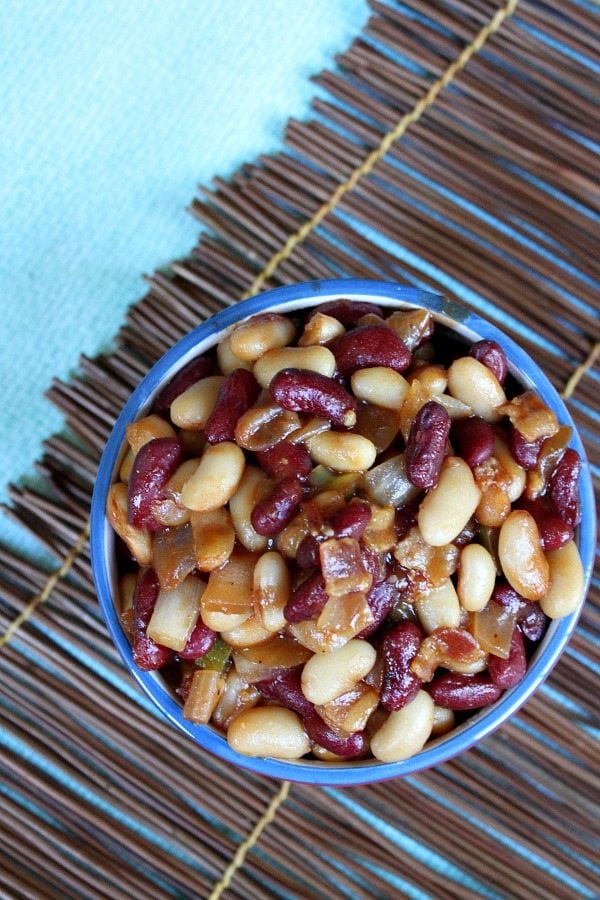 Now, when I say sweet… I mean that there is a sweetness to these beans, but not overly so.  And when I say spicy… I mean that there is a spice to them, but not crazy-spicy (unless you WANT to make them crazy-spicy).  For bacon lovers, I've added a good amount of bacon to these beans too.  Bacon makes baked beans 99.2% better.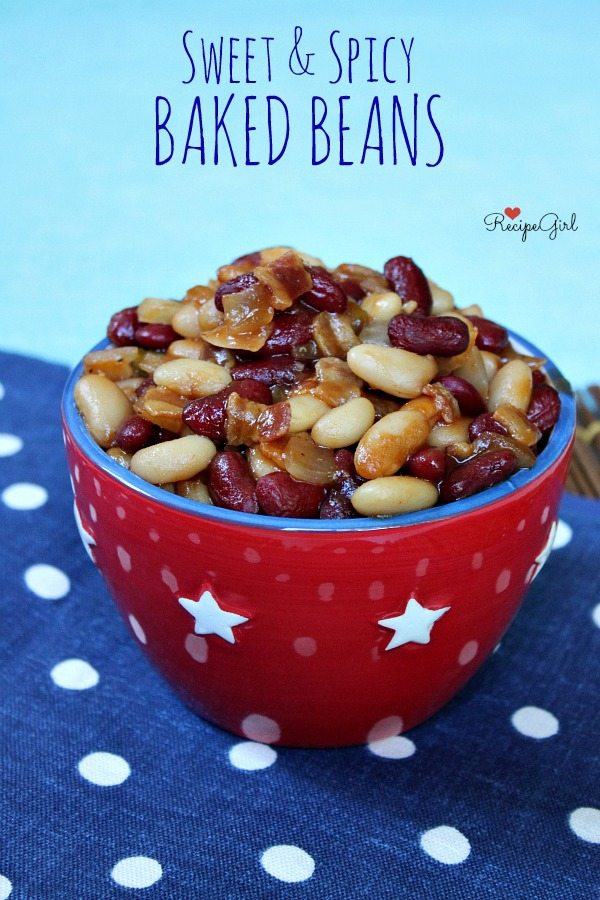 The recipe serves a small crowd (about 10 servings), so it's perfect for serving for a summer barbecue.  Your guests will love the fact that you made "homemade" baked beans (even though we're starting with canned beans here) instead of the usual canned kind that – to me- are a bit overboard with syrupy sweetness.  These beans should make you happy.
Happy 4th of July week all!
Sweet and Spicy Baked Beans
Yield:
10 servings
Prep Time: 25 min
Cook Time: 55 min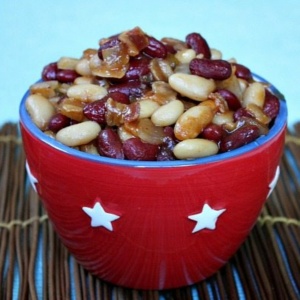 Ingredients:

6 slices bacon
1 large onion, diced
1 large green bell pepper, diced
1/3 cup packed brown sugar
1 to 2 tablespoons Dijon mustard
Three 16-ounce cans cannellini or navy beans, rinsed and drained
Two 16-ounce cans kidney beans, rinsed and drained
One 18-ounce bottle sweet and spicy barbecue sauce (I like Sweet Baby Ray's brand)

Instructions:

1. Preheat the oven to 350 degrees F. Spray a 9x13-inch pan (or similar casserole dish) with nonstick spray.

2. Cook bacon in a large nonstick skillet over medium-high heat until crisp. Remove bacon from the pan and set on a paper towel to drain. Remove all fat from the pan except for about 1 tablespoon of the bacon fat. Saute onions and bell pepper in the bacon fat until softened- 6 to 8 minutes.

3. In a large bowl, combine the onion/pepper, bacon, beans, brown sugar, Dijon, beans and barbecue sauce.

4. Bake, uncovered, for 45 minutes. Serve immediately, or keep covered until ready to serve.

Tips:

*Make these as spicy as you want. One tablespoon of Dijon will give it a little kick, and two tablespoons will give it more. It also depends on the spice-factor of the barbecue sauce you choose to use.
*If you are preparing this recipe as GLUTEN-FREE, just be sure to use brands of bacon, Dijon, beans and barbecue sauce that are known to be GF.