This recipe has been featured in a post on The Recipe Girl blog: Labor Day Grilling Party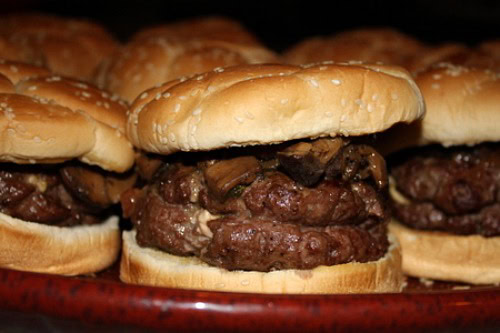 Gorgonzola-Stuffed Beef Burgers w/ Sauteed Wild Mushrooms & Caramelized Red Onion Marmalade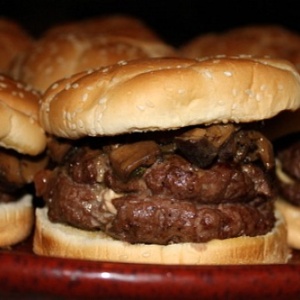 Delicious and decadent summer-time burger...
Yield:
4 servings
Prep Time: 40 min
Cook Time: 45 min
Ingredients:
BURGERS:
2 pounds ground beef
1/2 teaspoon freshly ground black pepper
1 1/2 teaspoons salt
1/2 cup crumbled gorgonzola cheese
SAUTEED MUSHROOMS:
3 Tablespoons unsalted butter
1 medium shallot, minced
2 cloves garlic, minced
2 teaspoons minced fresh thyme
1/2 ounce dried porcini mushrooms, soaked in one cup of hot water for 20 minutes, squeezed dry and minced (save the soaking liquid!)
1/2 pound shiitake mushrooms, stems removed and thinly sliced
1/2 pound cremini mushrooms, sliced
3 Tablespoons brandy or cognac
salt and freshly ground black pepper, to taste
RED ONION MARMALADE:
4 large red onions, thinly sliced
1/2 cup olive oil
1/4 cup brown sugar
2 Tablespoons red wine vinegar
2 Tablespoons heavy whipping cream
salt and freshly ground black pepper, to taste
4 toasted onion or poppy seed rolls
Directions:
1. Prepare beef patties: In a mixing bowl, gently combine beef with salt and pepper. Divide meat into 8 equal portions. Quickly form each portion into a flat patty, handling the meat as little as possible. Sprinkle 4 of the patties with two Tablespoons of the gorgonzola cheese. Top with the remaining four patties of beef and pinch the sides together to form a seal, indent the center. Refrigerate for 20 minutes, then set out at room temperature until ready to grill.
2. Prepare mushrooms: Heat butter in a large frying pan until melted. Add shallot, garlic & thyme and sauté for 3 minutes or until the shallot is tender. Add all of the mushrooms and season with salt and pepper. Sauté over medium-high heat until the mushrooms begin to brown. Remove the pan from heat and add brandy and reserved mushroom-soaking liquid. Continue to cook this mixture until all of the liquid has evaporated and the mushrooms are tender.
3. Prepare onion marmalade: In a large sauté pan, heat oil until hot but not smoking. Add the onions, cover and cook over medium-low heat until onions are very soft and golden brown, about 25 minutes. Raise the heat to medium-high and add the vinegar and brown sugar. Cook until the liquid has almost evaporated and a thick syrup has formed. Add the heavy cream, salt and pepper to taste.
4. Grill & assemble the burgers: Grill burgers until desired amount of doneness. Place one burger on each bun and top with one Tablespoon of the marmalade and a heaping spoonful of the sautéed mushrooms.
Source: RecipeGirl.com (via La Taverna Restaurant)