Here's another great banana bread recipe >  Greek Yogurt Banana Bread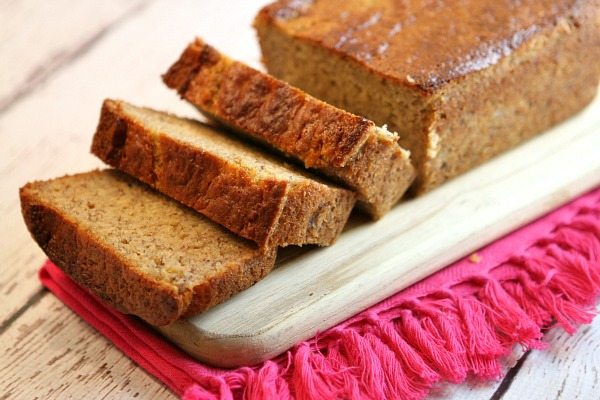 As the first month of the new year progresses, I'm continuing to make as many positive changes as my life allows.  We've had a rough start as my husband broke his leg just after Christmas in a sledding accident.  The silver lining in this story is that we have been able to spend a lot of time together as a family, and I've made healthy meals for us to eat at home almost every day since it's been tough for my husband to get around.
When the bananas on the counter begin to blacken, it's always a great time to make banana bread, so this is a new version I'm sharing with you today.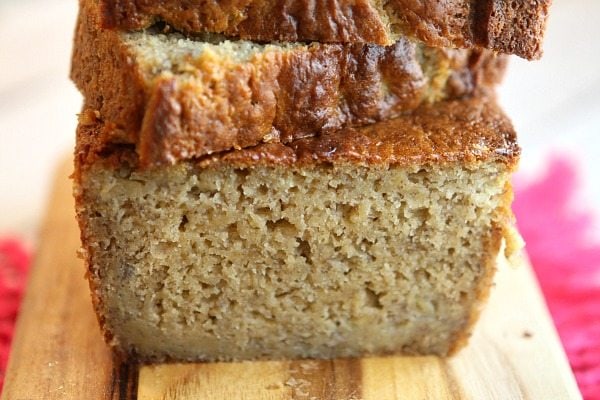 With healthy ingredients utilized like Greek yogurt, honey and applesauce, the result was this beautiful loaf of banana bread- super, super tender and moist, not overly sweet, and delicious.  The bonus is that there is added protein in there from the Greek yogurt!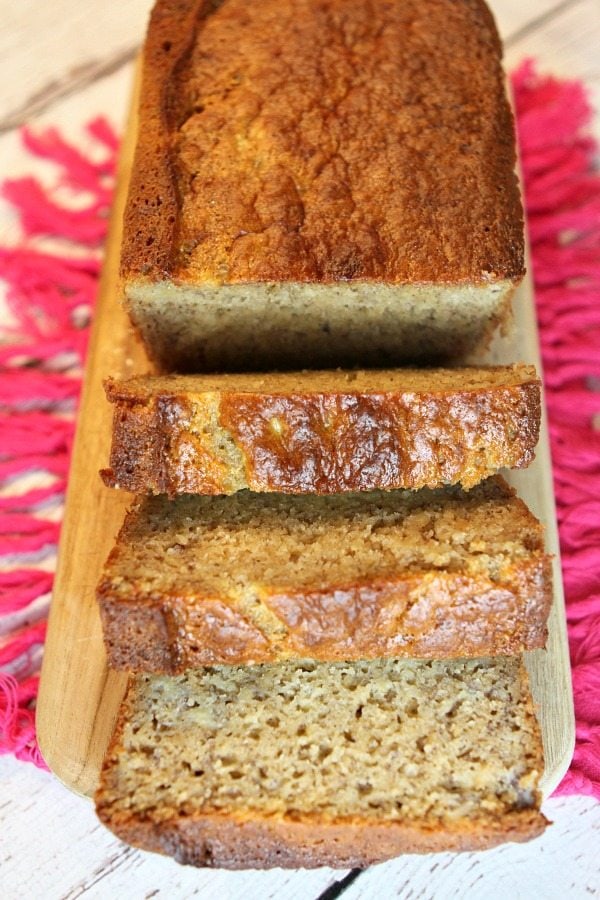 My husband is getting pretty tired of sitting on the couch with his leg propped up, so surprises like freshly baked banana bread delivered with his coffee in the morning are totally appreciated.  He asked me what I did to the bread to make it so moist and tender.
My little victory was accomplished with this Greek Yogurt Banana Bread!
Greek Yogurt Banana Bread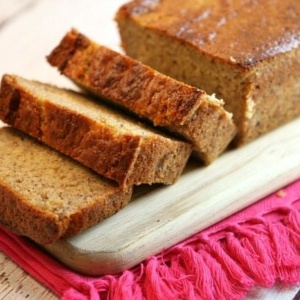 Yield:
8 servings
Prep Time:20 minutes
Cook Time:55 minutes
Ingredients:
1 1/2 cups all-purpose flour
1 teaspoon baking soda
1/2 teaspoon baking powder
1/2 teaspoon salt
1/2 teaspoon ground cinnamon
1/2 cup nonfat plain Greek yogurt
1/3 cup honey
1/3 cup packed light brown sugar
1/4 cup (1/2 stick) butter, melted
1/4 cup unsweetened applesauce
2 large eggs
1 teaspoon vanilla extract
4 small ripe bananas, mashed (or 3 large)
Directions:
Preheat the oven to 350 degrees F. Spray an 8x4-inch loaf pan with nonstick spray.
In a medium owl, whisk together the flour, baking soda, baking powder, salt and cinnamon. Set aside.
In a large bowl, whisk together the yogurt, honey, brown sugar, butter, applesauce, eggs and vanilla. Whisk in the mashed banana. Then add the dry ingredients and whisk those in until everything is well combined.
Scrape the batter into the prepared pan and bake for about 55 minutes, or until the bread is golden and tests done with a toothpick inserted into the center coming out clean. Cool for at least 20 minutes, then turn the bread out onto a cooling rack to cool completely.
Nutrition:
9 Weight Watchers Freestyle SmartPoints per serving (divide the bread into 8 slices, and you get one slice!)
SOURCE: RecipeGirl.com
Here are a few more banana bread recipes you might enjoy: