Since I haven't overdosed you on Halloween recipes this season, I have to at least tickle your toes with a recipe or two, right? We are huge sangria lovers in our house. Huge!  Huge, like I order it in every restaurant when I see it on the menu. Sometimes I'm disappointed though since I think I can usually make it better at home. You can make today's recipe any 'ol time, but I added a few fun touches to make it a HALLOWEEN SANGRIA.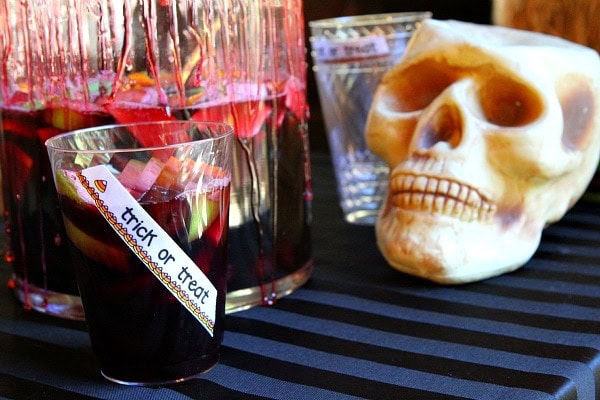 You might be able to spy the fun touches in the photo.  Blood?  Do you see the blood?  It's fake.  I'll teach you how to do that later…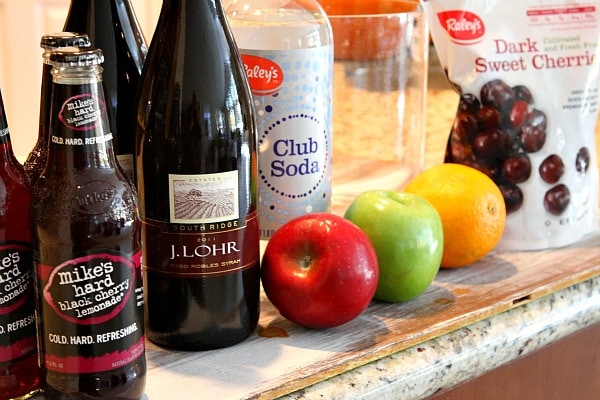 Here's what you need for your Halloween Sangria recipe.  Your red wine can be a Sryah or a Rioja.  Kinda cheaper wine is just fine for this recipe.  I went medium cheap.  Here's how you make it >>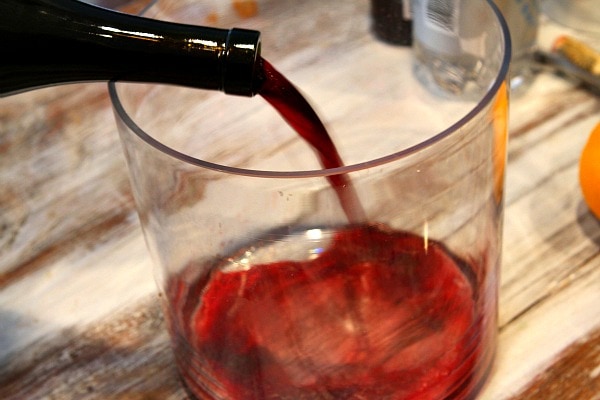 Pour your wine into a cool sangria container (I got this cylindrical glass container at my local HomeGoods store).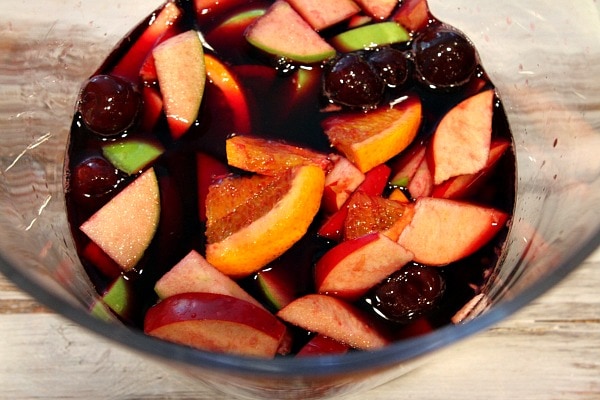 Add fruit- red apple, green apple, orange and cherries (frozen totally fine).  Let this mixture chill-out in the fridge for several hours- or overnight if you'd like.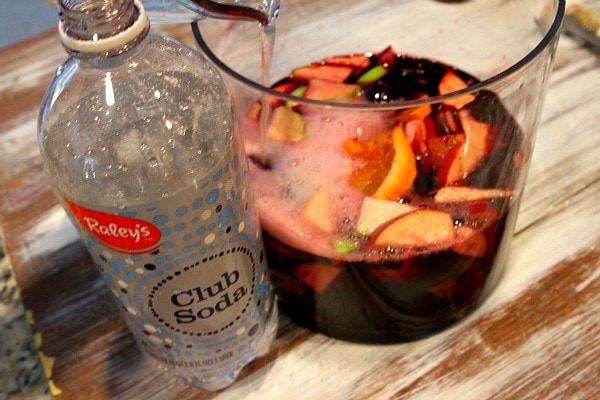 When you're ready to serve to guests, add 2 cups of club soda…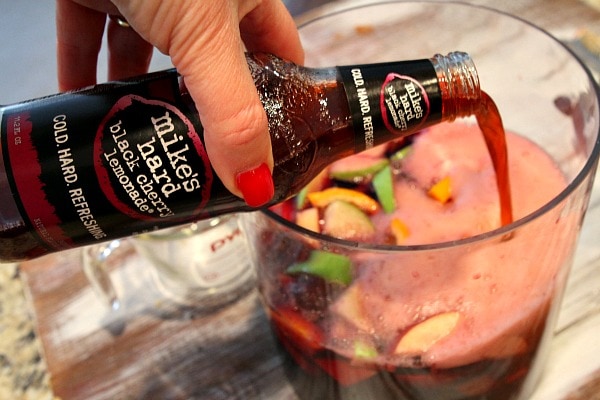 …then add three bottles of Mike's Hard® Black Cherry Lemonade.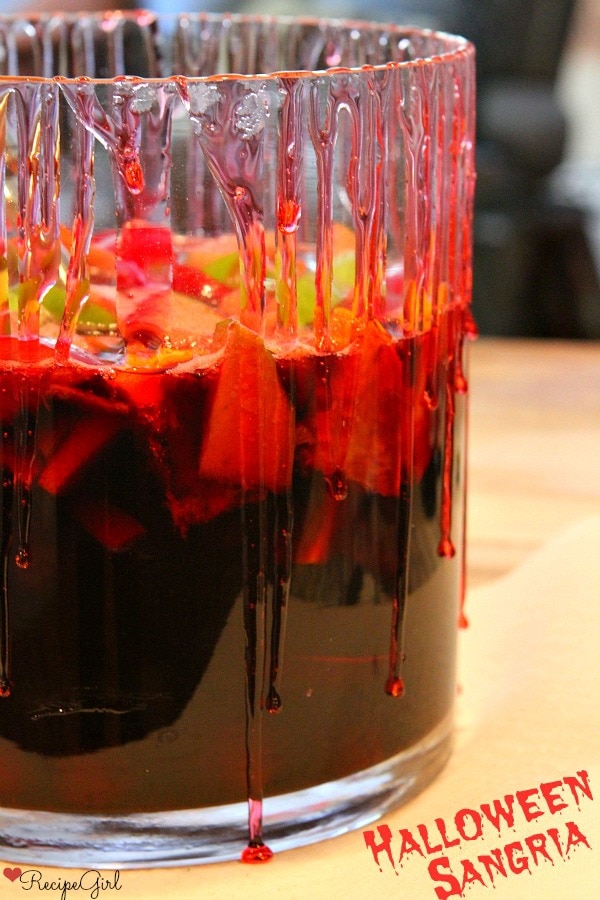 If you want to add some blood to the sides of the serving container, just mix some corn syrup with a few drops of red food coloring.  Spoon it along the edges of the container and let it drip down the sides.   >>SPOOKY!<<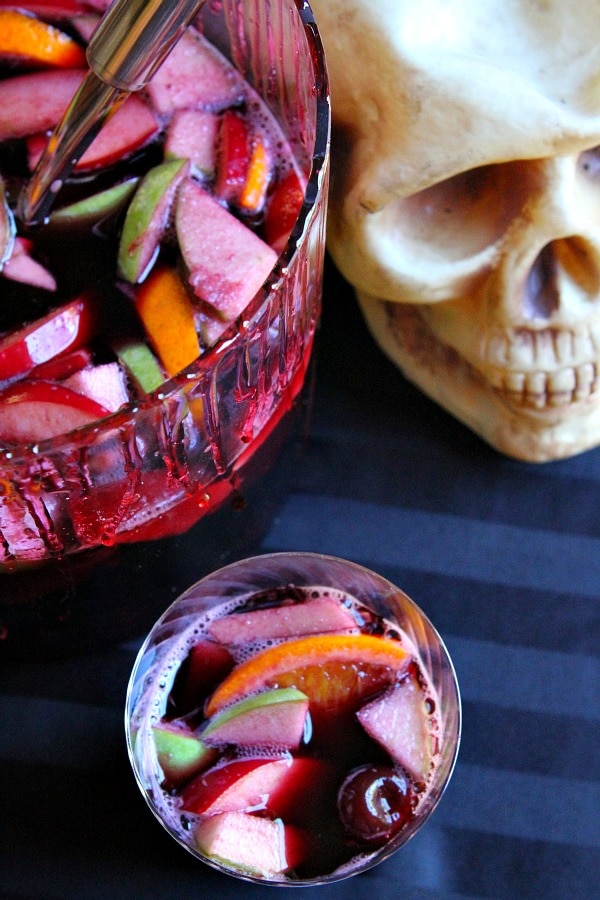 Ready to serve!  I don't like to serve my sangria over ice since it has so much of that fabulous fruit in there, but you can certainly offer ice to your guests in case they want it.  This sangria tastes just like a Black Cherry- Red Wine Sangria.  It's perfectly RED for Halloween.  Be sure to offer spoons to your guests because they'll want to munch on that soaked fruit!  Stay tuned for an Adult-Themed Halloween Party Menu… coming up on Friday!
Halloween Sangria
Yield:
About 10 cups
Prep Time: 20 min + chill time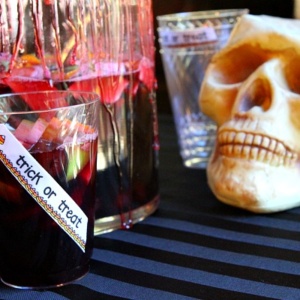 Ingredients:

One 750 ml. bottle Rioja or Syrah (semi-cheap is just fine)
1 orange, sliced
1 red apple, cored and sliced
1 green apple, cored and sliced
1 1/2 cups frozen sweet cherries
2 cups chilled club soda
Three 11.2-ounce bottles Mike's Hard® Black Cherry Lemonade (chilled)
ice, as needed
fake blood drips, optional (see *Tips)

Instructions:

1. In a pitcher or bowl, mix wine with fruit. Refrigerate until well-chilled, at least 4 hours and up to 24 hours.

2. When ready to serve, add the club soda and Mike's Hard Lemonade. Serve immediately (in cups with ice cubes, if desired).

Tips:

*If you'd like to add "fake blood" to the sides of the pitcher or bowl, mix 2 tablespoons corn syrup with a few drops of red food coloring. Spoon it onto the edge of your serving container and let it drip down the sides.
Disclosure: I was given samples of Mike's Hard® Lemonade, but I was not compensated to create a recipe using their product. It's a product that I know and love! All opinions shared are my own.