Do you have intentions of dressing up on Halloween this year? In the past, my husband and I have dressed up for a few crazy parties > once as those cheerleaders from years-ago Saturday Night Live, another time as a celebrity couple- Pamela Anderson & Tommy Lee, and most recently we were outfitted in Gatsby-themed attire. This year I shall stay home to hand out full-size candy bars (yeah, come to my house!) And I'll invite a few friends over for a rockstar Halloween dinner. Today I'm sharing a Halloween Party Menu… one that includes goodies that kids might not want to eat (and definitely shouldn't drink!)… and one that is especially for the adults to enjoy on Halloween.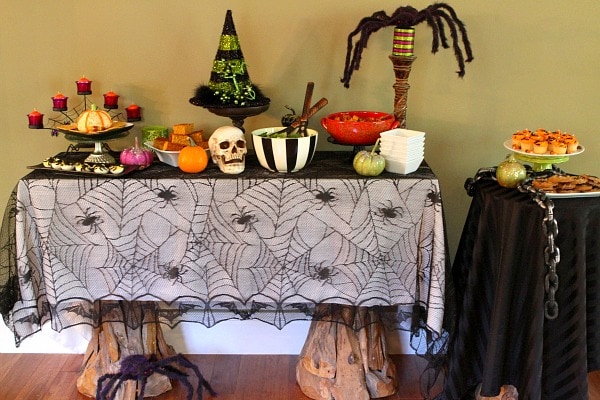 For my decor: I visited a craft store and picked up a cool spiderweb overlay tablecloth (set over a plain white cloth). I displayed plenty of spiders and candles, along with skulls and chains.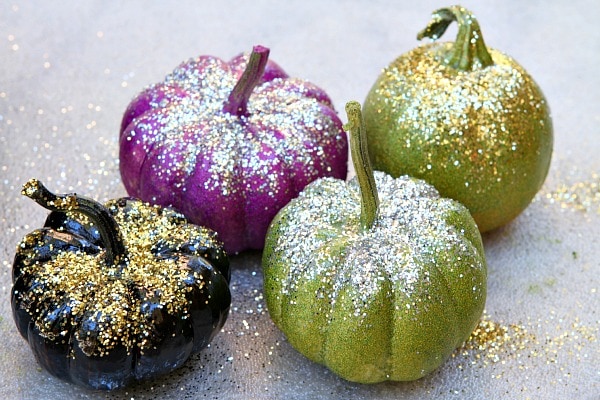 These are homemade glitter pumpkins. They're real pumpkins (the miniature kind). To make them: spray the pumpkins with regular spray paint, let them dry, then spray the tops with adhesive spray and sprinkle with glitter. Let dry completely, then use them for decor. If you have room for the big guys, it's fun to spray those with some really bold and bright colors and display them around the house and on the front porch.
I decorated regular plastic cups to go with my sangria. To make these: buy some festive Halloween ribbon at a craft store, spray with adhesive spray and stick them onto your cups.

Handy tip

: If you'd like to make each cup different, that's a cool way for your guests to remember which cup is theirs!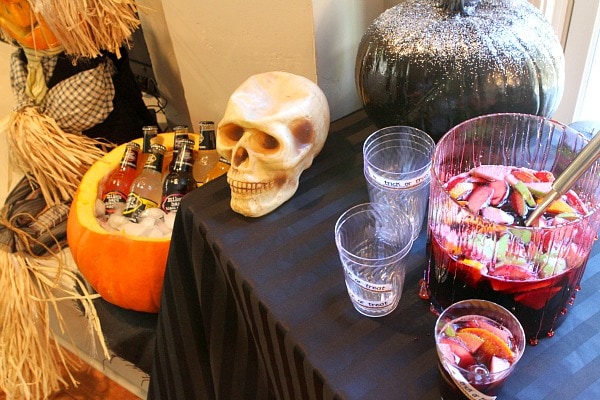 The Recipes! > Click on the recipe titles below to reach the actual printable recipes to use for Halloween.
My Drink Station: a spot for my

sangria

(using a black tablecloth to absorb the drips from the red sangria). And a large, homemade pumpkin cooler to hold the

Mike's Hard Lemonade

. Be sure to include water somewhere on your drink station so your guests don't go too overboard with the alcohol (and it's nice to have options for those who choose not to drink as well).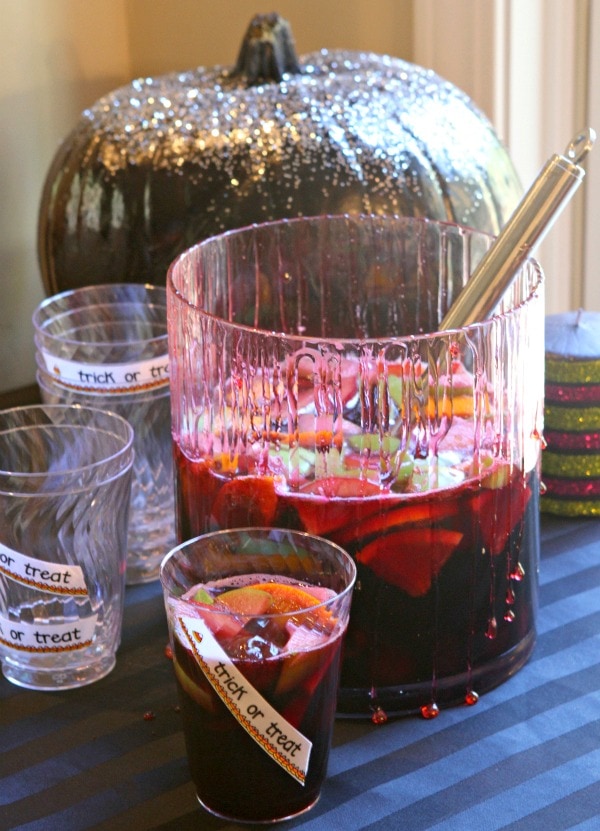 The

HALLOWEEN SANGRIA

: I can't say enough about how delicious this is. It's a red wine sangria infused with fresh fruit, topped off with club soda and Mike's Hard Black Cherry Lemonade. It tastes like a fabulous Black Cherry Sangria. If you look closely, you'll see "fake" blood dripping down the sides of the sangria container. This completes a spooky look for Halloween!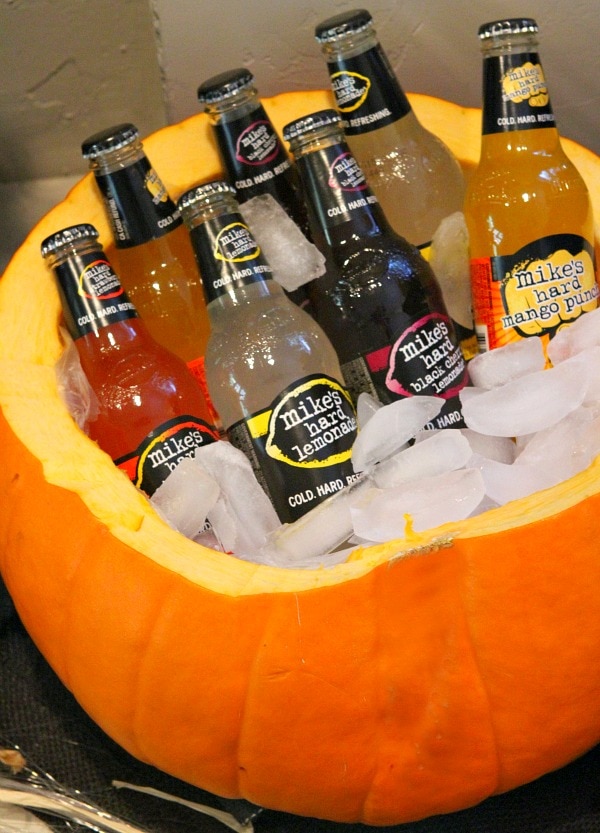 The Pumpkin Cooler: This is definitely a hip and cool way to share your bottled beverages on Halloween. To make it: buy a large pumpkin, cut off the top and scoop out and discard the insides. When you're ready to party, fill a small, clear trash bag with ice, plop it into the pumpkin, cut off the bag so it's at pumpkin's edge, and tuck your bottles inside. Oddly enough, the pumpkin serves as great insulation and the ice does not tend to melt very quickly at all.

Mike's Hard Lemonade

: the perfect choice for a Halloween party! There are quite a few flavors to enjoy, but I love the original Mike's Hard Lemonade, the Hard Strawberry Lemonade, the Hard Black Cherry Lemonade and the Hard Mango Punch. Having a variety of flavors on hand will be nice for your guests (because most likely they all prefer a different flavor). If I'm not drinking that delicious sangria that I mentioned above, I'm all over

Mike's Hard Mango Punch

(my favorite).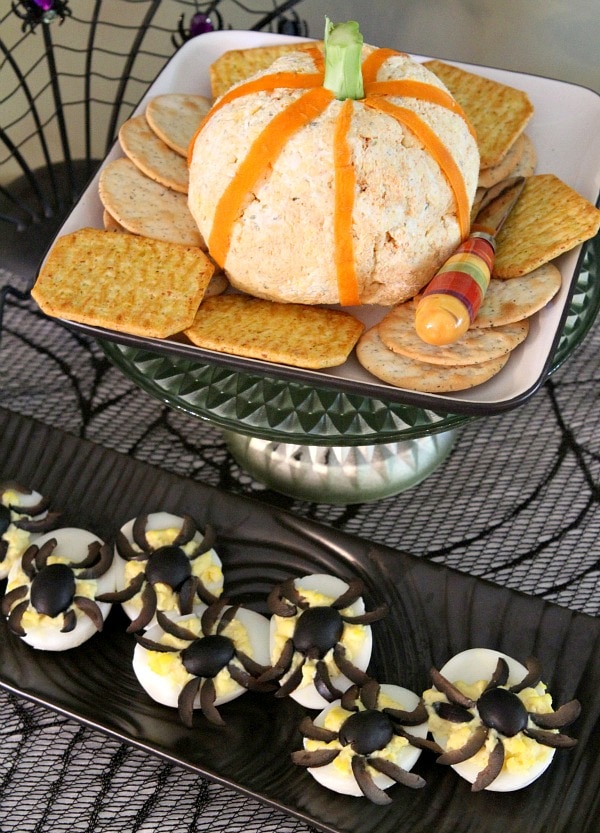 The appetizers:

PUMPKIN CHEESE BALL

(super easy to make and kind of festive-looking, isn't it?…. and

SPIDER DEVILED EGGS

– follow the recipe in the link, but use olives to add the spider detail. Half of an olive for the spider body, then cut long, thin pieces of olive for the legs. Remember that spiders have 8 legs!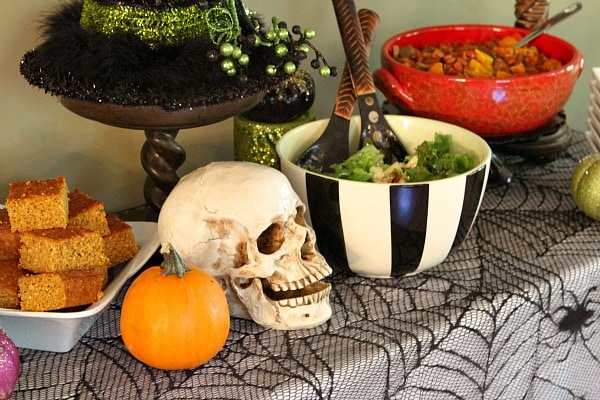 The main dishes: CHICKEN CHILI with MAPLE-ROASTED PUMPKIN (chili is filling and warm and comforting… I've always considered it the perfect main dish for Halloween!), AUTUMN SALAD (always include a salad to lighten things up a bit), and PUMPKIN CORNBREAD (easy-to-make and super flavorful. It's a great dunker for the chili).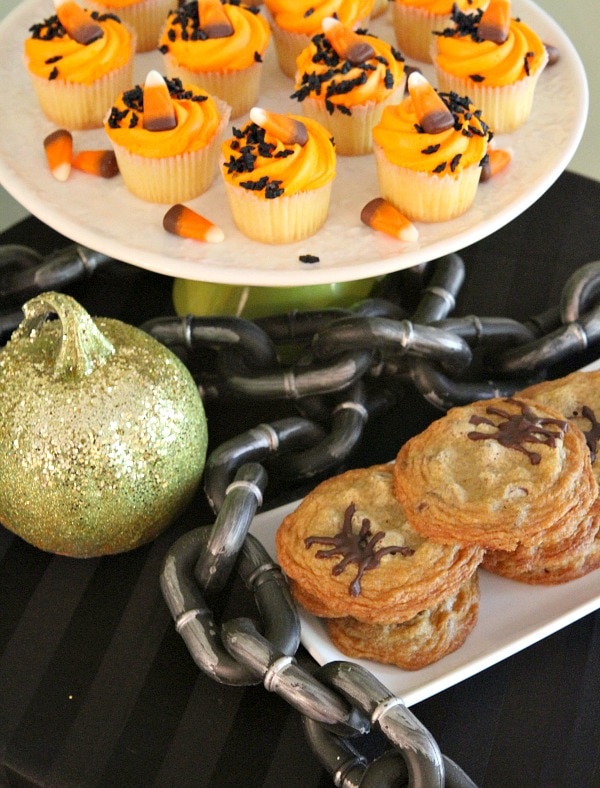 The desserts: Finger foods are best for a casual party like this. PUMPKIN CUPCAKES WITH CREAM CHEESE FROSTING (make them mini-sized so they're a one-bite deal) and SPIDER CHOCOLATE CHIP COOKIES (these are super cool- just make your favorite chocolate chip cookie recipe, then melt a couple of chocolate chips on top and use a toothpick to make the spider detail.)
The best part… most of these dishes can be made one day ahead- just warm up the chili, top off the sangria with the bubbly stuff, toss your salad and you're good to go!
Have a Happy Halloween!
Disclosure: This post was written in partnership with Mike's Hard Lemonade to create a Halloween-themed party. All opinions shared are my own.