I'm the early riser in my house. Like 5am really early riser.  I grab a tall cup of hot tea (no caffeine for me!) and fuel-up with a banana and a little peanut butter while I check my email and bounce around on all of my social media sites. After I scoot my little one off to school, I head to the gym for an hour or so. When I get home from the gym, I'm ravenously hungry again. Sometimes I re-fuel with eggs, but more often than not I grab a favorite flavor of Greek yogurt (love the vanilla + honey) and a few generous spoonfuls of granola. I've never really found a store-bought granola that I'm entirely enamored with, so I usually make my own Homemade Granola.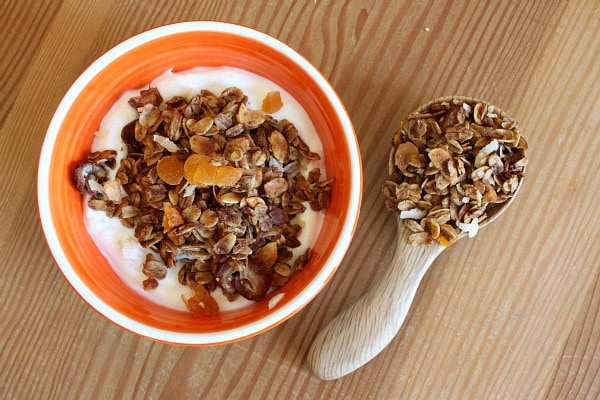 If you've never made your own, you might be surprised how ridiculously easy it is to make. Just a little mixing and then toasting it in the oven.  And the great thing is– you can customize it to exactly how you like it. Add in whichever nuts you enjoy most, try a few different combinations of dried fruits, and add as much or as little sugar as you'd like.  My version here has sliced almonds, apricots and dates.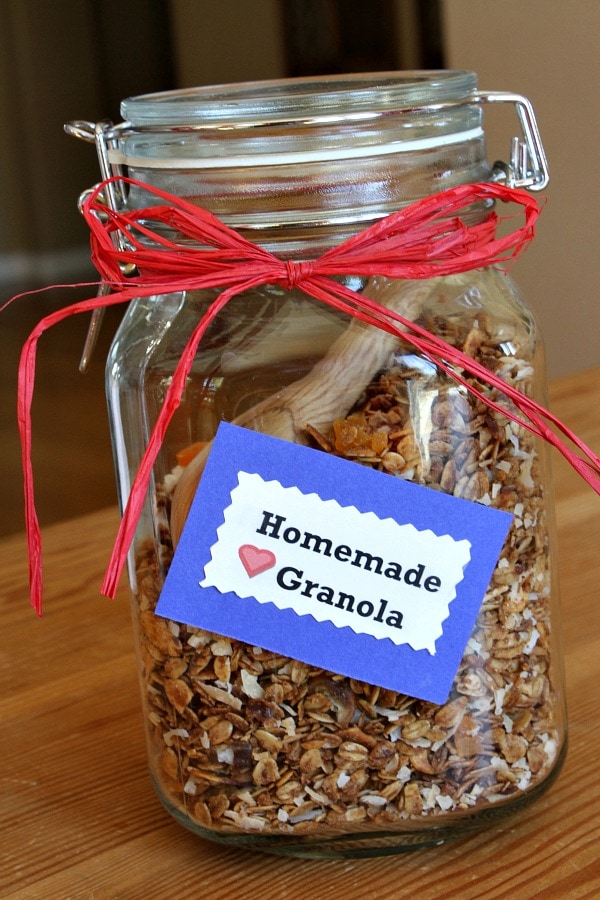 It stays perfectly edible and delicious for at least a couple of weeks.  Just keep it in a sealed jar and it's ready for topping yogurt… or snacking by the spoonful.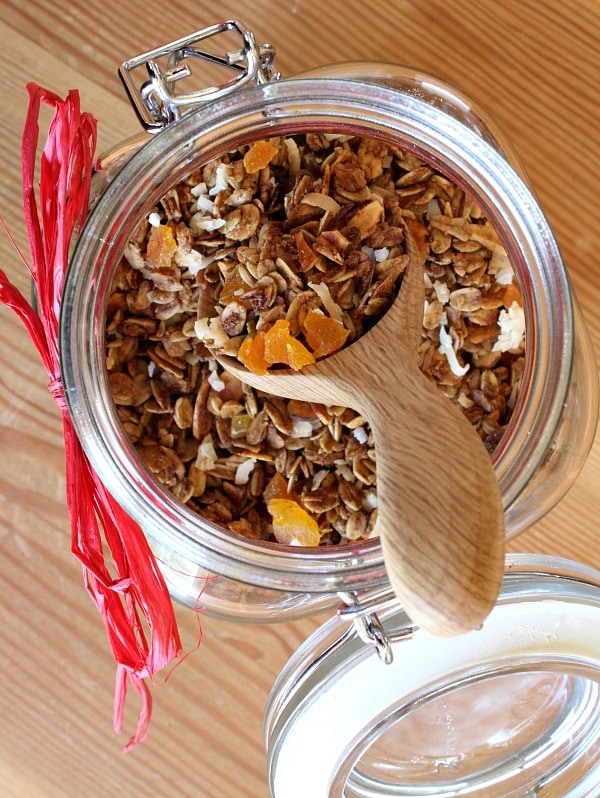 One thing that may deter people from making their own granola is buying bags of nuts, dried fruit and coconut that you wouldn't normally be purchasing or keeping in your pantry.  I have a great money-saving suggestion for you:  shop at one of the stores that has dry food bins in bulk.  Scoop out exactly what you need and just pay for that.  No excess spending and possible waste of those ingredients sitting in your pantry unused.  In my area, Whole Foods and Sprouts both offer bulk bins.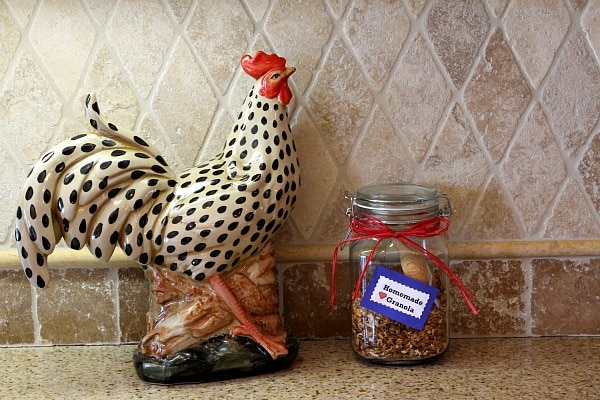 My homemade granola was cute enough to earn a spot on the counter next to my prized kitchen rooster.  That's big.  Really big.  I seriously love my rooster.  Hope you try to make your own homemade granola… it's so much better than store-bought and there isn't a long list of unknown, hard-to-pronounce ingredients either.
I was on local TV earlier this week– making Greek Yogurt Pancakes, but I gave my granola a shout-out too.  You can view the segment HERE, if you are interested.
Homemade Granola
Yield:
About 5 cups
Prep Time: 15 min
Cook Time: 40 min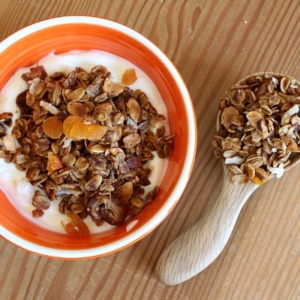 Ingredients:

3 1/2 cups old-fashioned rolled oats
1/2 cup sliced almonds, roughly chopped pecans or unsalted cashews
1/4 cup packed brown sugar
1/2 tablespoon grated orange zest
1/2 teaspoon ground cinnamon
1/4 teaspoon grated fresh nutmeg
1/4 cup (1/2 stick) unsalted butter
3 tablespoons maple syrup
1/2 cup shredded or flaked coconut, toasted (see tips below)
1/2 cup coarsely chopped dried fruit (raisins, dates, figs, blueberries, cranberries and/or apricots)

Instructions:

1. Preheat oven to 325°F. Spray a large rimmed baking sheet with nonstick cooking spray.

2. Combine the oats, nuts, sugar, zest, cinnamon and nutmeg in a large mixing bowl. Stir together until mixed well.

3. Place butter and syrup in microwave safe bowl. Heat until the butter is melted. Stir, and add the syrup mixture to the oat mixture; mix until moistened. Spread the oat mixture into the prepared pan and pat down.

4. Bake on a lower rack for 20 minutes. (*To toast the coconut, spread the shreds on separate baking sheet. Toast for 10 to 15 minutes on the very bottom rack while the granola is in the oven). After baking your granola for 20 minutes, remove the baking sheet from the oven and use a spatula to move the granola around and expose pieces that were underneath. Bake an additional 15 to 20 minutes longer, or until the granola is golden brown. Remove from oven and let cool.

5. When cooled, scrape the granola into a bowl and mix with the toasted coconut and dried fruit. Store in an airtight container for up to two weeks.

Tips:
*If you are preparing this recipe as GLUTEN-FREE, just be sure to use GF oats, and use a brand of syrup that is known to be GF.
*If more nuts are desired, add 3/4 cup whole unsalted cashews.

Tips:

*If you are preparing this as GLUTEN-FREE, just be sure to use GF oats and make sure that you're using syrup, coconut and dried fruit that is free of gluten too.