I have so been looking forward to summer – not because our weather in San Diego is all that different – but because I get to share my favorite grilling recipes with my foodie friends like my new obsessive worthy sticky, sweet heat Honey Sriracha Orange Chicken!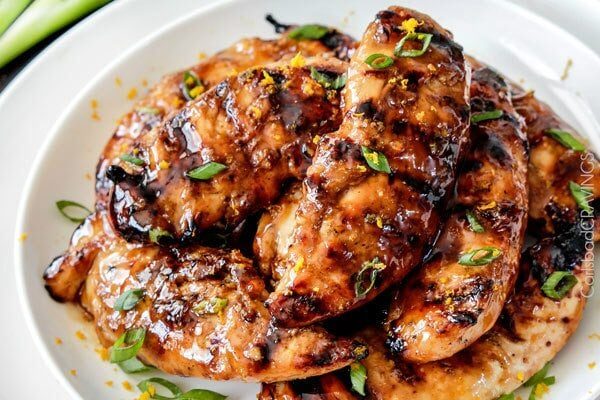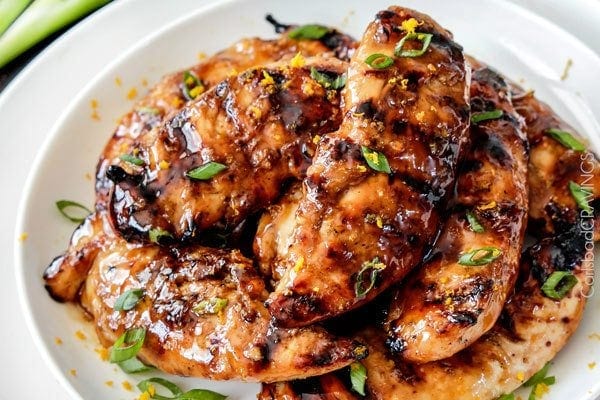 After making this tender, juicy orange chicken bathed in Honey Sriracha Orange Glaze in the afternoon, I giddily ate it for lunch.   I giddily ate it again for dinner.
That night, I couldn't stop dreaming about its perfect sweet heat and had to polish it off for breakfast.  The chicken all to myself was the only reason I was happy my husband was gone surfing in Mexico.  That, and the fact that Patrick would also want to devour this Honey Sriracha Orange Chicken so I would get to make it again soon – very soon.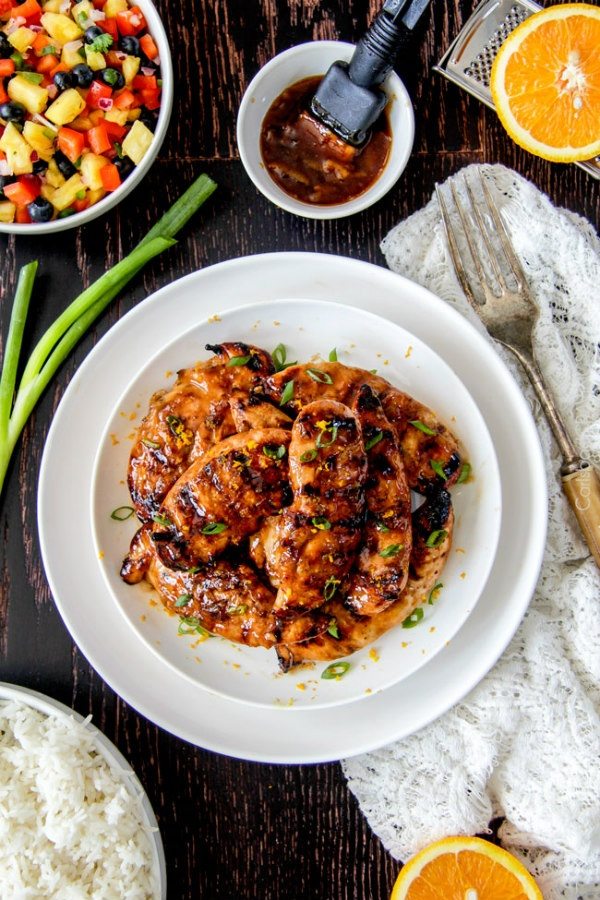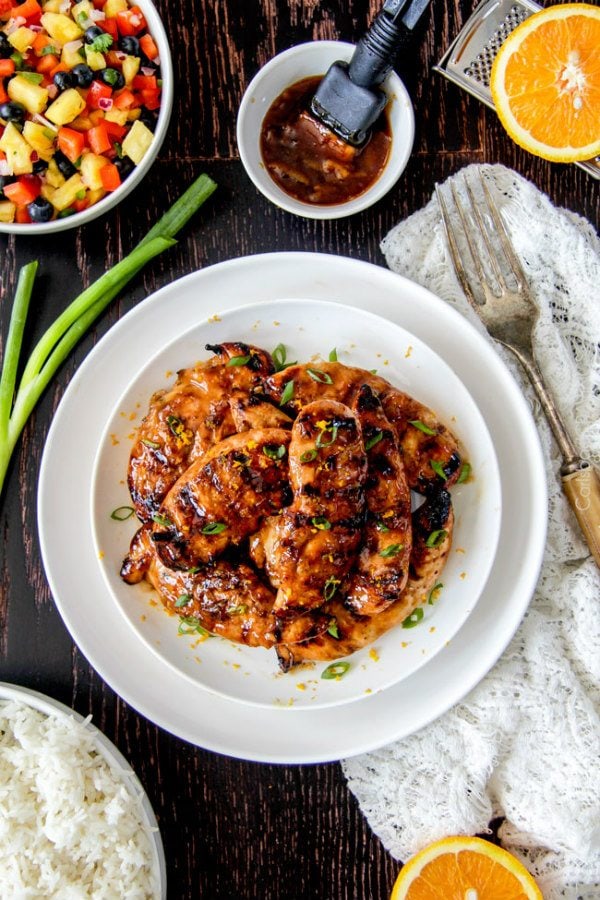 And when I say "make" this chicken – I use this term very loosely.  Although this chicken tastes like you have slaved away for hours – it only takes minutes to whip up.  It is the perfect easy weeknight meal but is drool worthy enough (and easy enough) for large crowds and entertaining.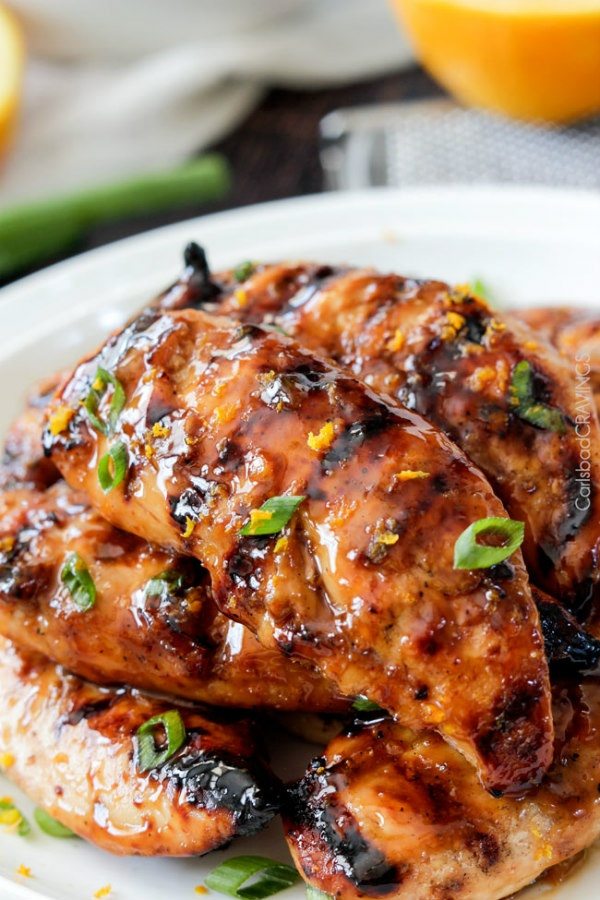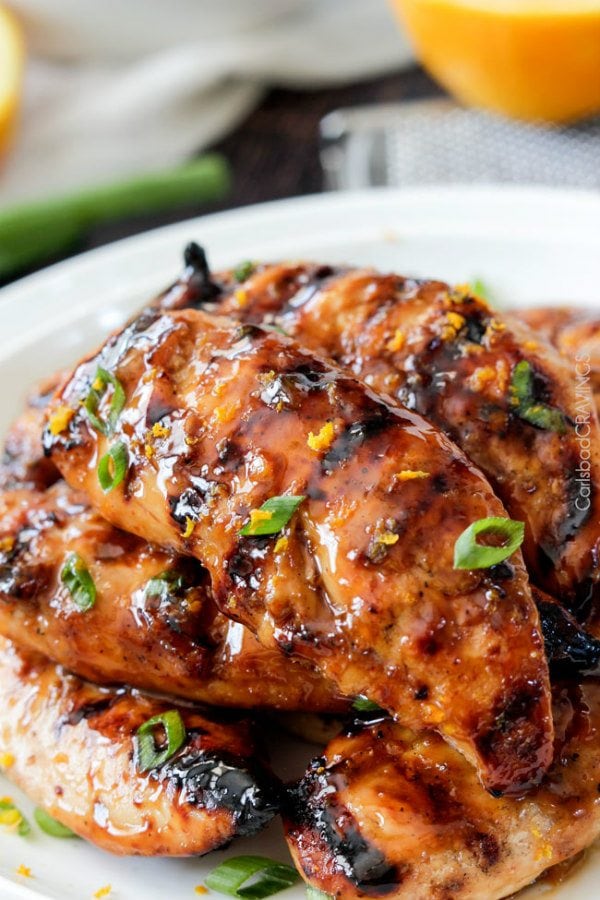 The chicken is marinated in a sweet and spicy (but not too spicy) orange sauce which doubles as the tantalizing sticky Honey Sriracha Orange Glaze that you brush all over your chicken after grilling.
This is one of my favorite methods of cooking – to reserve some of the marinade, whisk it with cornstarch and it instantly becomes your glaze – double the flavor WITHOUT double work!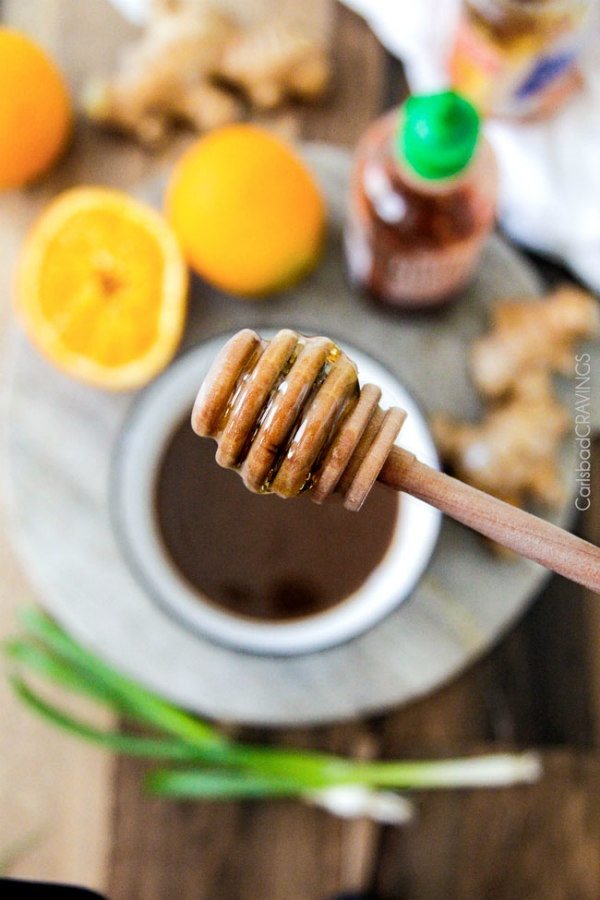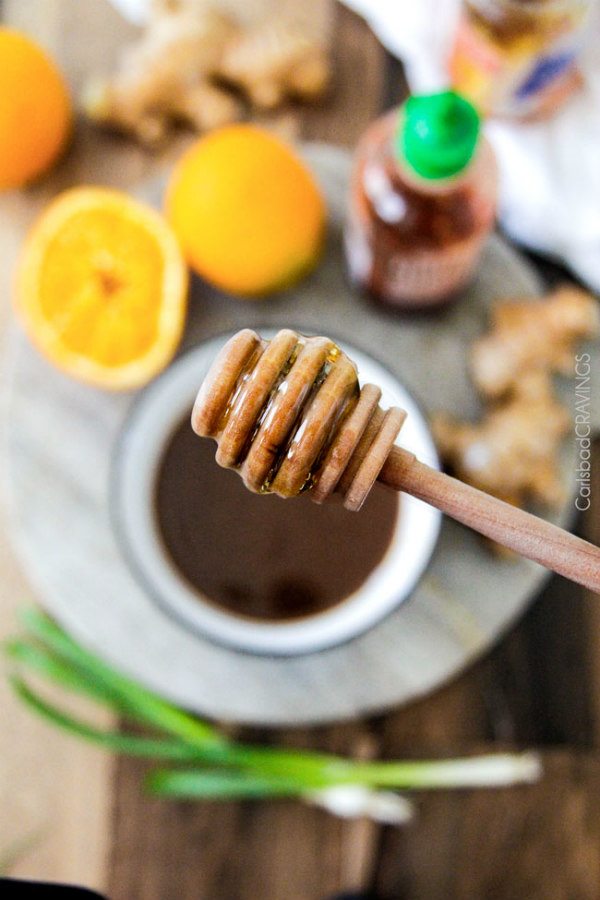 The to-live-for marinade/glaze is a harmonious concoction of orange juice, orange marmalade, honey, and splashes of lemon juice, sriracha, hoisin sauce (like Asian BBQ sauce), ginger, garlic, etc.  Mmmmmmm…..Can you taste it now?!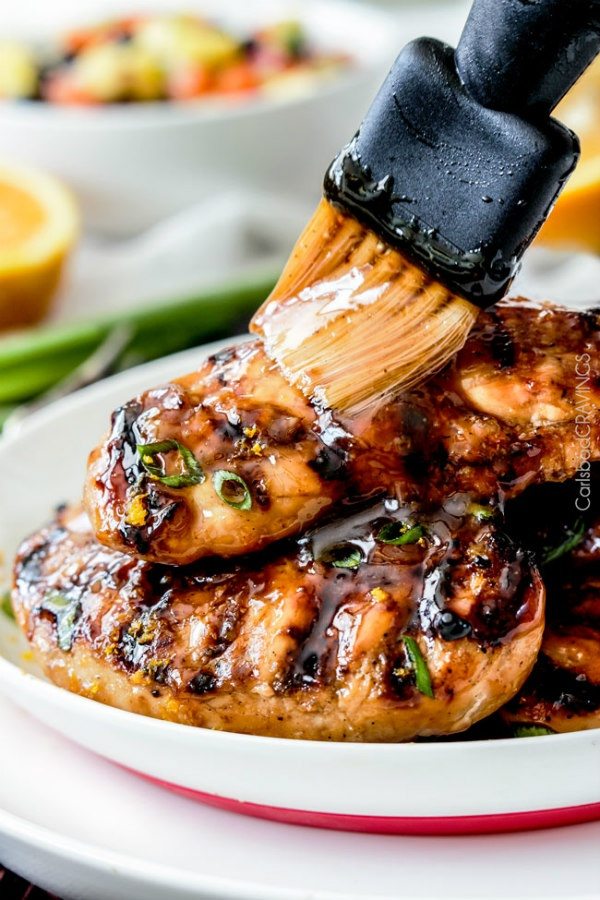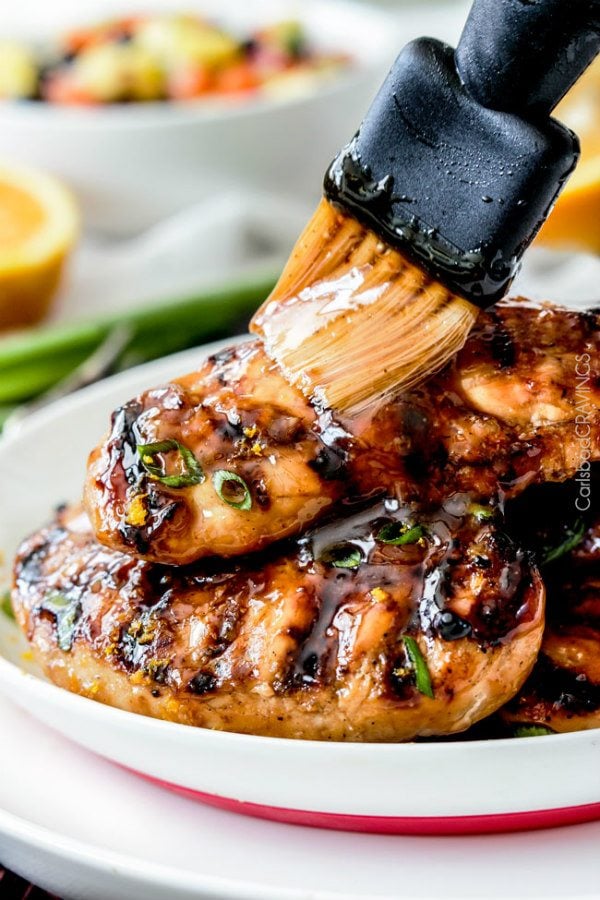 This ingredient list might seem a bit lengthy but keep in mind, you are simply whisking the ingredients together and that is all your prep work for a total of maybe 5 minutes AND you have almost zero dishes – another fabulous thing about grilling.
Happy summer and happy grilling with Orange Honey Sriracha Chicken!   It will meet you in your dreams.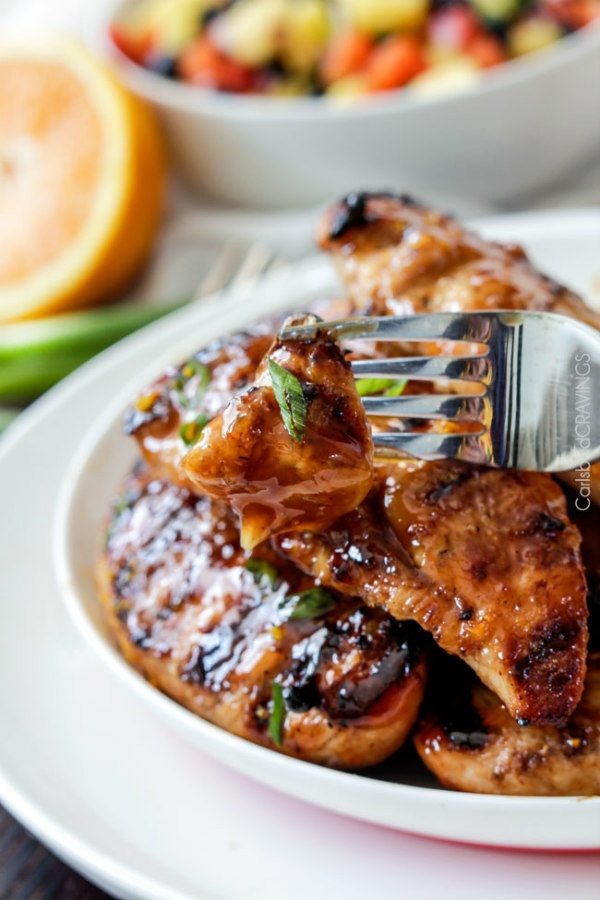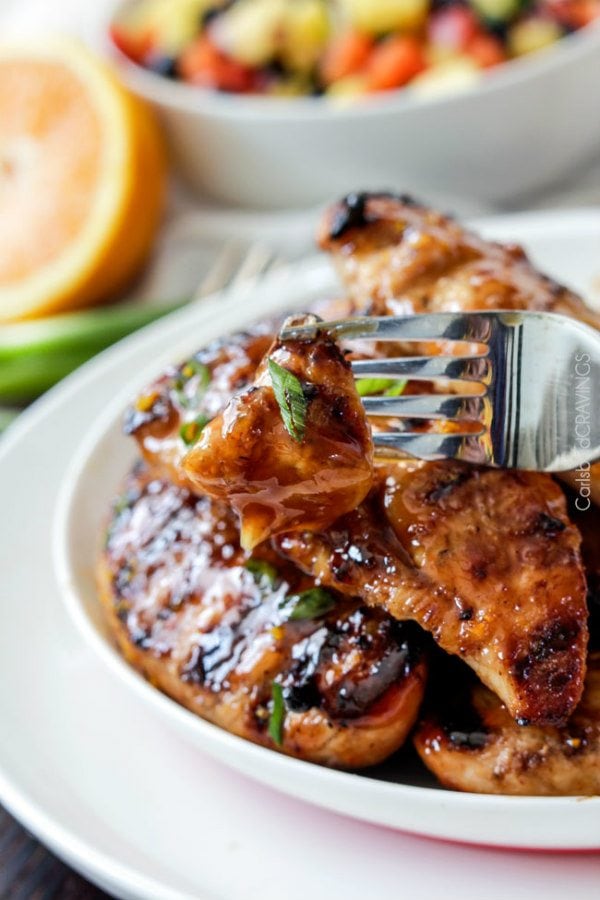 Honey Sriracha Orange Chicken
Yield:
4 to 6 servings
Prep Time: 7 minutes
Cook Time: 12 minutes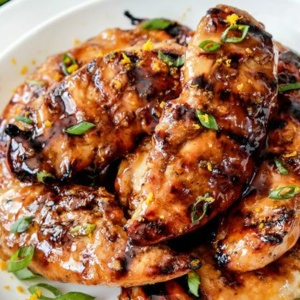 Ingredients:

2 pounds chicken tenderloins or boneless, skinless chicken breasts, pounded thin
1/4 cup olive oil
2 teaspoons cornstarch

Honey Sriracha Orange Marinade/Glaze

1/2 cup freshly squeezed orange juice
1/2 cup orange marmalade
2 tablespoons freshly squeezed lemon juice
1/4 cup honey
2 tablespoons quality hoisin sauce like Lee Kum Kee or Kikkoman*
1 tablespoons soy sauce (low sodium)
2 tablespoons red wine vinegar
2 tablespoons brown sugar
2 teaspoons sriracha/Asian hot red chili sauce, more or less to taste
1 teaspoon garlic powder
1 teaspoon salt
1/2 teaspoon ginger powder
1/2 teaspoon onion powder
1/4 teaspoon pepper

Garnish (optional)

Instructions:

Whisk the Honey Sriracha Orange Marinade/Glaze ingredients together in a medium bowl. Add 1/3 cup to a large freezer bag and whisk in 1/4 cup olive oil. Add the chicken and marinate 60 minutes up to overnight in the refrigerator. Refrigerate reserved the glaze separately.
When ready to grill, let the chicken sit at room temperature for 15 to 30 minutes (time permitting).
Meanwhile, grease and preheat the grill to medium heat, 375 to 450°F.
Separate 3 tablespoons from reserved glaze into a small bowl. Add the remaining glaze to a small saucepan and whisk with 2 teaspoons cornstarch. Set aside.
Drain the chicken from the marinade and pat dry. Grill the chicken undisturbed for 5 to 6 minutes per side, or until chicken is cooked through, basting with the 3 tablespoons separated glaze. (An inserted thermometer should read 165 degrees F when chicken is done.)
Meanwhile, while the chicken is grilling (or after, if you don't have room on your grill), place the covered saucepan on the grill (this can also be done on the stove), and bring to a simmer. Once simmering, remove lid and whisk until thickened. Once thickened, brush the cooked chicken with glaze. Spoon the extra glaze over the plated chicken or use as a dip.
Garnish the chicken with orange zest and green onions (optional). It's delicious served over rice.

Nutrition:

Hoisin Sauce can be found in the Asian section of your grocery store
SOURCE:  RecipeGirl.com
Here are a few more sriracha-themed recipes you might enjoy: