This recipe has been featured in a post on The Recipe Girl blog:  Mint Brownie Muffins with Hot Fudge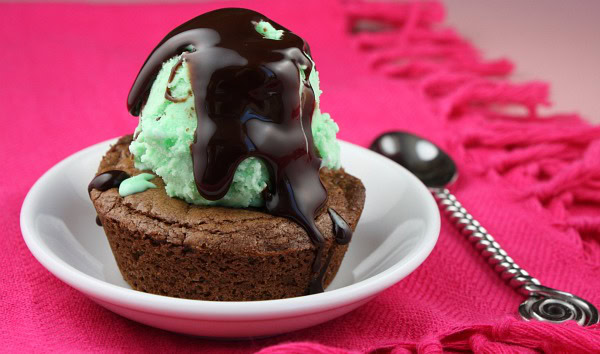 Hot Fudge Mint Brownie Sundaes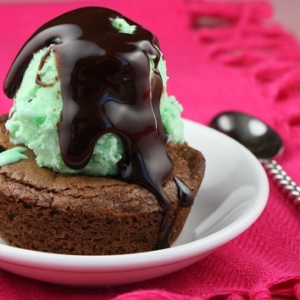 These little mint brownie "muffins" are perfect for topping with ice cream and chocolate sauce.
Yield:
About 24 regular-sized "muffins" (but shorter than your average muffin)
Prep Time: 15 min
Cook Time: 10 min
Ingredients:
1 1/2 cups semi-sweet chocolate chips, divided
1 3/4 cups all-purpose flour
1/2 teaspoon baking soda
1/2 teaspoon salt
1/2 cup (1 stick) unsalted butter, at room temperature
1/2 cup granulated white sugar
1/4 cup light brown sugar (packed)
1 teaspoon peppermint extract
1/2 teaspoon vanilla extract
2 large eggs
ice cream
hot fudge
Directions:
1. Preheat oven to 350 degrees F. If you wish to make these into muffins, lightly grease muffin tins. You can also bake them on baking sheets lined with parchment paper, or lightly greased.
2. In a glass dish, microwave 3/4 cup of chocolate chips for 1 minute; stir and then microwave an additional minute; stir again. If chips aren't completely melted, heat in 20 second bursts until they are melted and smooth. (You can also do this in a pan over low heat on the stove). Let cool.
3. In a medium bowl, whisk together flour, baking soda, and salt.
4. In a large bowl, use electric mixer to cream together butter with sugars. Add in extracts and eggs. Beat in cooled chocolate. Gradually add dry ingredients and beat until incorporated. Stir in remaining chocolate chips. Scoop into muffin tins (just a heaping Tablespoon per muffin) or onto cookie sheets.
5. Bake for 8 to 12 minutes, until sides seem set but centers are still soft. If you intend to use them for sundaes, you want them on the softer, gooey-er side- so bake them less. Let cool on wire racks and serve as soon as you'd like. For sundaes, they're best served warm, with a scoop of ice cream and a drizzle of hot fudge.
Tips:
*If you don't care for mint, use all vanilla extract to make regular brownie muffins and top with your favorite ice cream.