Kahlua Brownies with Browned Butter Kahlua Icing
These fudgy Kahlua Brownies are topped with a browned butter Kahlua icing!  Click below to watch a short video showing you how to make these brownies, and then scroll to the bottom of this post to print out the complete recipe.
I was saddled with the task of sending a treat along with my husband (who was headed to a Laker's game viewing party).  Since I was creating a brownie for a bunch of manly, sports-obsessed men, I wanted to try something that had a bit of alcohol in it.

These have Kahlua (can sub any coffee-flavored liqueur) in the brownie itself. I also brushed a couple of Tablespoons of Kahlua on the brownies as they came out of the oven… and watched it soak into the top and down through the warm layers.
The browned butter icing also has a bit of Kahlua in it.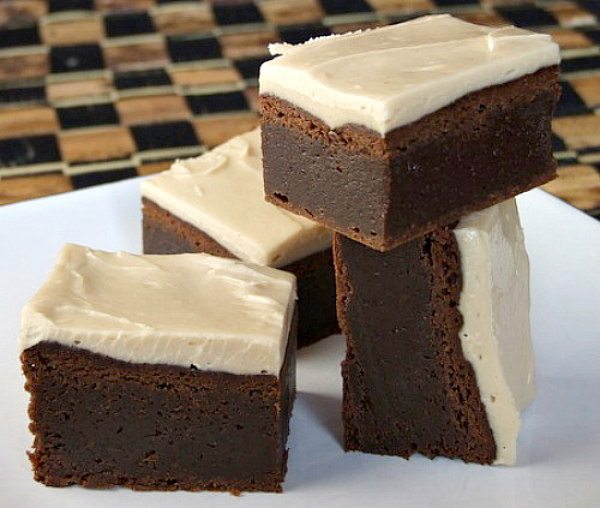 Although the flavor of Kahlua is prominent in these brownies, they were apparently kid-friendly… my little one loved them as much as we did. Am I a horrible mother for allowing my child to eat Kahlua brownies? Maybe that's why he was so sleepy that night… (kidding, of course!)
Next thing you know, he'll be asking for Kahlua in his hot chocolate ????.  Kidding again.  I LOVE Kahlua in my hot chocolate!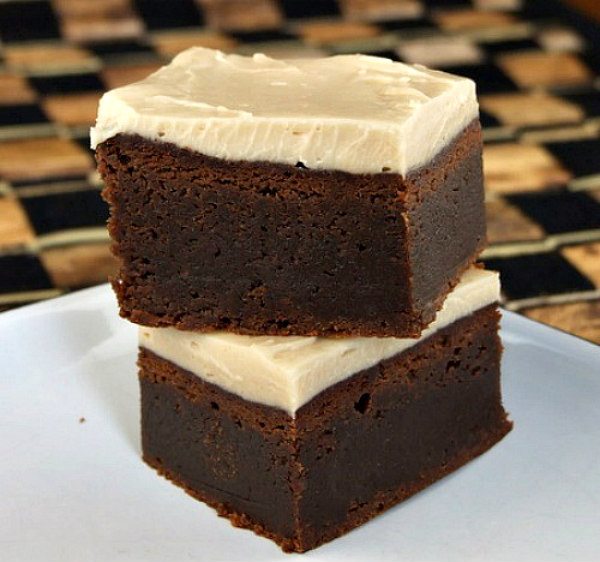 These are such great fudgy brownies, and if you're a fan of Kahlua… I think you're going to love them.
Additional notes:
These are a FUDGY sort of brownie (the best kind)… not a cakey brownie to be found in this bunch.
They're an EASY homemade brownie to make… just mix and bake, and ice when cool.
They're addicting… consider yourself warned!
Yield: 16 brownies
Prep Time: 30 minutes
Cook Time: 45 minutes
Kahlua Brownies with Brown Butter Kahlua Icing
These are a FUDGY sort of brownie (the best kind)… not a cakey brownie to be found in this bunch.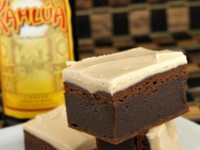 Ingredients:
BROWNIES:
2 1/2 cups

all-purpose flour

1/2 teaspoon

baking powder

1 teaspoon

salt

1 cup (2 sticks)

 

unsalted butter

2 cups

semi-sweet chocolate chips

1 1/2 cups

light brown sugar

2 large

eggs

1/2 cup + 2 Tablespoons

Kahlua (or another coffee liqueur)

, divided
ICING:
1/4 cup (1/2 stick)

butter

2 tablespoons

 K

ahlua

1 tablespoon

whipping cream

2 1/4 cups

powdered sugar (more or less)

, sift after measuring
Directions:
Preheat oven to 350° F. Line a 9x9-inch pan with foil and spray with nonstick cooking spray.
Prepare the brownies: In a medium bowl, sift the flour, baking powder and salt; set aside.
Set a heatproof bowl over a pan of simmering water (pan shouldn't be touching the water). Place butter and chocolate chips in bowl and stir until melted and smooth. Remove from heat and let cool a bit.
In a large bowl with an electric mixer, mix sugar, eggs and 1/2 cup Kahlua. Pour in buttery chocolate mixture and beat until mixed well. Mix in dry ingredients and beat just until combined.
Pour the brownie batter into the prepared pan. Bake for 40 to 45 minutes, or until the top cracks slightly and a toothpick inserted into the center comes out mostly clean (it might be slightly gooey on the bottom of the toothpick- that's okay!) Remove the brownies from the oven and immediately brush warm brownies with 2 tablespoons of Kahlua. Let the brownies cool completely. I like to refrigerate them after they have cooled down a bit.
Prepare the Icing: Place the butter in a saucepan and heat until lightly browned. Remove from heat and add Kahlua & whipping cream. Whisk in the powdered sugar until you have the consistency that you desire (you should be looking for a thick, smooth icing that is still pourable). Pour on top of the cooled brownies and spread to the edges to cover completely. Refrigerate until set. Chilled brownies are easiest to cut... use a large, sharp knife, wipe clean after each cut, and you'll get nice, clean cuts.
Tips:
Store brownies in covered container. They're best if eaten within a couple of days.
SOURCE: RecipeGirl.com
Here are a few more Kahlua dessert recipes you might enjoy:
77 Responses to "Kahlua Brownies with Browned Butter Kahlua Icing"
Leave a Comment