Lamb Osso Buco is an elegant choice for a dinner party or special occasion.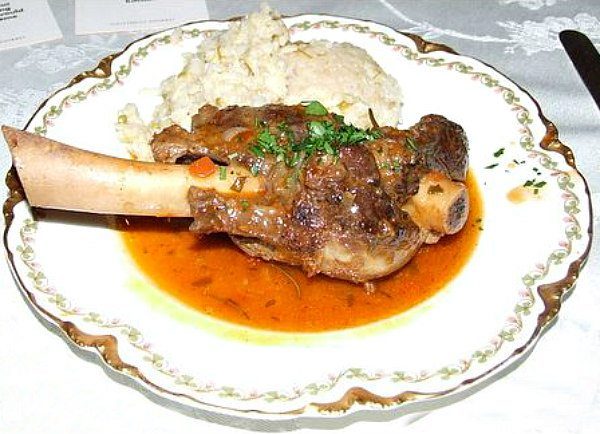 Lamb Osso Buco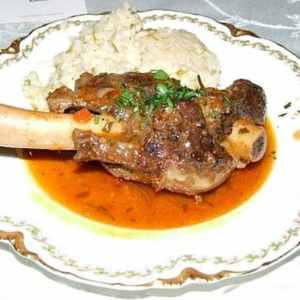 Yield:
6 servings
Prep Time:45 minutes
Cook Time:2 hours
Ingredients:
1 sprig fresh rosemary
1 sprig fresh thyme
1 dry bay leaf
2 whole cloves
cheesecloth
kitchen twine
Three 1 lb. lamb shanks (or veal), trimmed
sea salt and freshly ground black pepper
all-purpose flour
1/2 cup vegetable or canola oil
1 small onion, diced
1 small carrot, diced
1 stalk celery, diced
2 cloves garlic, minced
1 tablespoon tomato paste
1 cup dry white wine
3 cups chicken stock (or lamb, veal stock if you have)
3 tablespoons fresh flat-leaf Italian parsley, chopped
1 tablespoon lemon zest
Directions:
Wrap spices in cheesecloth and secure with twine.
Pat shanks dry with paper towels (they'll brown better if dry). Wrap kitchen twine around shanks to secure meat to the bone. Season with salt and pepper. Dredge each shank in flour, and shake to remove excess.
In a large Dutch oven pot, heat vegetable oil until smoking. Add tied veal shanks to the hot pan and brown all sides, about 3 minutes per side. Remove browned shanks and set aside.
In the same pot, add the veggies and garlic. Season with salt to help draw moisture from the vegetables. Sauté until soft and translucent, about 8 minutes. Add tomato paste and mix well. Return browned shanks to pan, add wine, and reduce liquid by half (about 5 minutes). Add tied cheesecloth spice bag and 2 cups of stock and bring to a boil. Reduce heat to low, over pan and simmer for about 1 1/2 hours or until meat is falling off the bone. Check every 15 minutes, turning shanks and adding more chicken stock as necessary. The level of cooking liquid should be about 3/4 way up the shank.
Carefully remove cooked shanks from the pot. and place on a deep platter. Cut off kitchen twine and toss. Remove cheesecloth bag from the pot and toss that too.
Pour all of the juices and sauce from the pot over the shanks. Garnish with chopped parsley and lemon zest.
SOURCE:  RecipeGirl.com (adapted from Giada)