Love this healthier version of my favorite decadent soup > Low Fat Clam Chowder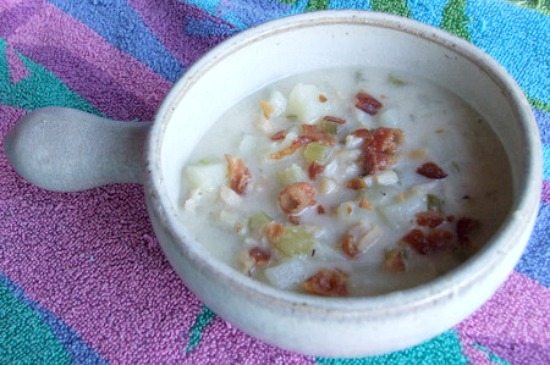 Low Fat Clam Chowder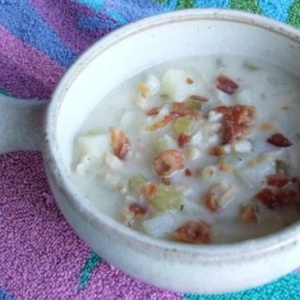 Yield:
4 servings
Prep Time: 25 min
Cook Time: 45 min
Ingredients:
2 slices turkey bacon
1 cup chopped onion
3/4 cup chopped celery
1/4 teaspoon salt
1/4 teaspoon dried thyme
1 clove garlic, minced
1 pound chopped fresh clams, undrained
2 1/2 cups diced, peeled baking potato
Two 8-ounce bottles of clam juice
1 whole bay leaf
1 1/2 cups skim milk
1/4 cup all-purpose flour
Directions:
1. Cook bacon in large Dutch oven sprayed with cooking spray over medium heat until crisp. Remove bacon from pan, leaving any drippings in pan. Crumble bacon and set aside. Add onion, celery, salt, thyme, and garlic to same pan; cook 4 minutes or until vegetables are tender.
2. Drain clams (reserving liquid). Add clam liquid, potato, clam juice and bay leaf to the pan; bring to a boil. Reduce heat, and simmer 15 minutes or until potato is tender; discard bay leaf.
3. Combine milk and flour, stirring with a whisk until smooth. Add flour mixture to pan; bring to a boil. Cook 12 minutes or until thick, stirring constantly. Add clams; cook 2 minutes. Sprinkle with bacon.
Tips:
*You may substitute canned clams for fresh if you wish.
Nutrition:
Nutritional Information per serving:
Serving size: 1/4th of the soup
Calories per serving: 275
Fat per serving: 3g
Saturated Fat per serving: .5g
Sugar per serving: 11g
Sodium per serving: 799mg
Fiber per serving: 2.7g
Protein per serving: 21.5g
Cholesterol per serving: 46mg
Carbohydrates per serving: 40g
WW POINTS per serving:
Points Plus Program: 7 Old Points Program: 5