Every year, when Easter rolls around… I become quite addicted to those malted milk eggs.  So this cake makes perfect sense for an Easter dessert choice:  Malted Mousse Cake.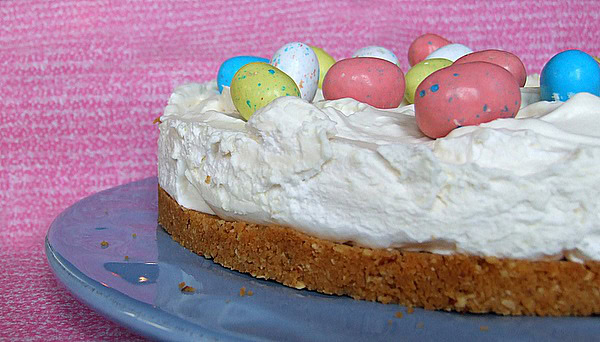 This cake is almost a cheesecake. It's a bit lighter in texture, and I'd say it's more like a cross between a mousse and a cheesecake. The malt flavor comes through- not heavily. Just enough to give you a taste for it, and the malted eggs add a nice complement (as well as cute decor!)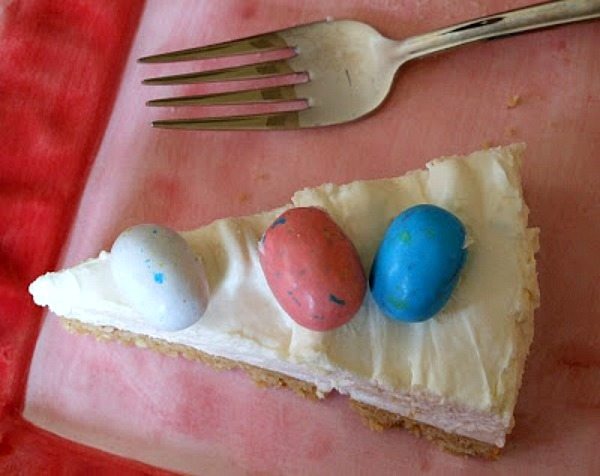 The crust is made out of shortbread cookies, almonds and butter. I used the girl scout shortbread cookies "trefoils." You may also opt to use amaretti cookies.  It firms up after refrigeration and slices nicely. Isn't it a cute choice for an Easter dessert?
Malted Mousse Cake
We're huge malt fans so we absolutely loved this. It's a little less dense than a cheesecake but thicker than a mousse. Fun Easter dessert!
Yield:
12 servings
Prep Time: 30 min + chill time
Cook Time: 10 min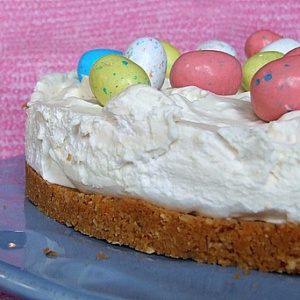 Ingredients:

3 cups shortbread cookies
1/2 cup sliced almonds
5 tablespoons salted butter, melted
2 ounces white chocolate
1 1/4 cups whipping cream, divided
1 envelope unflavored gelatin
1/3 cup milk
Two 8-ounce packages of cream cheese, softened
1/3 cup granulated white sugar
3 tablespoons malted milk powder
1/4 teaspoon salt
pastel malted-milk candy eggs or malted milk balls

Instructions:

1. Preheat oven to 350°F. For crust, in food processor bowl combine cookies and nuts; process to fine crumbs. Add butter; process just until combined. Pat in bottom of 9-inch springform pan. Bake 10 minutes or until golden brown. Completely cool in pan or rack about 45 minutes.

2. Meanwhile, in small saucepan melt white chocolate with 1/4 cup of the whipping cream; set aside.

3. In a small microwave-safe bowl, sprinkle gelatin over milk; let stand until gelatin is softened, about 3 minutes. Microwave the gelatin mixture, uncovered, for 15 seconds, just until gelatin is completely dissolved. Stir gelatin mixture into white chocolate mixture. Refrigerate, stirring often, until chocolate-gelatin mixture is chilled and begins to thicken.

4. Meanwhile, in extra-large mixing bowl beat cream cheese, sugar, malted milk powder, and salt on medium until light and fluffy. Gradually add thickened gelatin mixture; beat just until combined. In medium mixing bowl beat remaining 1 cup whipping cream until stiff peaks form. Fold whipped cream into cream cheese mixture until blended. Spoon into cooled crust. Refrigerate until firm, at least 3 hours or up to 8 hours.

5. To serve, remove sides of pan; place on serving plate. Top with malted milk eggs; slice cake.

Tips:

*You can also sub 6 ounces of amaretti for the shortbread cookies and combine those with hazelnuts instead of almonds.