Here's a unique sweet bread recipe:  Mango Gingerbread with Macadamia Streusel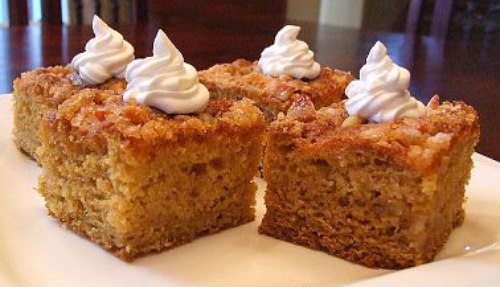 This isn't a holiday sort of cake in any sense. When I spotted this recipe in an old Bon Appetit, I tucked it away into my 'must make soon' file. Anything that sounds just a little strange-but-wonderful gets tucked into that file. Fresh pureed mango is incorporated into a gingery flavored sweet bread that is scattered throughout with roasted macadamia nuts: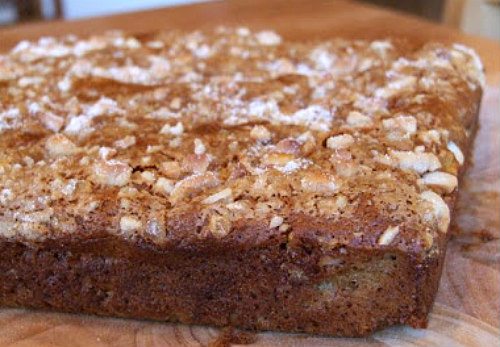 If you're expecting a bread infused with the wonderful, tropical flavor of mango, this isn't it. The mango simply works as a 'moisturizer' much the same way that applesauce does in cakes. Added buttermilk helps with the tenderness as well. The whole cake only has 1/4 cup of canola oil in it.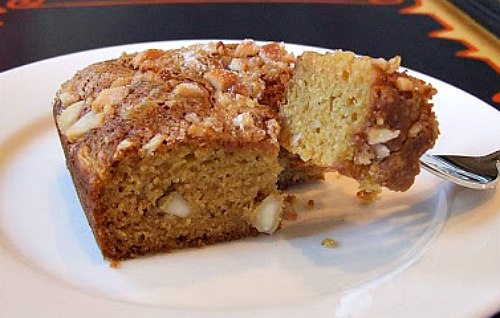 This bite gives you a sneak peak of how moist the bread is. Heavy on the ginger flavor, this cake-like bread is topped with a mixture of macadamias, sugar and crystallized ginger. If you don't care much for a heavy ginger flavor, I would suggest nixing the crystallized ginger on top.
We like it best with a smidgen of sweetened whipped cream.
Mango Gingerbread with Macadamia Streusel
Yield:
9 servings
Prep Time: 25 minutes
Cook Time: 45 minutes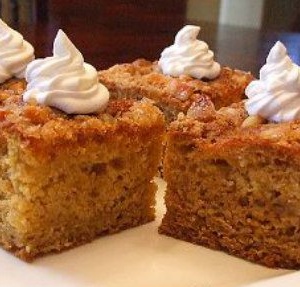 Ingredients:

STREUSEL:

1/3 cup finely chopped lightly salted dry-roasted macadamia nuts
1/4 cup granulated white sugar
2 1/2 tablespoons finely chopped crystallized ginger

GINGERBREAD:

2 cups all-purpose flour
3/4 cup (packed) golden brown sugar
1 1/2 tablespoons ground ginger
2 teaspoons baking powder
1 teaspoon baking soda
1/4 teaspoon salt
1 pound ripe mangoes, peeled, pitted
1/2 cup buttermilk
1/4 cup canola oil
2 large eggs

Instructions:

Prepare streusel: Stir all ingredients in small bowl to blend.
Prepare gingerbread: Position rack in center of oven and preheat to 350°F. Butter 9x9x2-inch metal baking pan.
Whisk first 6 ingredients in medium bowl to blend. Coarsely puree mangoes in food processor. Transfer 1 cup mango puree to large bowl (reserve any remaining puree for another use). Add buttermilk, oil and eggs to puree; whisk until blended. Add flour mixture; stir just until combined.
Transfer half of batter (about 2 cups) to prepared pan. Sprinkle half of streusel over. Spoon remaining batter over, smooth evenly with spatula, then sprinkle with remaining streusel.
Bake bread until springy to touch and tester inserted in center comes out clean, about 45 minutes. Cool completely in pan on wire rack. Cut bread into 9 squares and serve.
SOURCE:  RecipeGirl.com (via Bon Appetit)