I mentioned in my last post that I'm often inspired by recipes as I plow through magazines while working out at the gym.  Martha had a recipe for Carrot Cheesecake in her latest issue of MS Living and that got me thinking.  I do love carrot cake, and cheesecake is pretty much my all-time favorite dessert… so why not combine the two?  That same day I went clothes shopping and came home with mini-cheesecake pans instead.  My idea was now complete:  Mini Carrot Cake Cheesecakes with Cream Cheese Icing.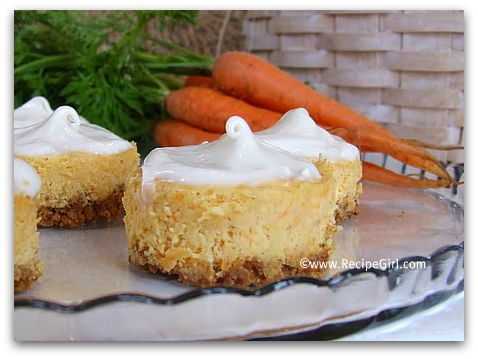 Mini-cheesecakes are made the same way as regular cheesecakes… crust baked first, then filled and baked again. This crust was made of graham cracker crumbs and toasted pecans.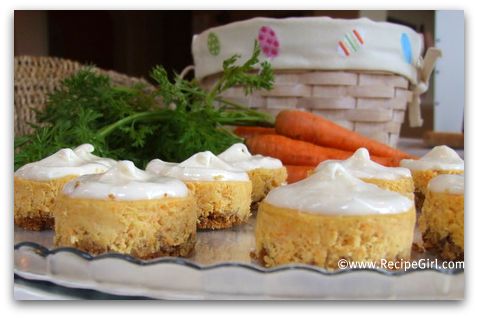 I know that cheesecakes don't typically have an icing on top, but I remembered the Red Velvet Cheesecake that I made last Christmas (and how good that was). Since carrot cake most often has a cream cheese icing, I felt these mini cheesecakes needed some too.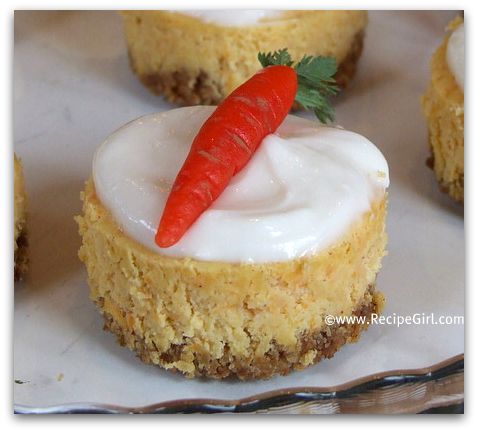 I topped the mini cheesecakes with Petite Marzipan Carrots. Stick a small mint leaf on there if you don't feel like making the carrots (or leave them plain).  The best part about the marzipan carrots though is that you can actually eat them!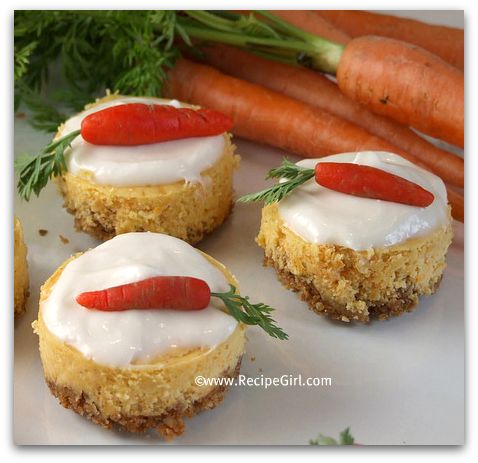 I took a few of these over to the teachers at school for a little before-spring-break treat. They thought they were appetizers because of the carrots. Yes, they thought the carrots were real! Needless to say, they were impressed with my decor 🙂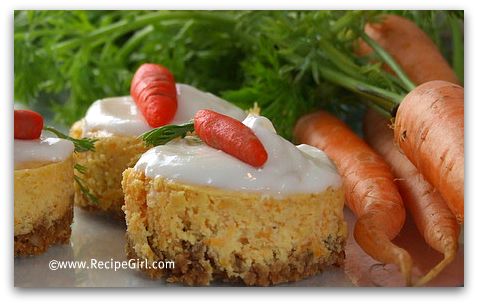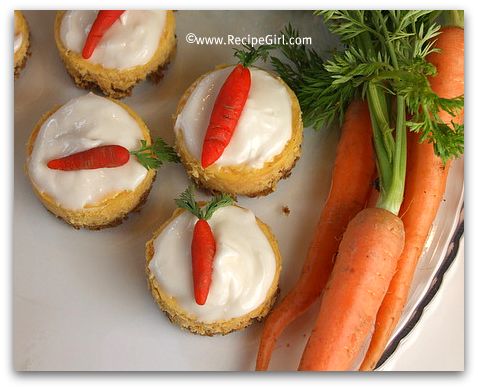 I was really quite happy with how this dessert turned out. They're cute little treats, and those marzipan carrots really make them perfect for Easter. If you're preparing these for Easter, it's best to make the cheesecakes the day before, then ice and decorate the day you plan to serve them. When I first spotted this recipe, I thought carrots in cheesecake sounded a little strange.  I grated the carrots finely so there weren't big chunks of carrot in there.  It wasn't at all strange.   And the cream cheese icing… well, lets just say that you shouldn't leave it off! These cheesecakes were beyond YUMMY.
This recipe can be found here: Mini Carrot Cake Cheesecakes.
Instructions for making Marzipan Carrots can be found here: How to Make Marzipan Carrots