Nice recipe for a Sunday night dinner: Orange Glazed Cornish Game Hens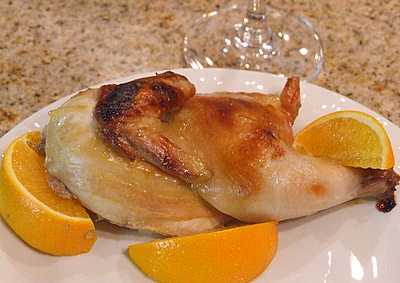 Orange- Glazed Cornish Game Hens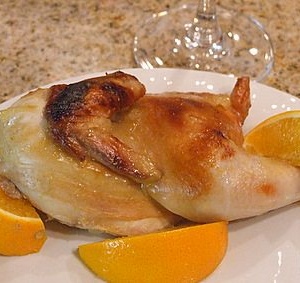 Yield:
6 servings
Prep Time:20 min
Cook Time:1 hour
Ingredients:
1 small onion, finely chopped
1 clove garlic, minced
1/2 cup chicken broth
1 teaspoon orange zest
1/2 cup freshly squeezed orange juice
2 tablespoons honey
4 teaspoons cornstarch
3 one pound Cornish Game hens, split lengthwise
1 medium orange, cut into 6 wedges
orange slices for garnish
Directions:
1. Preheat oven to 375 degrees F.
2. Spray a small saucepan with nonstick spray coating. For sauce, cook onion and garlic in the saucepan until onion is tender.
3. In a small bowl, stir together chicken broth, orange zest, orange juice, honey and cornstarch. Stir into onion mixture in saucepan. Cook and stir until thickened and bubbly. Cook and stir for 2 minutes more. Remove from heat.
4. Rinse hen halves; pat dry. In a shallow roasting pan place each hen half atop one orange wedge. Baste with some of the sauce.
5. Roast hens for 45 minutes to 1 hour or until tender and no longer pink. Baste hen halves with sauce after 30 minutes.
6. Transfer hen halves to a serving platter. If necessary, reheat remaining sauce and serve with hen halves. If desired, garnish with orange slices.
Tips:
*Use kitchen shears to cut hens in half. A good bread knife will also cut through the hens (but may dull the blade).
*If you are preparing this recipe as gluten-free, just be sure to use a brand of chicken broth that is known to be GF.
More cornish game hen recipes you might enjoy:
Marinated Cornish Game Hens by Reluctant Entertainer
Cranberry- Stuffed Cornish Hens by RecipeGirl
Herb-Roasted Cornish Game Hens by A Hint of Honey
Honey Mustard Game Hens by RecipeGirl
Butter-Roasted Cornish Hens by Bell'alimento