Here's an appetizer recipe that will be fun for football season:  Pesto Pizza Appetizer Bites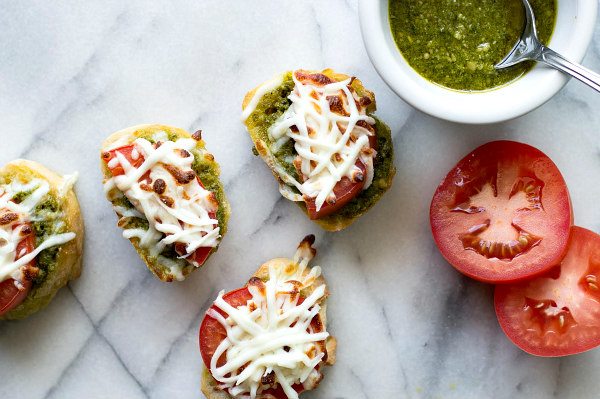 You can't get much easier than this for a quick and easy appetizer… wonderful little, pizza-like bites of deliciousness.  The simple kinds of recipes are sometimes best.  This one calls for sliced baguette, pesto sauce, tomato and shredded mozzarella cheese.  Yes, it's that easy!  Serve these up at a party, and everyone will think you're a gourmet chef!
I personally like to have these for dinner once in a while with a glass of wine in hand.  They're perfectly filling and satisfying.  And they make a good little side munchie to a green salad too!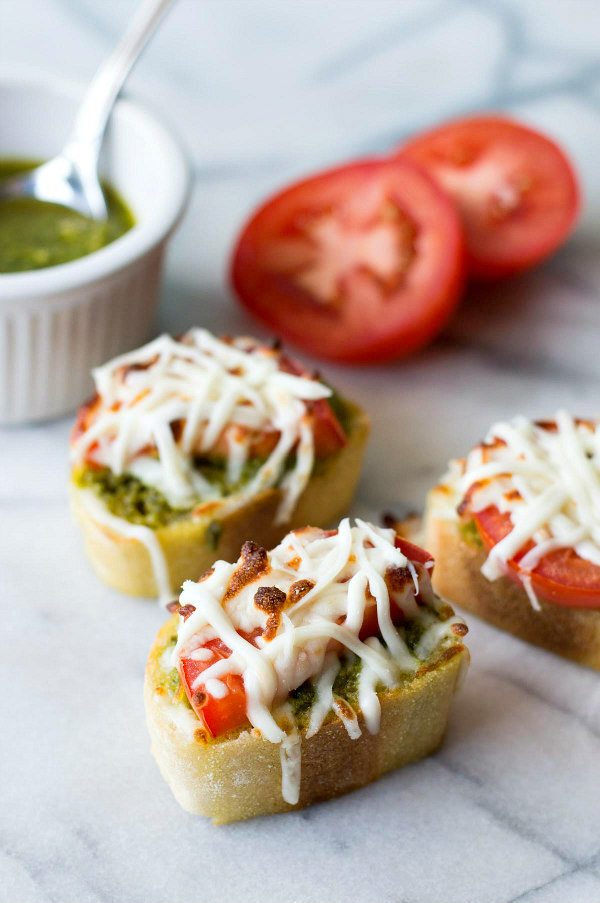 You could change things up a bit by using marinara sauce in place of the pesto sauce, but really these are good just as they are.  Kids like 'em too since they're like mini hand-held pizza bites.  Everyone likes pizza, and everyone will like these too!
Pesto Pizza Appetizer Bites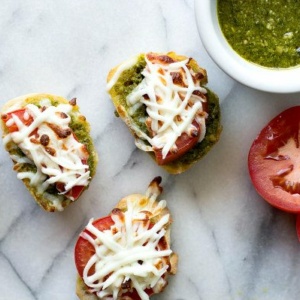 Yield:
About 16 appetizers
Prep Time: 15 minutes
Cook Time: 5 minutes
Ingredients:
store bought pesto (or homemade)
1 baguette, sliced into thin slices
3 medium Roma tomatoes, thinly sliced
1 (8 ounce) package shredded mozzarella cheese
Directions:
Preheat broiler.
Spread a layer of pesto on each slice of baguette. Top each slice with a tomato slice; sprinkle cheese on top.
Place bread in a single layer on a large rimmed baking sheet. Broil 5 minutes, or until cheese is bubbly and lightly browned.
SOURCE: RecipeGirl.com
Here are a few more pizza-themed appetizer recipes you might enjoy: