This recipe has been featured in a post on The Recipe Girl blog: Best Appetizers of 2007.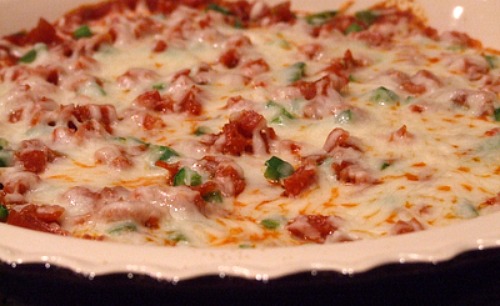 Prep Time: 10 min
Cook Time: 10 min
Pepperoni Dip
This dip is terribly gooey, cheesy and totally addicting. It's perfect for a football party.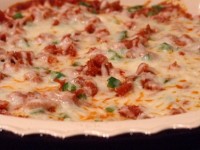 Ingredients:
1 (8 ounce) package cream cheese, softened
1/2 cup sour cream
1/8 teaspoon garlic powder
1/4 teaspoon dried oregano
1 cup pizza sauce
1/2 cup pepperoni, diced
1/4 cup chopped onions
1/4 cup chopped green bell pepper
1 cup shredded mozzarella cheese
Directions:
1. Preheat oven to 350°F.
2. In a small bowl, combine cream cheese, sour cream, garlic powder, and oregano. Spread cream cheese mixture into a 9-inch pie plate. Spread pizza sauce evenly over the cream cheese mixture. Arrange the pepperoni, onion and green bell pepper over the sauce.
3. Bake 10 minutes. Remove from oven and sprinkle cheese on top. Return to oven and bake until cheese is melted and bubbly.
Tips:
*Add black olives if you'd like.
*Great served with Fritos Scoops (dip-worthy corn chips).
Source: www.RecipeGirl.com
2 Responses to "Pepperoni Dip"
Leave a Comment