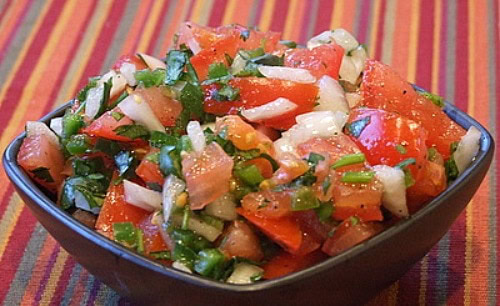 Pico de Gallo
This recipe will remind you of the type of chunky salsa served in your favorite Mexican restaurant.
Yield:
1 1/2 cups
Prep Time: 15 min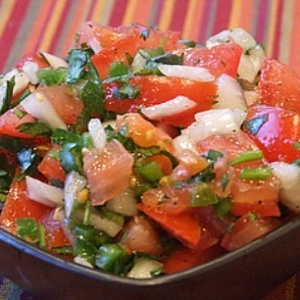 Ingredients:

1/4 cup coarsely chopped sweet white onion
1/4 cup coarsely chopped fresh cilantro
3 fresh serrano or jalapeño chiles, seeded & coarsely chopped
1 1/2 medium ripe tomatoes, finely chopped
1/2 lime, squeezed
kosher salt and freshly ground black pepper

Instructions:

Put onion, cilantro and chilies in a food processor and pulse until very finely chopped. Transfer to a bowl and stir in tomatoes. Squeeze lime into the mixture and stir. Season with about 1/2 teaspoon kosher salt and 1/4 teaspoon pepper. Cover and refrigerate for several hours, allowing the flavors to blend before serving. Best if served the same day as prepared.