This recipe has been featured in a post on The Recipe Girl blog: Creamy Chicken Enchiladas.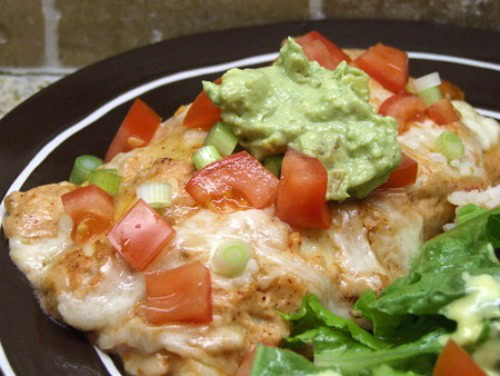 Creamy Chicken Enchiladas
This recipe is big-time family friendly. It's quick, easy and delicious.
Yield:
6 servings
Prep Time: 20 min
Cook Time: 40 min
Ingredients:

1 (10 3/4-ounce) can Healthy Request Cream of Chicken soup
8 ounces light sour cream
1 cup Pace picante sauce
2 teaspoons chili powder
2 cups chopped cooked chicken
2 cups shredded Monterey Jack cheese
10 (6-inch) flour tortillas
1 large tomato, chopped
3 green onions, sliced
1 avocado, mashed & mixed w/ a little sour cream & picante sauce (quick guacamole)

Instructions:

1. Preheat oven to 350 degrees F. Spray 9x13 pan with cooking spray.

2. Stir together soup, sour cream, picante sauce and chili powder in a medium bowl.

3. In a large bowl, stir 1 cup of the sauce mixture with the chicken & 1 cup of the cheese.

4. Spread about 1/4 cup of the chicken mixture down the center of each tortilla. Roll up and place seam-side-down in prepared dish. Scoop remaining sauce over the filled tortillas. Sprinkle with remaining cheese. Spray a piece of foil with cooking spray. Place sprayed-side-down on enchiladas and cover tightly.

5. Bake for 40 minutes or until enchiladas are hot and bubbling. Top individual servings with tomato and onion. Add a dollop of guacamole, if desired.