Pork Rib and Corn Quesadillas
Here's a really easy dinner idea for you (especially if you use leftover ribs): Pork Rib and Corn Quesadillas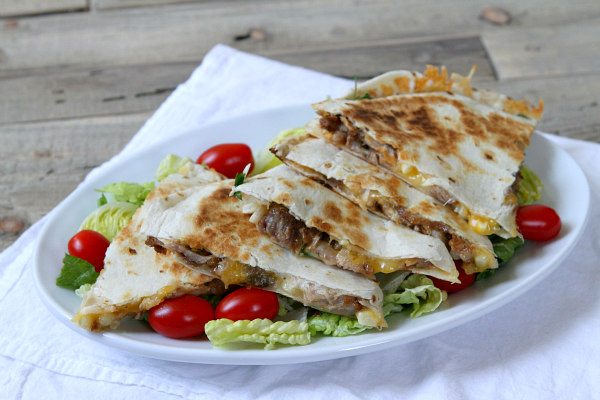 Having lived in San Diego for such a long time, we ate Mexican food quite often.  We were so lucky to be exposed to GOOD Mexican food.  Quesadillas were abundant at all of the taco shops, of course, but it was the unique varieties of quesadillas that always caught my eye.  Since adding carne asada to quesadillas is such a wonderful way to jazz 'em up, I thought I'd try adding Smithfield Dry Seasoned Rib meat instead.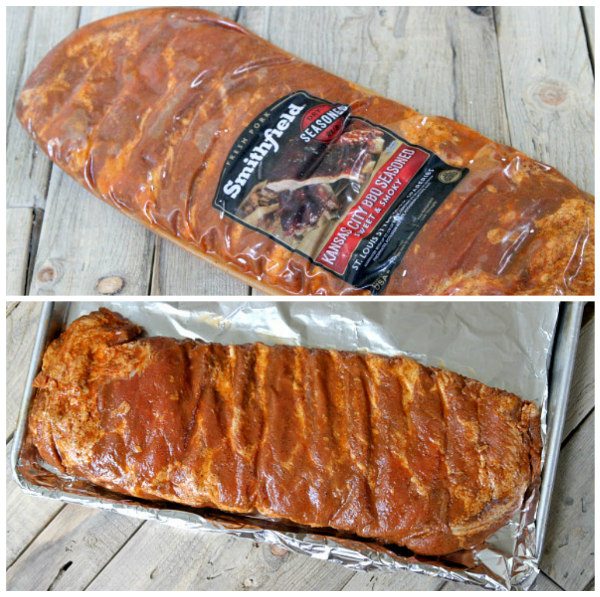 Here's what you'll use for the pork in this recipe: Smithfield's Kansas City BBQ Dry Seasoned Sweet & Smoky Pork Ribs.  Because they're already dry-seasoned, you won't have to add any spices to the meal.  The sweet and smoky BBQ spices give these pork ribs a good amount of flavor that shines through in the quesadillas.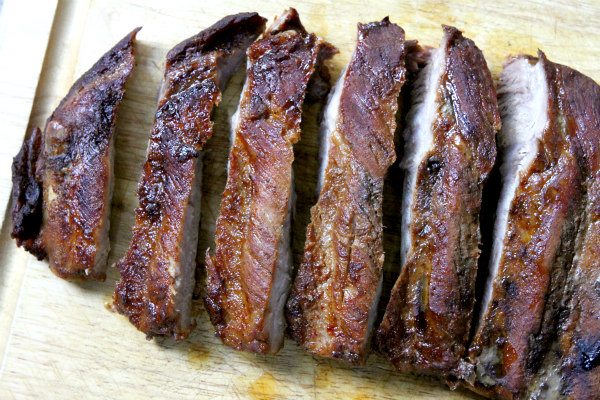 Since Smithfield has pre-seasoned the ribs for you, baking these ribs in the oven is super easy.  In under two hours, the ribs come out of the oven perfect and ready to eat!  You can also grill them if you'd like.  These will definitely satisfy your craving for BBQ.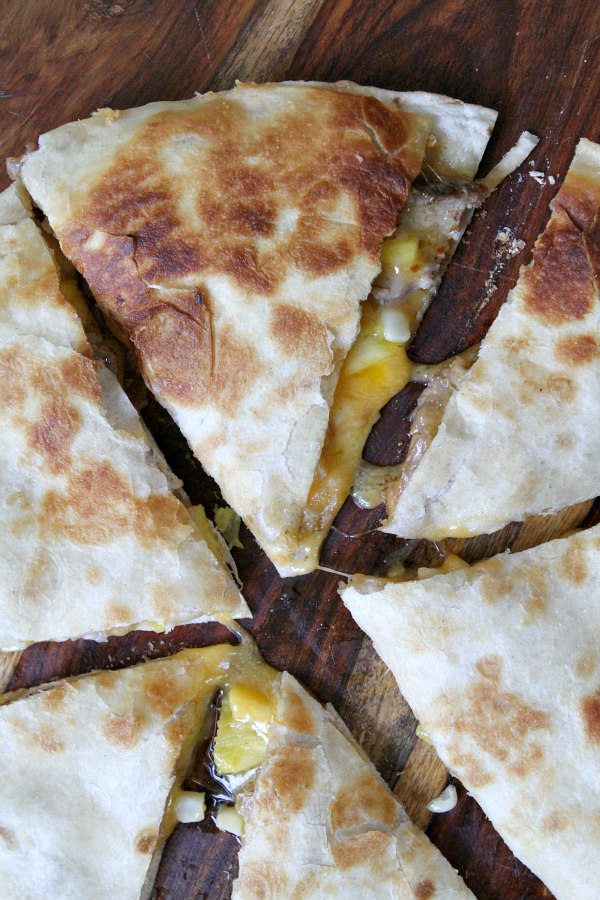 For this recipe, I made two racks of ribs. We ate one immediately, and we saved the meat from the 2nd rack to make quesadillas for dinner the next night.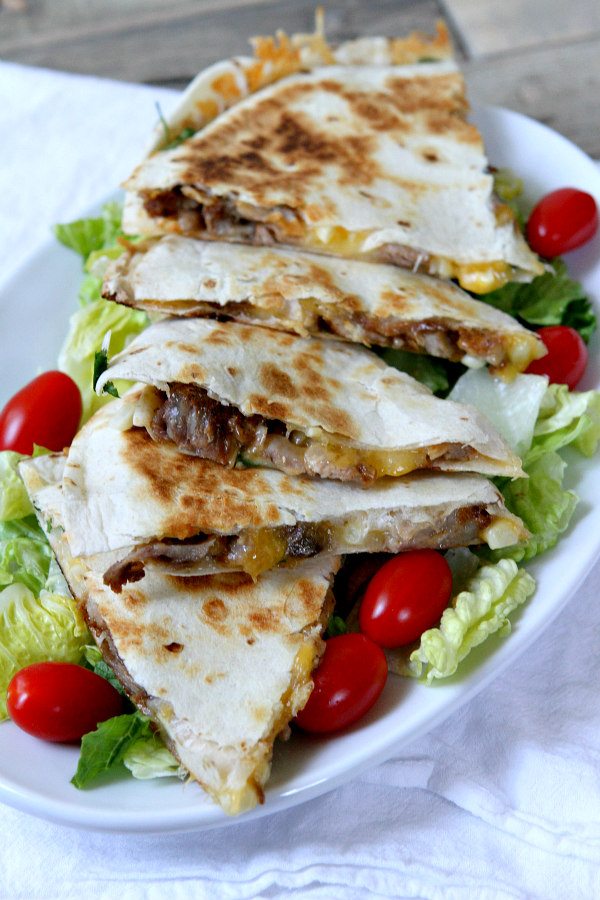 These quesadillas are packed with cheddar and Jack cheeses, rib meat, cilantro and corn. I used corn from leftover corn on the cob.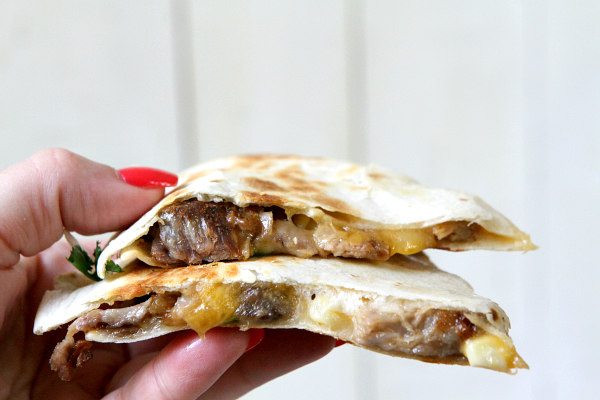 The rib meat makes them substantial enough to call dinner.  They're super filling and cheesy and DELICIOUS.  I conclude that Smithfield Dry Seasoned Rib meat is a great substitute for carne asada in a gourmet quesadilla!
For grilling tips and recipe inspiration visit SmithfieldThrowdown.com.
Yield: 4 servings
Prep Time: 20 minutes
Cook Time: 10 minutes
Pork Rib and Corn Quesadillas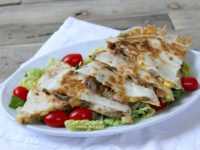 Ingredients:
4 burrito-sized flour tortillas
2 cups shredded cheddar cheese
1 1/2 cups cooked corn (I prefer it fresh- cut off the cob)
1 rack Smithfield Kansas City BBQ Dry Seasoned Sweet & Smoky Pork Ribs, cooked with meat removed and chopped (about 2 cups meat)
4 tablespoons chopped fresh cilantro
2 cups shredded Monterey Jack cheese
Directions:
Heat a large, nonstick skillet over medium heat.  Spray with nonstick spray.  Add 1 flour tortilla and sprinkle with half of the cheddar.  Add 3/4 cup corn and 1 cup of the pork. Evenly distribute 2 tablespoons cilantro, then sprinkle 1 cup Jack cheese on top of the pork.  Add a 2nd flour tortilla, cover the pan with a lid. Flip the tortilla when the bottom half is toasted and the cheese has begun to melt.  Cook until the other side is toasted too.
Remove the quesadilla to a cutting board, and repeat the instructions to make the 2nd quesadilla.
Cut each quesadilla into wedges, and serve immediately.
option:  add in some chopped fresh pineapple if you'd like a sweet addition to your quesadillas!
SOURCE:  RecipeGirl.com
Here are a few more quesadilla recipes you might enjoy:
Disclosure:  This post has been written in partnership with Smithfield to share some of their pork products in conjunction with their Real Flavor, Real Fast program.  This is a product that I know and use in my kitchen.  All opinions shared are my own.
16 Responses to "Pork Rib and Corn Quesadillas"
Leave a Comment