I made a different version of this recipe once before… wasn't too impressed with the flavors, but I loved the idea of a raspberry/lemon biscotti.  When I came upon a bounty of raspberries this summer, I found myself awake in the middle of the night thinking about this recipe again.  (Everyone has that problem, right?  Unable to sleep because you can't get an idea for a recipe out of your head?) The problem with the original recipe was that the raspberry flavor really didn't come through very well.  But one sleepness night, the solution came to me:  roast the raspberries.   Since roasting vegetables seems to bring out the best in them, why not try fruit as well?  So I tossed my raspberries in a small amount of sugar and canola oil & roasted them (just a little) until they were soft and fragrant.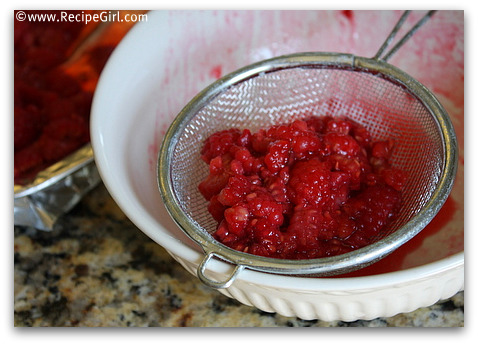 Roasting the raspberries with sugar brought out some of the juices, so I let them drain while I prepared the biscotti dough.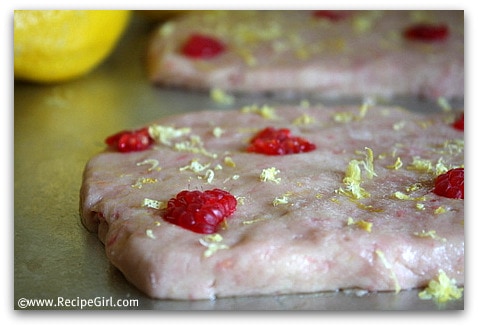 I incorporated the roasted raspberries (not the juice), two heaping teaspoonfuls of lemon zest and a 1/4 cup of raspberry jam into the dough. I then took pieces of fresh raspberry and pressed them randomly into the top of the biscotti logs, and sprinkled more fresh lemon zest on top too.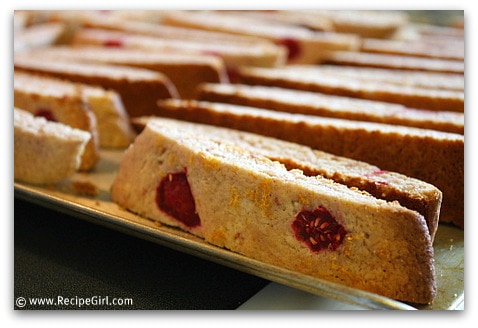 If you've never made biscotti, it's quite the laborious process. The logs are baked, then taken out of the oven and sliced. The sliced biscotti are then baked again on one side and then the other until they are finally crisp and perfect.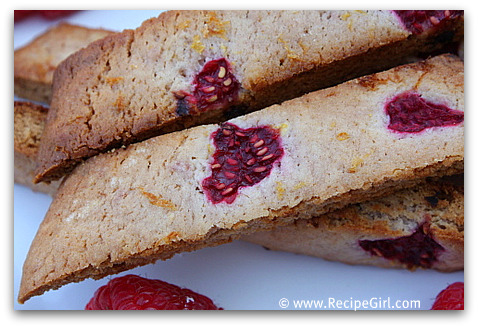 This recipe makes a lot- about 48 biscotti, so be prepared to wrap them up and give a few away.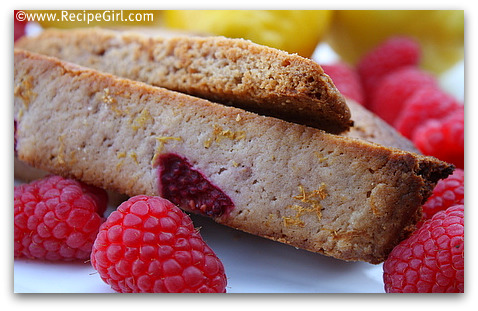 So, was the sleepless night worth it? YES! I'm happy to report that these were full of raspberry flavor with a hint of lemon too. I'm not sure if roasting the raspberries did the trick or not, but it certainly was a different way to go about it.  Biscotti recipe saved!
This recipe can be found here: Raspberry- Lemonade Biscotti
Other biscotti recipes on the blogs:
RecipeGirl:  Brown Sugar- Cinnamon Biscotti
Brown Eyed Baker:  Anise-Almond Biscotti
Baking Bites:  Nutella Biscotti
Andrea's Recipes:  White Chocolate Macadamia Nut Biscotti w/ Orange
Sugarlaws:  Chocolate Chip Biscotti