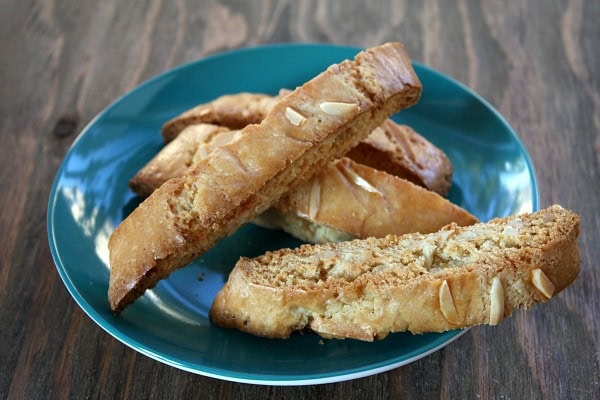 Almond Biscotti
Yield:
2 to 3 dozen
Prep Time: 25 min
Cook Time: 25 min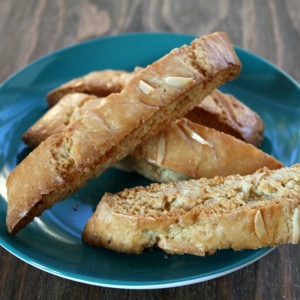 Ingredients:

1 3/4 cups all-purpose flour + extra for dusting
2 teaspoons baking powder
3/4 cup slivered almonds
2 large eggs
3/4 cup granulated white sugar
1/3 cup salted butter, melted
2 teaspoons vanilla extract
1/2 teaspoon almond extract
1 1/2 teaspoons grated orange zest
1 large egg white, lightly beaten

Instructions:

1. In large bowl, combine flour, baking powder and almonds.

2. In separate bowl, whisk together eggs, sugar, butter, vanilla, almond extract and orange peel. Stir into flour mixture until soft, sticky dough forms.

3. Transfer dough to lightly floured work surface. Sprinkle more flour on top if the dough is sticky.  With clean hands, form into smooth ball. Divide dough in half, and then roll each into 12-inch logs. Transfer to ungreased cookie sheet. Pat down each log so that it is about 2-inches wide.  Brush tops with beaten egg white.

4. Bake at 350 degrees F. for 15-20 minutes. Remove from oven and let cool in pan on rack for 5 minutes. Gently transfer each log to a cutting board. Cut diagonally into 3/4-inch slices.

5. Stand cookies upright on baking sheet and bake for 10-15 minutes until golden brown. Take the pan out of the oven and turn each cookie to the other side.  Bake an additional 5 to 10 minutes until crisp.  Let cool on rack.