These Red Currant Thumbprint Cookies are pretty on a holiday cookie platter.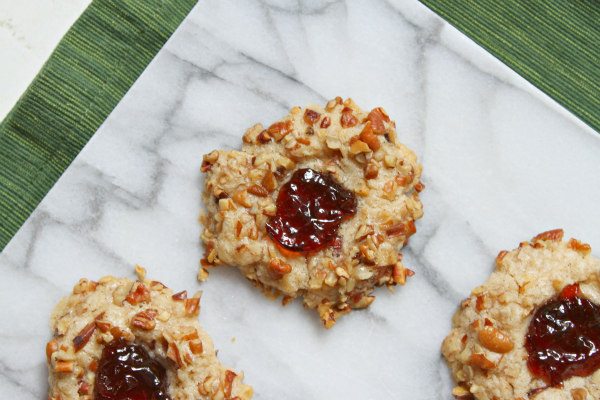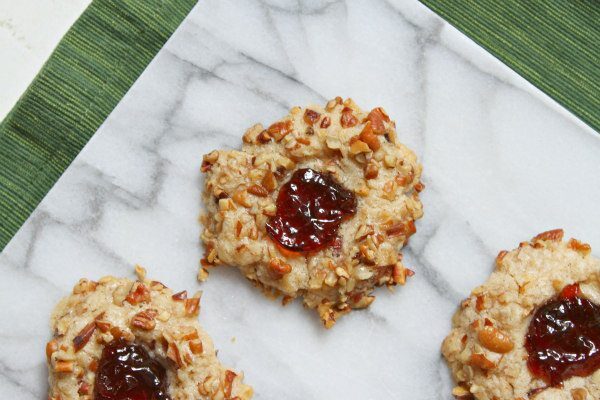 The cookie dough for these is rolled into balls, dipped in egg white and rolled in pecan pieces.  As is typical with a "thumbprint" type of cookie, your thumb is pushed into the cookie ball before baking in the oven.  When the cookies come out of the oven, they do puff up a little bit… so after a short amount of cooling, you'll use your thumb again to re-create the indentation in the center of the cookie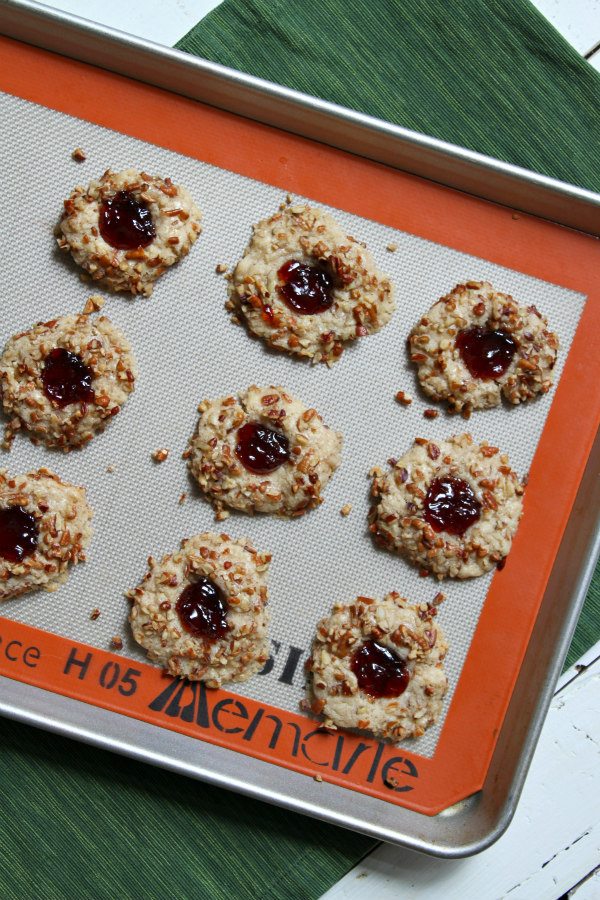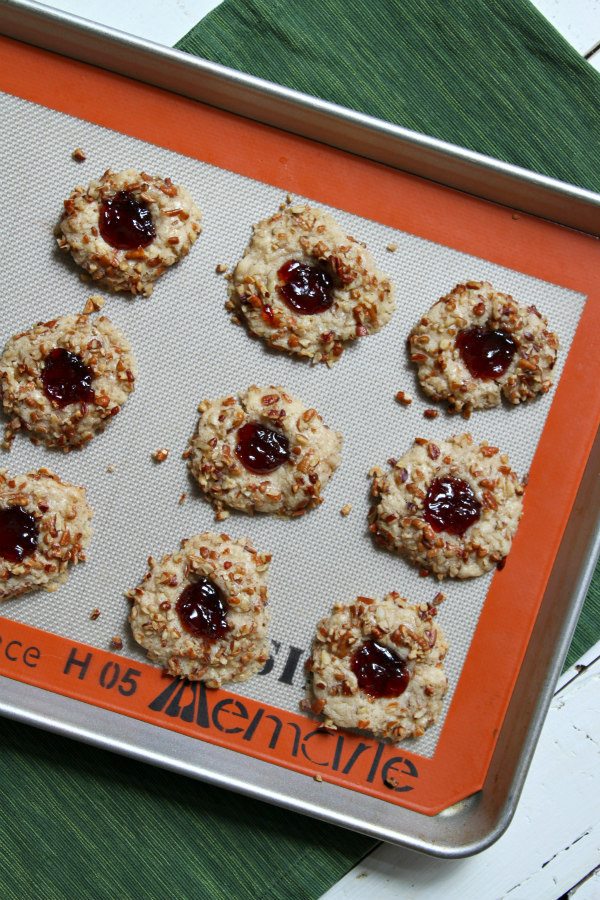 A little scoop of red currant jelly is spooned into the center of each cookie.  If you let them sit at room temperature, the jelly firms up a bit and doesn't remain a sticky puddle.  They may be stored in the freezer to eat later- just make sure you put a layer of waxed paper in between layers of the cookies.
When ready to eat, just let the cookies defrost at room temperature.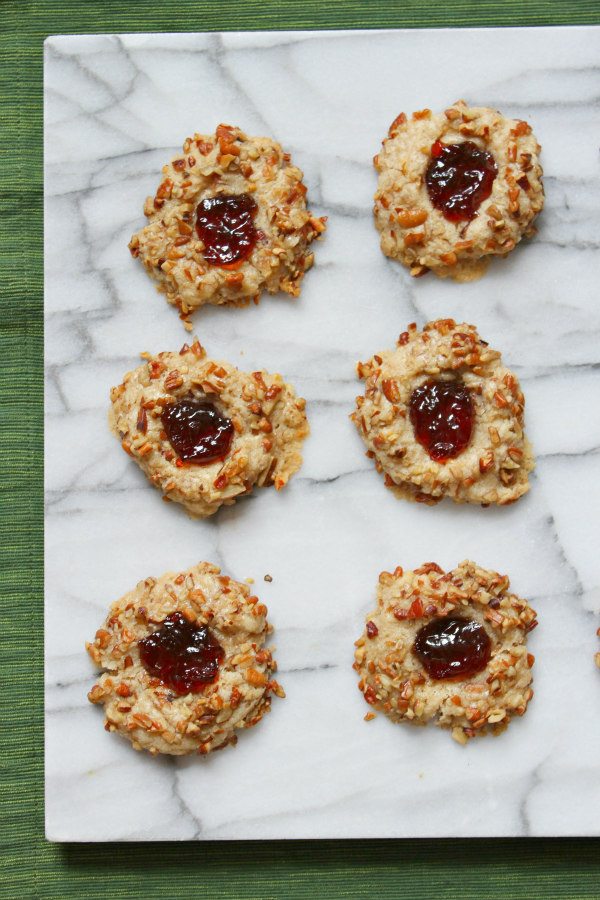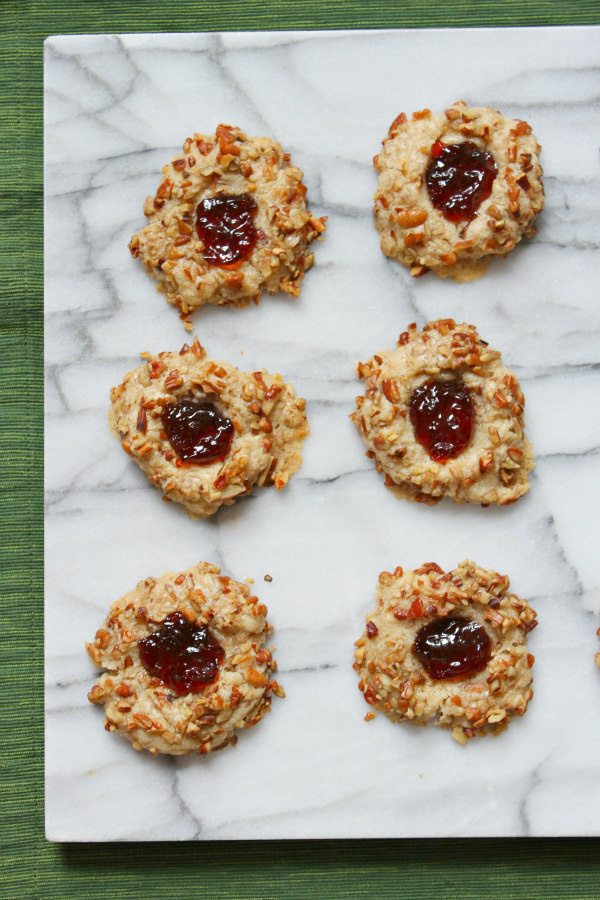 The pecans turn out to be a nice combination with the red currant jelly.  These are a new favorite holiday cookie for me this year.
Note:  Red currant jelly can be found with all of the other jellies and jams at your market.
Red Currant Thumbprints
Yield:
3 1/2 dozen cookies
Prep Time: 30 minutes + chill time
Cook Time: 15 minutes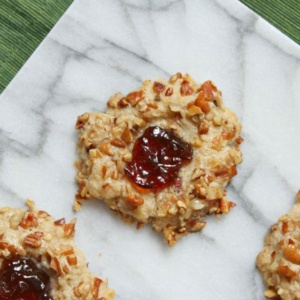 Ingredients:

1 cup (2 sticks) butter, softened
3/4 cup granulated white sugar
2 large Eggland's Best eggs, separated
1 teaspoon almond extract
2 cups all-purpose flour
1/4 teaspoon salt
1 1/4 teaspoons ground cinnamon
1 1/4 cups finely chopped pecans
red currant jelly

Instructions:

In a large bowl, use an electric mixer to combine the butter and sugar, beating well. Add the egg yolks and almond extract, beating until blended.
In a separate bowl, whisk together the flour, salt and cinnamon. Add the flour mixture to the butter mixture, blending at low speed. Cover and chill the dough for 1 hour.
Shape the dough into 1-inch balls. Lightly beat the egg whites with a fork. Dip each ball in egg white; roll in pecans. Place 2 inches apart on ungreased baking sheets. Press your thumb in each cookie to make an indentation.
Bake at 350°F. for 15 minutes. Cool 1 minute on baking sheets; remove to wire racks to cool completely. Press centers again with thumb while cookies are still warm, fill center of each cookie with jelly.
Here are a few more thumbprint cookies you might enjoy: