This recipe has been featured in a post on The Recipe Girl blog: Rosemary- Polenta Spice Cake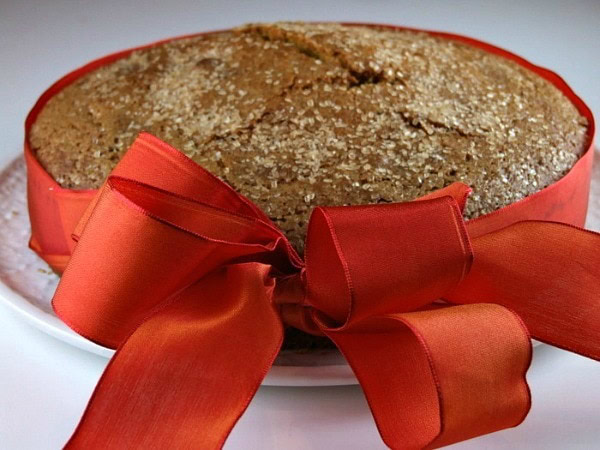 Rosemary- Polenta Pumpkin Spice Cake
This cake is light and delicious with just a bit of crunch within from the polenta.
Yield:
12 servings
Prep Time: 20 min
Cook Time: 40 min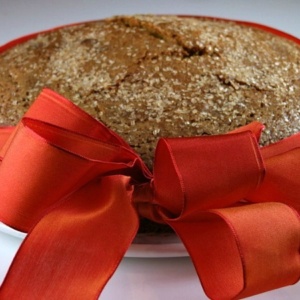 Ingredients:

1/4 cup minced fresh rosemary
2 teaspoons grated lemon zest
2 cups + 1 teaspoon powdered sugar, divided
1 2/3 cups all-purpose flour
1/2 cup polenta
2 teaspoons baking powder
3 teaspoons ground cinnamon
3/4 teaspoon ground allspice
1/4 teaspoon salt
4 large eggs
3/4 cup olive oil
3/4 cup (unsweetened) canned or fresh pumpkin purée
2 Tablespoons demerara or raw sugar

Instructions:

1. Preheat oven to 350°F. Line the bottom of a 9-inch springform pan with parchment paper and butter the sides of the pan.

2. In a small bowl, combine the rosemary and zest and mash with 1 teaspoon powdered sugar. Set aside.

3. In a large bowl, whisk together 2 cups powdered sugar, flour, polenta, baking powder, cinnamon, allspice, and salt. Add the eggs and the rosemary mixture. Using an electric mixer set on medium speed, beat until blended. Slowly pour in the oil, beating until smooth. Add the pumpkin and beat until smooth, about 2 minutes longer.

4. Spread the batter into the prepared cake pan. Sprinkle with the demerara sugar.

5. Bake until a toothpick inserted into the center comes out clean, 40- 45 minutes. Transfer to a wire rack and let cool slightly, then remove the sides of the springform pan. Serve warm or at room temperature for up to 2 days, or wrap tightly and freeze for up to 1 month.

Tips:

*This recipe may also be made into muffins. Line 20 muffin cups with paper liners, and bake 18 to 20 minutes.