This recipe has been featured in a post on The Recipe Girl blog: Rustic, Fresh Strawberry Galette.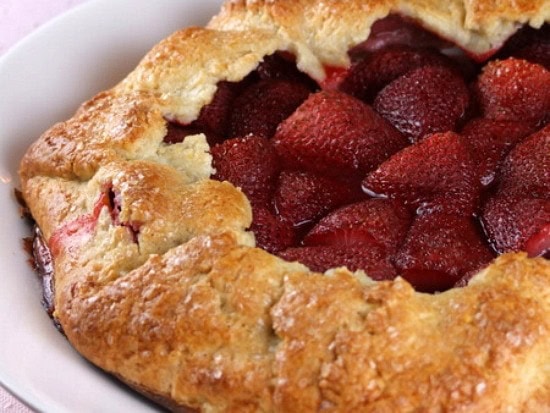 Rustic Strawberry Galette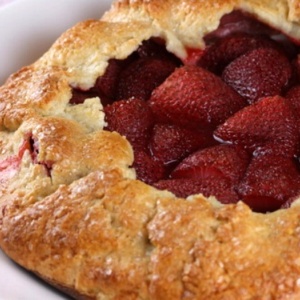 Love this simple recipe for a rustic galette, utilizing fresh strawberries. So refreshing when berries are at their ripest...
Yield:
8 servings
Prep Time: 25 min + chilling time
Cook Time: 45 min
Ingredients:
DOUGH:
1 3/4 cups all-purpose flour
1/3 cup granulated white sugar
1/4 cup whole grain cornmeal
1/4 teaspoon salt
1/2 cup cold butter, cut into small pieces
1/3 cup low fat buttermilk
FILLING:
1/3 cup fig jam (or apricot)
1/2 cup finely crumbled shortbread cookies (I used Trefoil Girl Scout cookies)
3 to 4 cups fresh strawberries
1 Tablespoon granulated white sugar
1/4 teaspoon ground cinnamon
TOPPING:
1 large egg white
1 Tablespoon milk
1 Tablespoon turbinado sugar
Directions:
1. Prepare dough: In a food processor, combine flour, sugar, cornmeal and salt; pulse 3 to 4 times. Add butter and pulse until mixture resembles coarse crumbs. While processor is running, slowly drizzle buttermilk into the crumbs. Continue processing until dough comes together into a ball.
2. Remove dough from processor and form ball, incorporating any stray crumbs. Wrap in plastic wrap and refrigerate for about an hour (overnight is fine too).
3. Prepare galette: Place rack in center of oven and preheat oven to 350°F. Line baking sheet with parchment paper.
4. Remove dough from refrigerator and place on parchment-lined baking sheet. Roll out dough into a 14 to 15-inch wide roundish circle (it doesn't have to be perfect).
5. Spread fig jam on dough, leaving about a 1 1/2-inch border around the edges. Sprinkle shortbread cookie crumbs on top of fig jam. Place berries, cut side down in a decorative fashion on top of crumbs. Overlap some of them to make sure all crumbs are covered, making two layers of strawberries. Mix sugar/cinnamon and lightly sprinkle the tops of the strawberries with the mixture.
6. Gently fold edges of dough back over the strawberries (all the way around).
7. Whisk egg white and milk in a small bowl. Brush edges of dough with egg wash, and sprinkle with turbinado sugar.
8. Bake for 45 minutes to 1 hour, or until crust is golden brown and filling is bubbly. Transfer the baking sheet to a wire rack to cool for about 30 minutes before serving. It's good served warm with a bit of whipped cream or ice cream, but it's also good at room temperature and served plain.