A simple salad with a fantastic dressing: Field Salad with Citrus Vinaigrette and Sugared Pecans
Field Salad with Citrus Vinaigrette and Sugared Pecans
Yield:
8 servings
Prep Time: 20 minutes
Cook Time: 7 minutes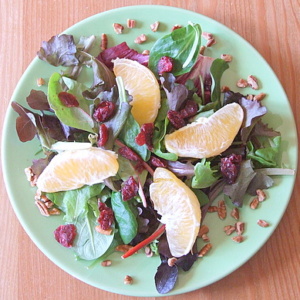 Ingredients:

PECANS:

1/4 cup chopped pecans
2 teaspoons granulated white sugar
1/8 teaspoon ground red pepper

VINAIGRETTE:

1/2 cup freshly squeezed orange juice
1/3 cup fresh grapefruit juice
2 tablespoons freshly squeezed lemon juice
1 tablespoon extra-virgin olive oil
1 tablespoon honey
1 tablespoon Dijon mustard
1 tablespoon low-sodium soy sauce
2 teaspoons minced peeled fresh ginger

SALAD:

10 cups mixed salad greens
2 medium naval oranges, peeled and sectioned
1/4 cup sweetened, dried cranberries (craisins)

Instructions:

Prepare pecans: Heat nonstick skillet coated with cooking spray over medium-low heat. Add pecans and cook for 6 minutes, stirring until lightly toasted. Sprinkle with sugar and red pepper and cook an additional minute. Remove from heat and cool on wax paper.
Prepare vinaigrette: Combine all ingredients in a blender and process until smooth. Pour into bowl; cover and chill. (Makes 1 1/3 cups and will keep in an airtight container in the refrigerator for one week).
Prepare salad: Combine greens, 3/4 cup of citrus vinaigrette, and orange sections in a large bowl. Toss well.
To serve, place 1 cup of greens mixture on each of 8 plates. Top with 1 1/2 teaspoons pecans and 1 1/2 teaspoons cranberries. Serve immediately.

Tips:

If you are preparing this recipe as gluten-free, just be sure to use brands of Dijon and soy sauce that are GF.
SOURCE: RecipeGirl.com