Wary seafood eaters sometimes view salmon as that fish with the other color (and thus, avoid it). I can't even relate to this line of thinking since our whole family devours salmon made every which way, and we have it for dinner at least three times a month. If you're of the mindset that you "don't like salmon," I encourage you to keep trying out recipes. I don't view it as a fishy fish, especially in the ways that I like to prepare it. I'll eat shellfish of any kind, any day, but I'm not a huge 'fish' eater. I like it, but I prefer to order it in restaurants than prepare it at home. Salmon is easiest to prepare and it doesn't make my kitchen smell like Fisherman's Wharf. See the end of this post for a few of my all-time favorite salmon recipes.
Here's a healthy one I tried recently:
Salsa- Roasted Salmon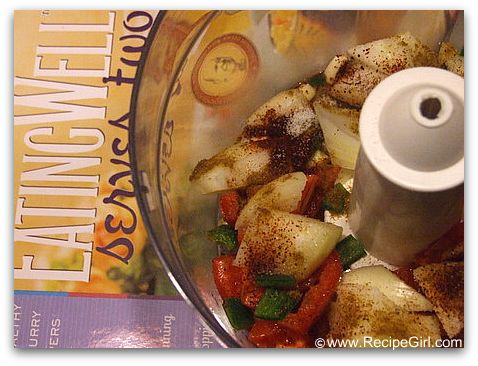 This recipe comes from this great cookbook that I picked up recently: Eating Well Serves Two. It's nice for us since sometimes I just make a meal for my husband and me. If I want to make more, I just double the recipe. Perfect.
To make the 'salsa' that goes in this dish, all of fresh ingredients are placed into a food processor and whirred a few times to turn it into a chunky salsa. That couldn't get any easier, could it? I'm not sure you could come up with the same consistency if you don't have a food processor. My suggestion for adapting would be to purchase a fresh salsa from the store, drain it, and jazz it up with a few of the spices included in the recipe.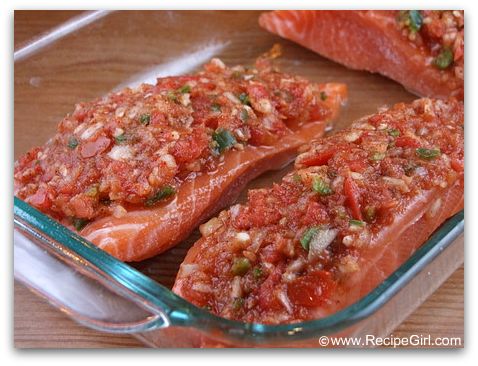 Usually the seafood guy strips the bones out of salmon fillets for you, but if he hasn't then it's really easy to do. Just find the side of the fish where the bones are. If you feel bones poking out, pull them out with your fingers or take some tweezers and yank them out that way.
You can use salmon without any skin on it or salmon with skin on one side. The salmon is placed skin-side-down in a baking dish and topped with the salsa. If you use salmon with skin… when the salmon is finished baking, you'll just take a spatula and place it between the skin and the fish. It will slide in easily and you can separate the fish from the skin and move it to your plate.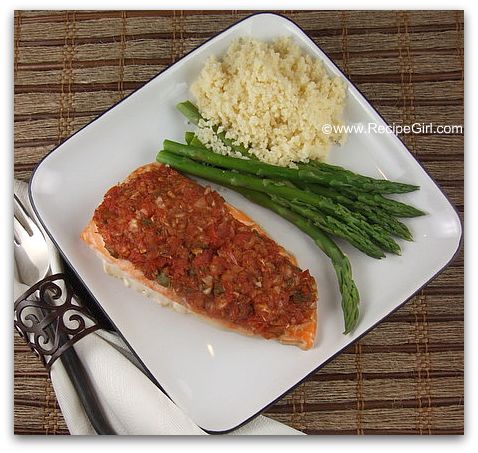 20 minutes or so in the oven (depending on the thickness of your salmon) and dinner is on the table. We did not make ours spicy, but you certainly can go that route if you'd like- add more hot sauce or jalapeno. And a side of asparagus and couscous (also quick to prepare) rounds out the meal.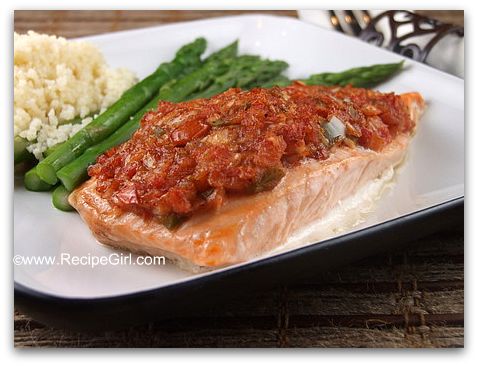 This salmon recipe is a keeper- every bite has a nice scoop of that salsa on it. And the best part- only a little over 200 calories a serving. Though salmon is higher in fat than other fish, it makes for a more satisfying and filling meal. It's a good source of protein and Omega 3's too.
This recipe can be found here:  Salsa Roasted Salmon
More salmon recipes can be found HERE.
My all-time favorite salmon recipes:
Barbecued Salmon (in the oven)- this is a huge favorite of everyone in our extended family that we've been making for years. It has a sweet flavor to it.
Grilled Salmon with Dill Pickle Butter– tried this one last summer and fell in love with it. You have to like pickles and have a willingness to try unique recipes!
Lime & Honey Glazed Salmon with Warm Black Bean & Corn Salad– this is a Rachael Ray recipe that I was skeptical about, but ended up finding was amazing.