This Sauteed Chicken with Tangy Tomato Sauce is a great, lighter dinner recipe.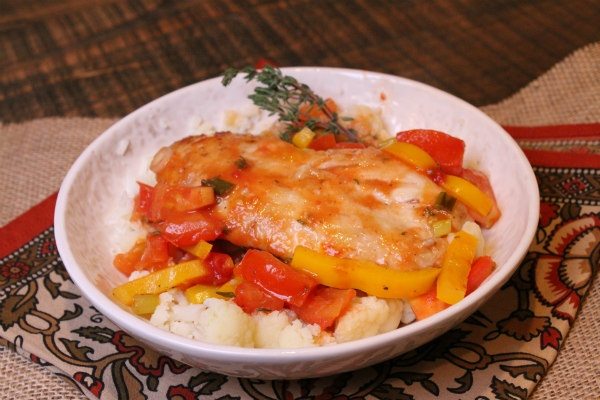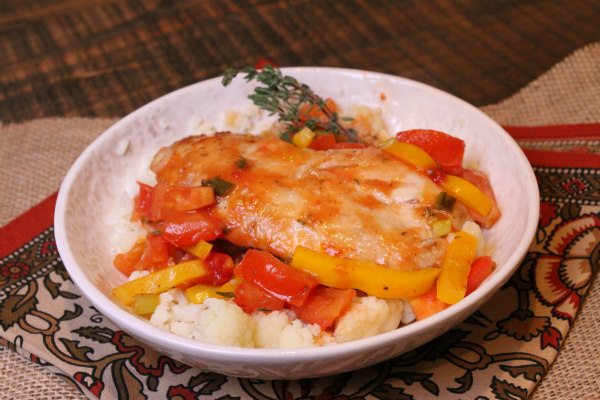 This is a super easy dinner to make for a busy weeknight.  Lightly coated chicken is sauteed in a skillet with a tiny bit of olive oil.
The chicken is then removed from the pan, and a tomato and bell pepper mixture is sauteed to create a tangy sauce.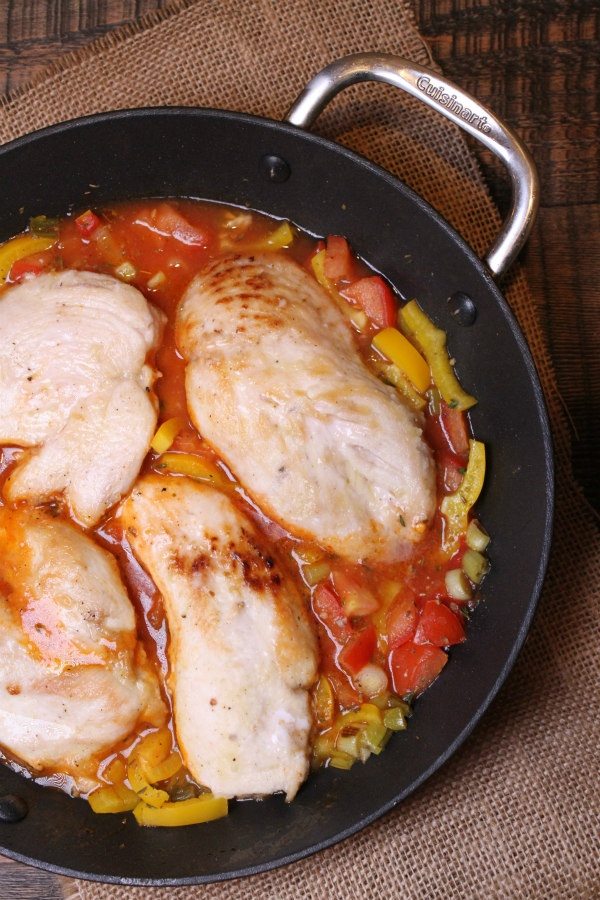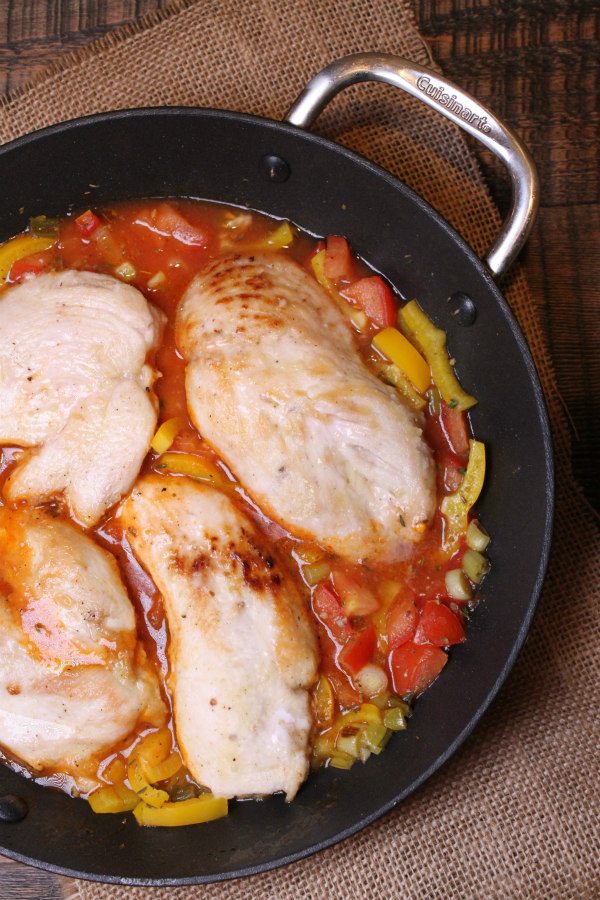 There is plenty of sauce to go around to top the chicken for individual servings.
If you happen to be following the Weight Watchers program, this meal counts as one Freestyle SmartPoint per serving.  That's almost nothing!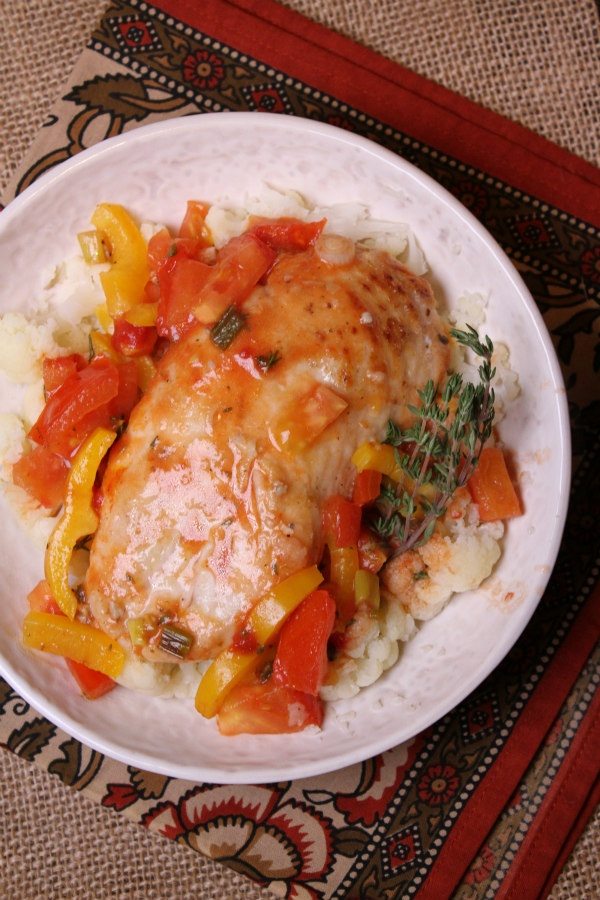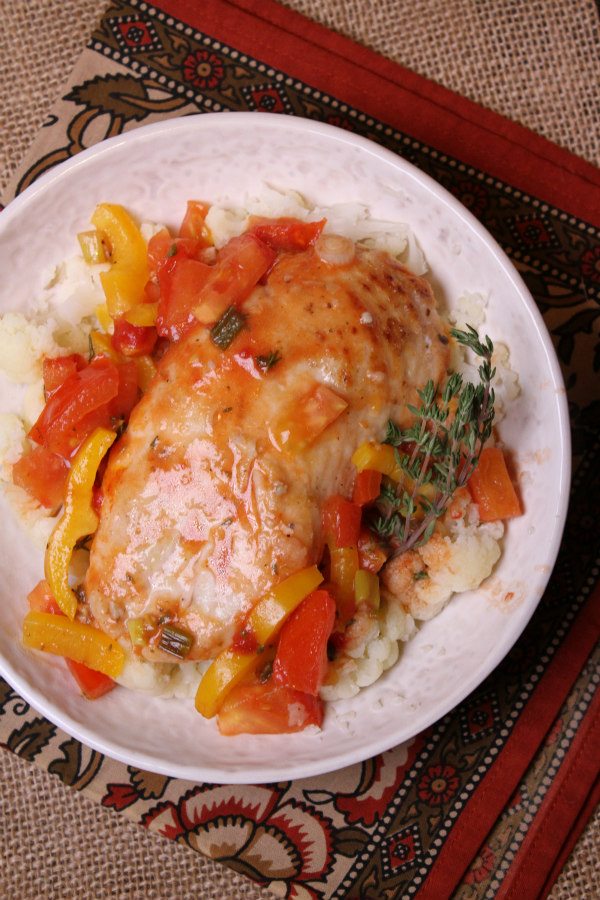 Enjoy!
Sauteed Chicken with Tangy Tomato Sauce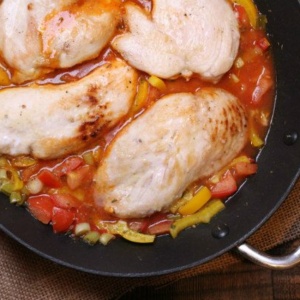 Easy, enjoyable recipe for dinner.
Yield:
4 servings
Prep Time:20 minutes
Cook Time:20 minutes
Ingredients:
2 tablespoons all-purpose flour
1/2 teaspoon salt, divided
1/2 teaspoon freshly ground black pepper, divided
4 skinless boneless, skinless chicken breast halves (about 1 pound total)
2 teaspoons olive oil
3 whole green onions, thinly sliced
2 cloves garlic, minced
1/4 cup red wine vinegar
2/3 cup 99% fat-free chicken broth, low-sodium
1 medium tomato, coarsely chopped
2 tablespoons tomato paste
1 medium yellow bell pepper, seeded and cut into 1/2-inch-wide strips
1/2 teaspoon dried thyme
1/4 teaspoon dried rosemary
Directions:
 In a low wide bowl, combine flour, 1/4 teaspoon salt, and 1/4 teaspoon of pepper. Dredge chicken in flour mixture, shaking off the excess. In a large nonstick skillet, heat oil until hot but not smoking over medium-heat. Add chicken and cook until golden brown, about 2 minutes per side. Transfer chicken to a plate. Set aside.
Add scallions and garlic to pan and cook until scallions are softened, about 1 minute. Add vinegar, increase heat to high and cook until slightly evaporated, about 1 minute. Add remaining ingredients, plus remaining 1/4 teaspoon salt and 1/4 teaspoon pepper. Bring to a boil, add chicken, reduce to a simmer; cover and cook until chicken is cooked through, about 8 minutes. Divide chicken and sauce among 4 bowls and serve.
Tips:
If you are preparing this recipe as gluten free, use GF all-purpose flour in place of regular, and be sure to use a brand of chicken broth that is designated as gluten free.
Nutrition:
Nutritional Information per serving (Serving size:

1 chicken breast + sauce) 

Calories:

196, 

Fat:

4g, 

Saturated Fat:

.75g, 

Sugar:

2g, 

Fiber:

2g, 

Protein:

28.5g, 

Cholesterol:

66mg, 

Carbohydrates:

11.5g

Weight Watchers POINTS per serving:  Freestyle SmartPoints: 1, Points Plus Program: 5, Old Points Program: 4
SOURCE: RecipeGirl.com
Here are a few more chicken recipes you might enjoy: