Just when I thought my kids' football season was over, it somehow extended itself into several more weeks. Once the season was over, the 2nd placers then participated in a tournament where they got 2nd place, and then guess what… yeah, another tournament as 2nd placers. I love watching these little guys play football, but MAN it kills dinner time. I'm not such a crock potter, but crock pots save me on busy sport's nights, and there are a handful of recipes worth trying- like this one: Slow Cooker Garlic Chicken.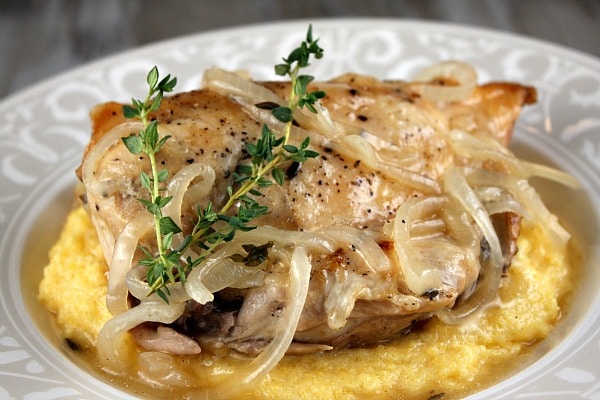 It's such a simple, no-brainer recipe.  And I made a simple, no-brainer creamy polenta to go with it too.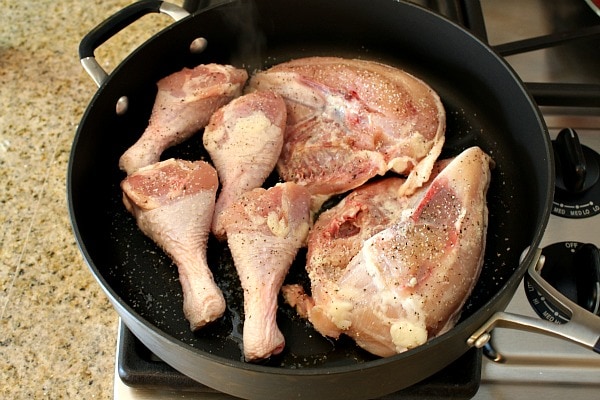 Chicken pieces are fried up on one side only, just to brown them lightly.  I wouldn't use boneless chicken for this recipe.  The bone-in chicken keeps the meat more tender.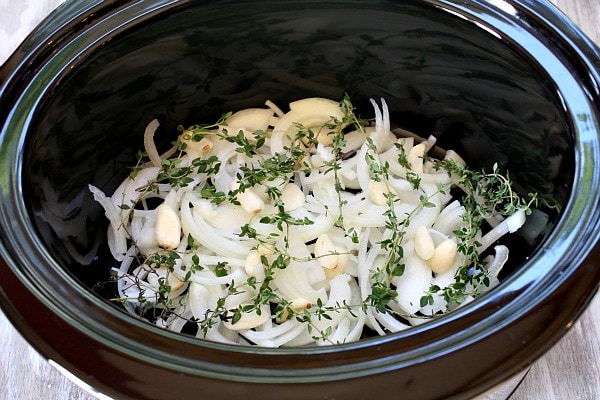 In a slow cooker, layer onion, garlic, and fresh thyme.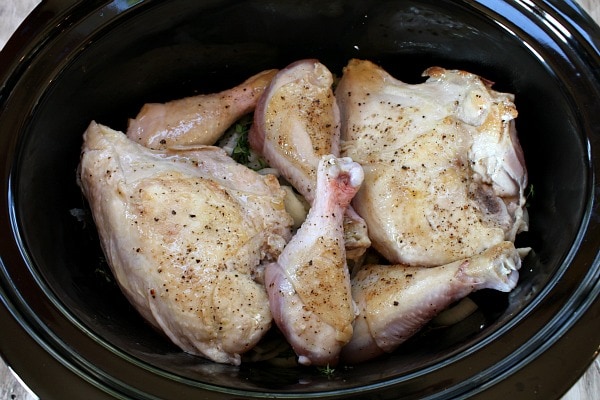 Place the lightly-browned chicken on top.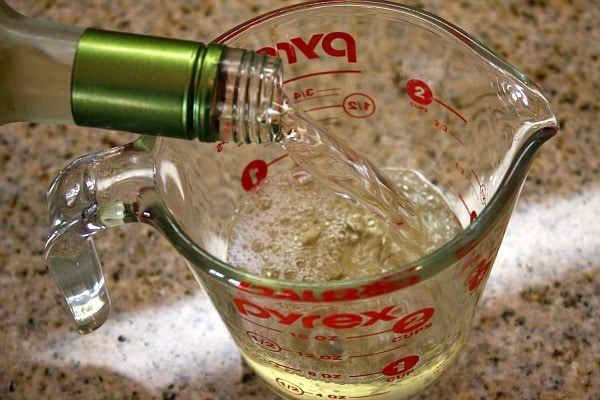 Make a sauce of sorts, beginning with white wine…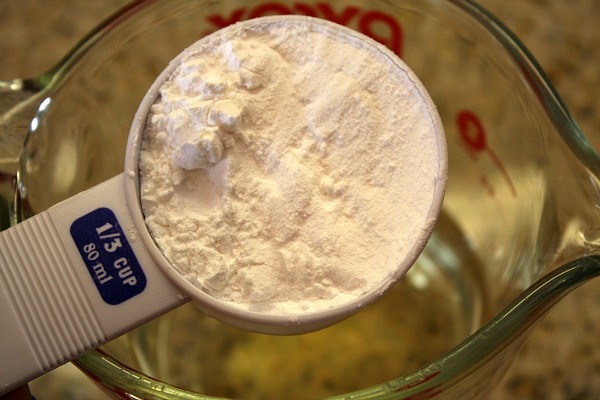 and mixing it with flour (or gluten-free flour or tapioca starch for my GF friends).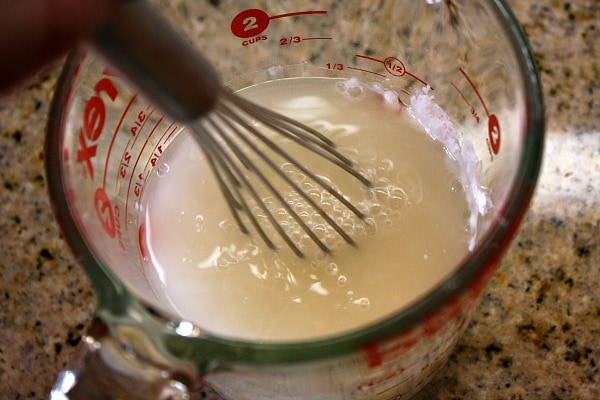 Whisk together.
Pour over the chicken in the slow cooker. Put the lid on the slow cooker and cook on high for 3 1/2 hours or on low for 7 hours.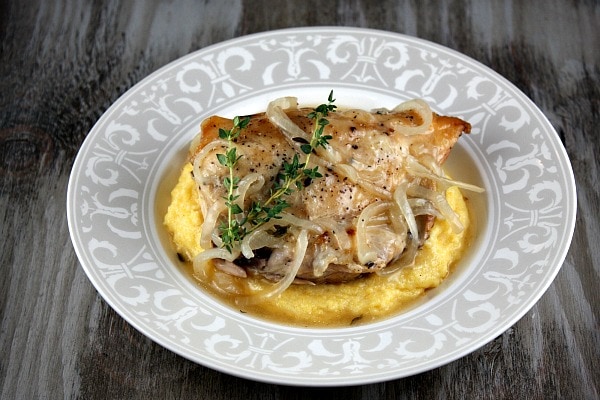 I used instant polenta as my base- made it according to the package instructions except that I substituted 1/2 of the water for milk, added a tablespoon of butter and a spoonful of cream cheese.  This made for a delicious and creamy "side" to the slow cooker garlic chicken.
Enjoy this new dinner idea as a nice departure from all of the seasonal sweet treats 🙂  And if you need a super easy dinner to be ready for you when you come home from all of your busy activities.
Slow Cooker Garlic Chicken
Yield:
4 servings
Prep Time: 25 min
Cook Time: 4 hr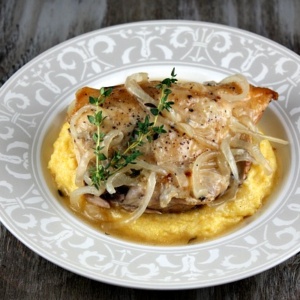 Ingredients:

3 to 4 pounds of bone-in chicken pieces (drumsticks, breasts, thighs)
Kosher salt and freshly ground black pepper
1 tablespoon extra-virgin olive oil
1 medium sweet onion, sliced
8 large garlic cloves, halved
several sprigs fresh thyme
1 cup dry white wine (Sauvignon Blanc is good)
1/3 cup all-purpose flour

Instructions:

1. Season the chicken with salt and pepper. In a large skillet, heat oil over medium- high heat. Cook the chicken, skin-side-down, until the skin turns golden brown (about 4 minutes).

2. Combine the onion, garlic and thyme in a 5 to 6-quart slow cooker and season with salt and pepper. Top with chicken, skin-side-up. In a small bowl, whisk together wine and flour until smooth and pour it over the chicken and into the slow cooker. Cover and cook until the chicken is tender- 3 1/2 hours on HIGH or 7 hours on LOW.

3. Serve chicken topped with sauce. Serve over rice, couscous, polenta or potatoes.

Tips:

*This recipe is gluten-free adaptable- substitute gluten-free flour or tapioca starch for the all-purpose flour.
*A delicious accompaniment to this dish is polenta. Prepare instant polenta as directed, substituting milk for 1/2 of the water and adding in 1 tablespoon of butter and a spoonful or two of cream cheese.

*If you would prefer to cook this in the oven, brown the chicken in a Dutch oven, then add remaining ingredients plus 1 cup chicken broth. Cover and cook at 350 degrees F. until the chicken is cooked through and tender, about 40 minutes.

Source: RecipeGirl.com (Adapted from Everyday Food)