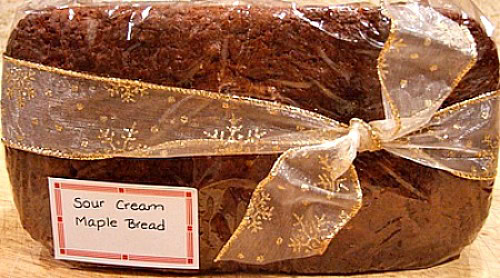 Sour Cream Maple Bread
Great breakfast bread... or for gifting during the holidays.
Yield:
1 loaf
Prep Time: 15 min
Cook Time: 50 min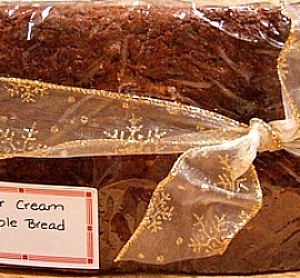 Ingredients:

1 3/4 cups all-purpose flour
2 teaspoons baking powder
1 teaspoon baking soda
1/2 teaspoon salt
1/2 cup (1 stick) unsalted butter, at room temperature
3/4 cup maple syrup
1 cup sour cream
1 large egg
1/2 cup chopped pecans (optional)

Instructions:

1. Preheat oven to 350°F. Grease and flour an 8x4-inch loaf pan.

2. In a small bowl, whisk together the flour, baking powder, baking soda, and salt. Set aside.

3. In a medium bowl, using an electric mixer, beat the butter until smooth, then slowly add the maple syrup, mixing constantly. By hand, whisk in the sour cream and egg. Stir in the pecans (if using). Add flour mixture and stir just until blended (do not overmix).

4. Spoon the batter into the prepared loaf pan and bake in preheated oven until a toothpick inserted into the center of the loaf comes out clean, 50 to 60 minutes. Transfer the pan to a wire rack and cool for 15 minutes, then turn the loaf out onto the rack to cool completely.