Easy slow cooker dinners like this are perfect for busy days: The Best Whole Chicken in the Slow Cooker
Whole chickens are easy enough to roast and everything, but I don't know why I've never thought to just put a whole chicken in the slow cooker. That's even better! The chicken cooks completely in about 6 hours on low (which is how I prefer to make it), and the meat pulls off super tender and moist and perfect. The skin is even slightly crispy after all is said and done!

100 Days of Real Food
This recipe comes from the fabulous cookbook by blogger Lisa Leake from 100 Days of Real Food. The book is aptly titled, 100 Days of Real Food: How We Did It, What We Learned and 100 Easy, Wholesome Recipes Your Family Will Love. I am loving this cookbook! Actually, I'm loving the whole concept of asking your family to join you on a venture of eating 100 days of real, clean food (no processed stuff). That might be a challenge in my house, but if my family was up to it, I'd be willing to go for it for sure! Author Leake shares her family's story with you in her book.
And the recipes shared are great, family-friendly ideas… things like Whole Wheat Banana Pancakes, Cinnamon- Raisin Quick Bread, Cinnamon- Apple Chips, Cheesy Broccoli- Rice Casserole, Homemade Chicken Nuggets and Carrot Cake with Whipped Cream Cheese Frosting. Is there anything super outrageous in the book? No. These are meant to be recipes that your family will enjoy. I think it's a great experiment to try on your own family. Go for it!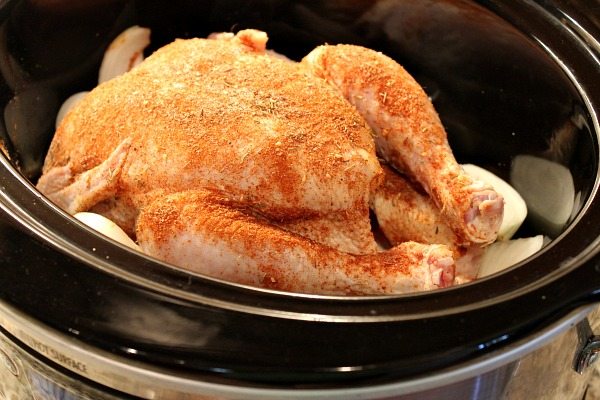 How to make the Best Whole Chicken in the Slow Cooker:
This recipe absolutely could not be any easier. A whole chicken is placed in your slow cooker with some chopped onions, and a mixture of spices rubbed on your chicken and that's it! Turn it on for 6 hours and dinner is ready later. So easy.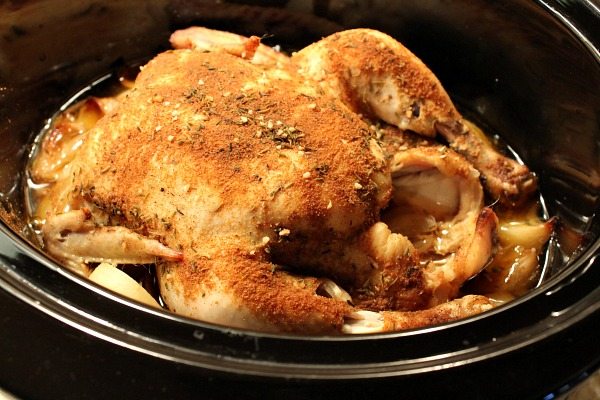 My son is starting lacrosse soon… and the practices are ALLLLL the way on the other side of town…. like a half-hour away. So on those two days a week I will definitely be utilizing my slow cooker. There is nothing worse than practice ending and my son saying, "Hey we should go for In-N-Out Burger!" And then we go to the burger place and chow down on burgers and animal fries and… oops, milkshakes! And then I've gained two pounds for the week and I'm miserable. I'd rather have a good home-cooked meal at home waiting for us, for sure! Here is my collection of >> Slow Cooker Recipes, which I'm going to be adding to this fall!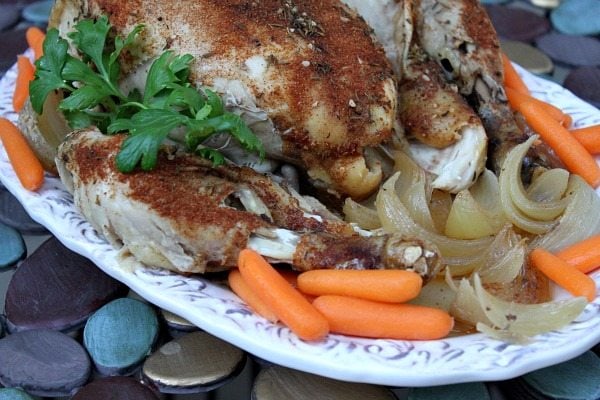 Here's our little slow cooked chicken as it came out of the slow cooker. The meat is VERY tender, so it's actually difficult to transfer to a platter but I got it done. I bought an organic chicken- a 4-pounder as the recipe calls for- and I truly believe that there was a LOT more meat on that chicken than the ones that you buy already roasted at the store. I was really happy with this dinner, and so was my family. And it was SO EASY!!!
How to Make a Whole Chicken in a Slow Cooker
Easy slow-cooker method for cooking a whole chicken!
Recipe Details
Ingredients
2

teaspoons

paprika

1

teaspoon

salt

1

teaspoon

onion powder

1

teaspoon

dried thyme

1/2

teaspoon

garlic powder

1/4

teaspoon

cayenne pepper

1/4

teaspoon

ground black pepper

1

large

onion,

peeled & cut into wedges

One

4-pound

whole chicken
Instructions
Combine all of the spices in a small bowl and set aside.

Place the onion in the bottom of your slow cooker.

Remove any giblets from the chicken (or leave them if you wish, but be sure to remove any plastic or paper bags, then rub the spice mixture all over the outside of the chicken. You can even put some of the spices in side the cavity and under the skin covering the breasts.

Put the chicken breast-side-down on top of the onions and cover the slow-cooker (note that my photos show breast side up- it turned out perfectly delicious that way too). There's no need to add any liquid.

Cook on high for about 4 hours or on low for 7 hours, or until the chicken is falling off the bone. Remove the edible chicken pieces from the slow cooker and serve.
Nutrition
Serving:
1
serving
,
Calories:
548
kcal
,
Carbohydrates:
4
g
,
Protein:
46
g
,
Fat:
37
g
,
Saturated Fat:
11
g
,
Cholesterol:
185
mg
,
Sodium:
640
mg
,
Potassium:
528
mg
,
Fiber:
1
g
,
Sugar:
1
g
,
Vitamin A:
781
IU
,
Vitamin C:
6
mg
,
Calcium:
38
mg
,
Iron:
3
mg