Here's a great way to jazz up an otherwise unimpressive piece of fish: Tilapia with Olive Mushroom and Tomato Sauce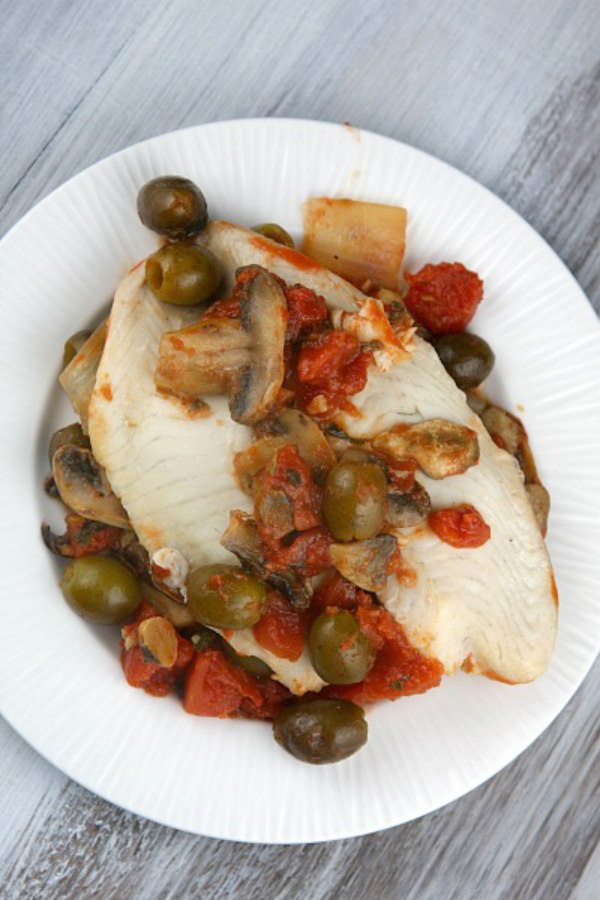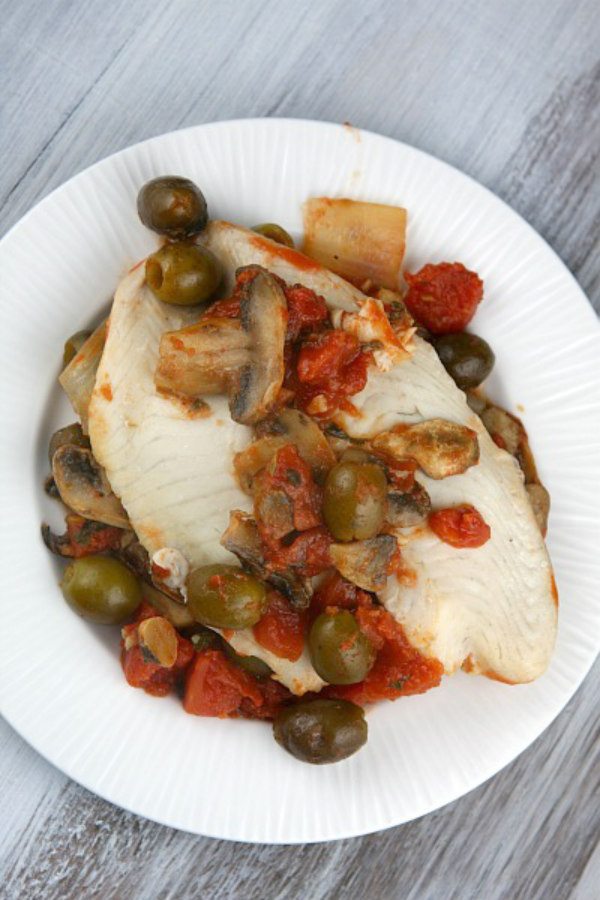 Tilapia with Olive, Mushroom and Tomato Sauce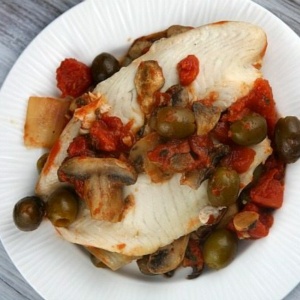 Yield:
4 servings
Prep Time: 20 minutes
Cook Time: 20 minutes
Ingredients:
1 tablespoon olive oil
1 small onion, cut into thin wedges
1 clove garlic, minced
1 14.5-ounce can diced tomatoes, undrained
1 cup sliced cremini or button mushrooms
16 pimiento-stuffed olives, coarsely chopped
1 tablespoon snipped fresh oregano (or 1/2 teaspoon dried, crushed)
1/4 teaspoon salt
1/8 teaspoon freshly ground black pepper
4 6-ounce tilapia fillets
Directions:
In a large skillet, heat olive oil over medium heat. Add onion and garlic; cook until onion is tender, for 2 to 3 minutes. Add tomatoes, mushrooms, olives, oregano, salt and pepper. Bring sauce to boiling.
Gently place fish in sauce in skillet, spooning sauce over fish. Return to boiling. Reduce heat; simmer, covered, for 8 to 10 minutes or until fish flakes easily when tested with a fork. With a wide spatula, lift fish from skillet to a serving dish. Spoon sauce over fish.
Tips:
Serve with rice and/or crusty bread slices.
Nutrition:
Nutritional Information per serving: (serving size:

6 ounces of fish + topping) 

Calories:

335, 

Fat:

16.5g, 

Saturated Fat:

2.41g, 

Sugar:

1g, 

Fiber:

3.5g, 

Protein:

35g, 

Cholesterol:

102mg, 

Carbohydrates:

12g

Weight Watchers POINTS: SmartPoints: 4, PointsPlus: 8, Old Points Program: 9