Hurry, make this homemade Toasted Marshmallow Brownie Malt Ice Cream before summer ends!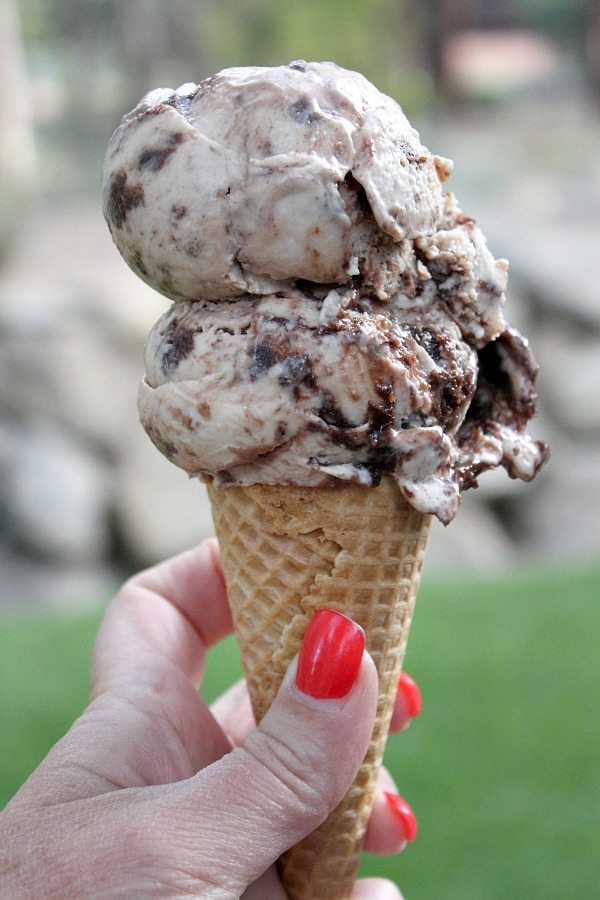 I've mentioned this story in my cookbook- oh yeah, I have a cookbook! The Recipe Girl Cookbook, which you can still purchase on Amazon if you haven't gotten around to buying it yet! But I'll mention it again for you all (and then you can go buy my cookbook!) My very first job was in a cute little place called, The Penguin in Carson City, Nevada. It was one of those burger and frosty kind of places that you see when you're driving through a small town. I made $2.85/hour and I started working there when I was only 15. It was the best job ever because I got to eat endless amounts of ice cream, burgers and fries galore, and I had frequent visitors from friends. I wonder why?? My very favorite thing to make at The Penguin was a marshmallow malt. Soft serve ice cream + marshmallow syrup + malt powder + milk = THE BEST!!! This ice cream is a tribute to my favorite malt from The Penguin.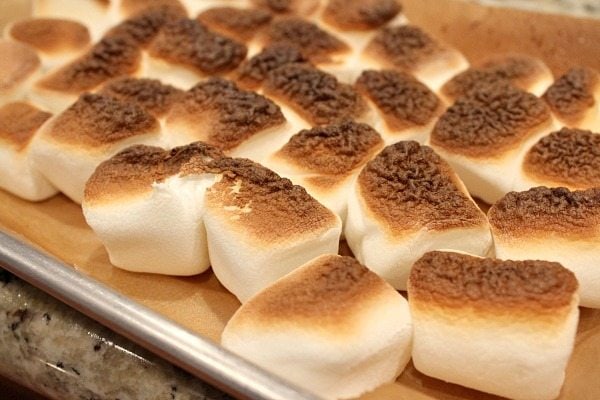 How to make Toasted Marshmallow Brownie Malt Ice Cream:
Instead of marshmallow syrup, I use real marshmallows. And I toast them, of course! YUM.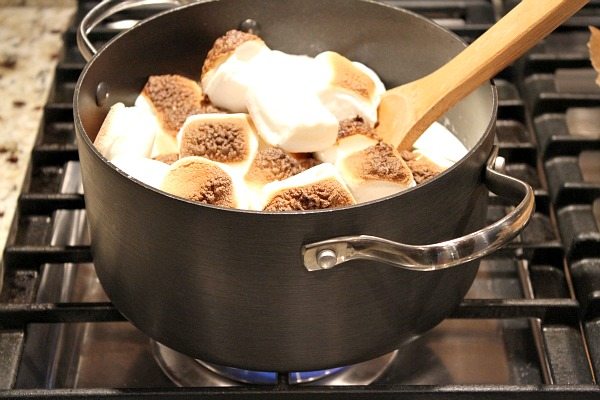 After they are toasted, I melt them into the ice cream base with malt powder mixed in too. Like any good ice cream base, you need to chill it for quite some time until it is really, really cold. I chill mine overnight. And then I try very hard not to drink it with a straw before I pour it into my ice cream maker. That's how good it is!!
When you're toward the end of churning it in your ice cream maker, you toss in crumbled bits of baked brownies. I just make an easy boxed mix and crumble those. And there you go- the best ice cream flavor ever!
Sadly, The Penguin closed many years back. The owners were ready to retire, and the gas station next door bought the land to expand the parking lot. I drove by the other day though, and you know what?? It's an empty lot. The gas station tore down the building but never utilized the land. The Penguin could have remained open and made people happy for many more years. Bummer.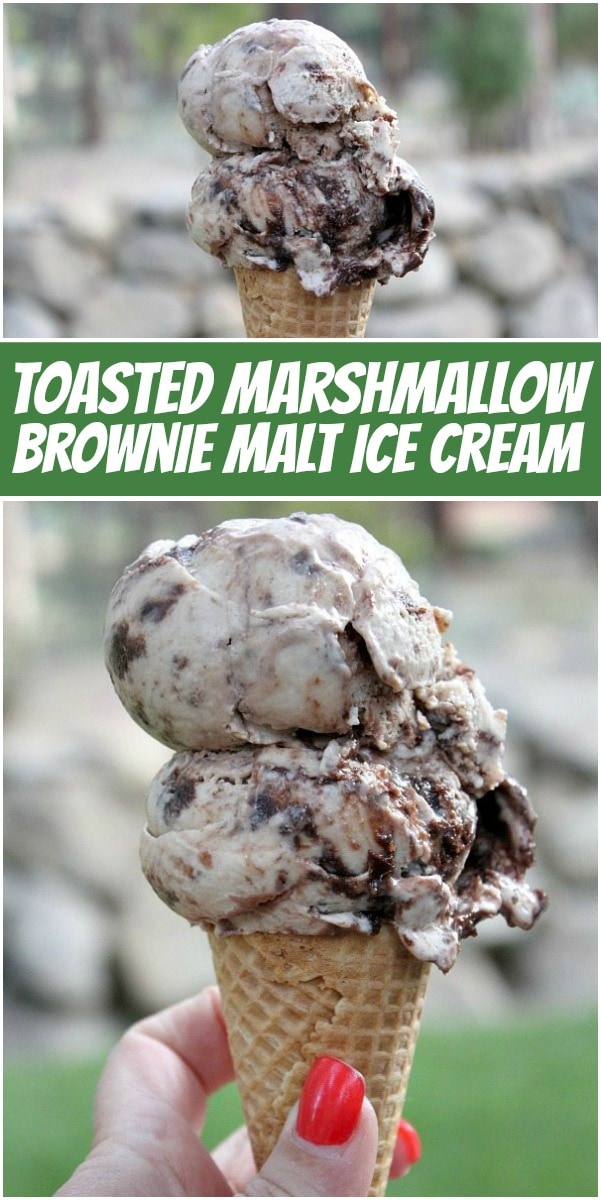 Here are a few more ice cream recipes you might like to try:
Toasted Marshmallow Brownie Malt Ice Cream
The best ice cream flavor ever!
Recipe Details
Ingredients
32

large

marshmallows

2

cups

whipping cream

2

cups

half and half cream

1/2

cup

malt powder

1/2

teaspoon

vanilla extract

pinch of salt

2

cups

brownie pieces

(see Recipe Notes below)
Instructions
TOAST THE MARSHMALLOWS:
Place a rack in the center of your oven, and preheat your oven to broil. Place the marshmallows on a baking sheet. Broil the marshmallows for 1 to 2 minutes, just until they begin to brown and puff (see the photo in the post). Remove them from the oven and set them aside.
MAKE THE ICE CREAM BASE:
In a large saucepan, heat the whipping cream and half-and-half over medium heat. Once the mixture is warm, add the toasted marshmallows and stir until the marshmallows are melted. Whisk in the malt powder, vanilla and salt and stir until the malt is dissolved. Remove the pan from heat and let it cool to room temperature. Transfer the ice cream base to a covered plastic container and chill for at least 8 hours.
PROCESS THE ICE CREAM:
Remove the ice cream base from the refrigerator and give it a few whisks to reincorporate the ingredients. Resist the temptation to grab a straw right then and there and start sipping (because it's delicious!!) Follow your ice cream machine manufacturer's instructions for processing the ice cream. It usually takes 25 to 30 minutes for the ice cream to become creamy and frozen. Add in the brownie pieces just before you're about to turn off the machine, and let the machine mix them in for about a minute. Scrape the ice cream into a freezer-safe container and freeze for several hours, or until the ice cream is firm enough to eat. The ice cream will keep in the freezer for up to 2 weeks.
Notes
*For brownie pieces, I like to just make a package of box brownies from the store and crumble pieces from there. You'll use up about half a recipe.
*Most ice cream machines ask that you freeze the insert for 24 hours prior to processing your ice cream. This is what I recommend too.
Nutrition
Serving:
1
serving
,
Calories:
668
kcal
,
Carbohydrates:
79
g
,
Protein:
7
g
,
Fat:
37
g
,
Saturated Fat:
20
g
,
Cholesterol:
106
mg
,
Sodium:
274
mg
,
Potassium:
182
mg
,
Sugar:
49
g
,
Vitamin A:
1106
IU
,
Vitamin C:
1
mg
,
Calcium:
125
mg
,
Iron:
2
mg