Triple Berry Salad with Sugared Almonds
If you've never had fresh berries in a green salad before, now's the time to try it.  My sister S is here in San Diego visiting us, and she shared her secret for losing an entire dress-size these past few months:  she eats a salad with berries and sugared nuts for dinner almost every night!  Ok, so she's a fanatic on the elliptical machine too… but in any case, this is a darn good salad and it's healthy too.  Sister S helped me create this Triple Berry Salad with Sugared Almonds.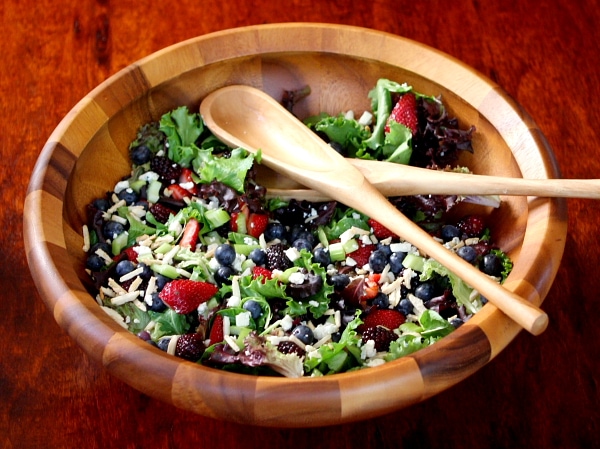 Triple berries are featured in this salad.  I used blueberries, strawberries and blackberries.  Feel free to use your favorite berries though.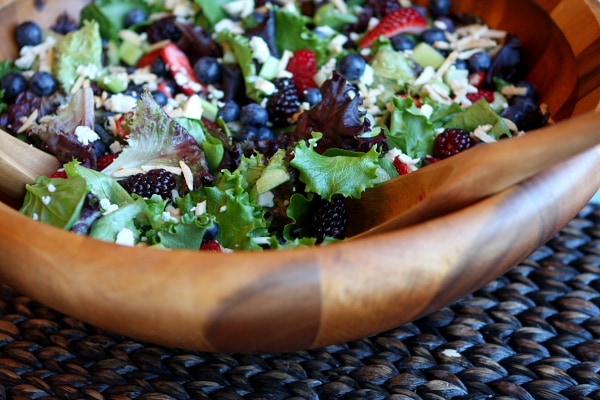 The sugared almonds are super simple.  Just melt the sugar in a hot skillet and add the almonds to let the melted sugar coat them.  That's all you do.  We also added avocado and gorgonzola crumbles.  If you're not a blue cheese fan, add goat or feta instead (or leave it out entirely).  We tossed it all in a strawberry-balsamic dressing.  SO GOOD.  If I can eat this every night for dinner and lose a dress size, I'm all over that.  My family can just fend for themselves for a while, lol!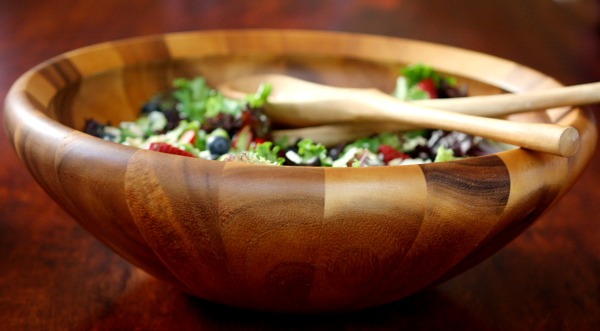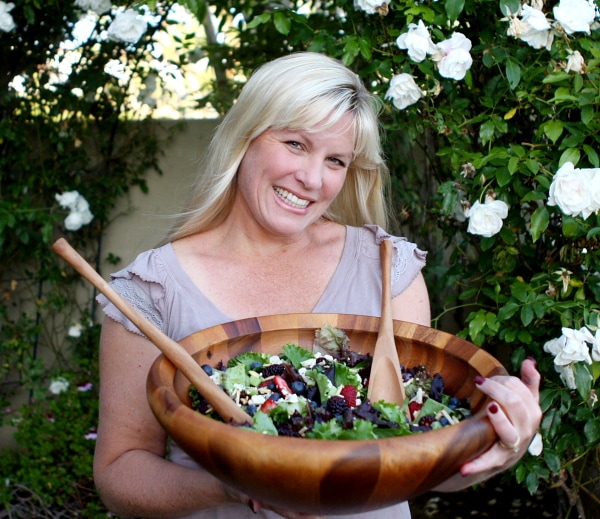 We love this summer salad recipe!
Yield: 8 servings
Prep Time: 25 minutes
Cook Time: 5 minutes
Triple Berry Salad with Sugared Almonds
Fantastic summer salad recipe!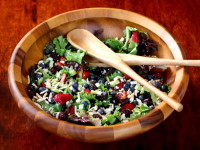 Ingredients:
ALMONDS:
3 Tablespoons granulated white sugar
1/2 cup slivered almonds
DRESSING:
3 Tablespoons strawberry jam
1 Tablespoon chopped Italian parsley
2 Tablespoons white balsamic vinegar
1/2 teaspoon sea salt
dash of freshly ground pepper
1/2 teaspoon Dijon mustard
1/4 cup extra-virgin olive oil
SALAD:
1 pound mixed baby greens
1 large avocado, peeled, pitted and chopped
2 whole green onions, finely chopped
1 1/2 cups blackberries
1 1/2 cups sliced strawberries
1 1/2 cups blueberries
3/4 cup gorgonzola cheese crumbles
Directions:
Prepare the almonds: In a small skillet, heat the sugar over medium heat until it begins to melt. Add the almonds to the pan and toss rapidly until the sugar coats all of the almonds and the almonds are lightly browned. Pour them out onto a glass dish and separate almonds with a fork. Cool until hardened and break into pieces.
In a small bowl (or a shaker jar), combine all of the dressing ingredients except for the olive oil. Add the olive oil in a slow stream, whisking as you add the oil until the dressing thickens.
In a large bowl, place the greens, avocado, green onions, blackberries, strawberries and blueberries. Toss them with the dressing. Add almonds and gorgonzola crumbles. Toss lightly and serve.
Tips:
Use whatever kinds of berries you'd like, and feel free to switch out the gorgonzola crumbles for goat cheese or feta cheese too.
SOURCE: RecipeGirl.com
Comments