This recipe has been featured in a post on The Recipe Girl blog: Vanilla Bean Bars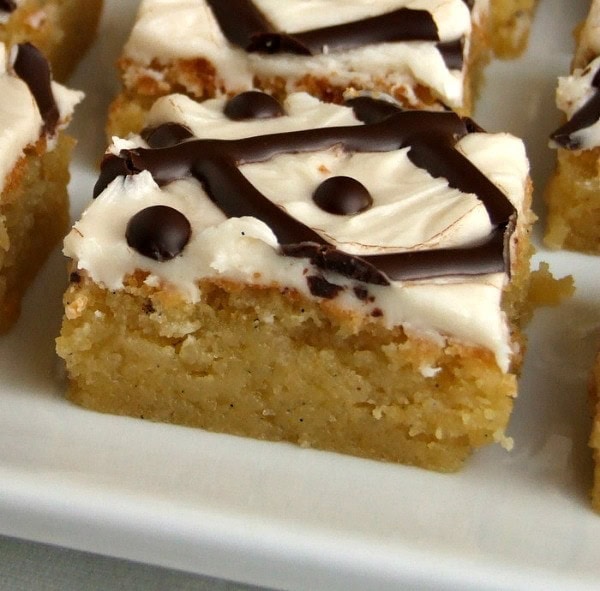 Triple Vanilla- Bean Bars
Very rich and wonderful. Small bites are perfect!
Yield:
About 25 bars
Prep Time: 35 min
Cook Time: 30 min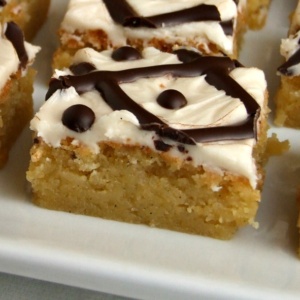 Ingredients:

BARS:
1/2 cup salted butter
10 ounce bag white vanilla baking chips (1 2/3 cups)
1 1/4 cups all-purpose flour
3/4 cup granulated white sugar
1 teaspoon vanilla extract
1/4 teaspoon salt
3 large eggs
1/2 vanilla bean, scraped

ICING:
1 1/2 cups powdered sugar
2 to 3 tablespoons salted butter, softened
1/2 teaspoon vanilla extract
1 to 2 tablespoons warm water or milk
chocolate chips + shortening for drizzle, optional (see TIPS below)

Instructions:

1. Preheat oven to 350°F. Grease and flour 11x7-inch pan (if you use a 9x9-inch, you'll need to bake longer).

2. In a 2-quart saucepan, heat butter and baking chips over low heat, stirring frequently, just until melted and smooth (the mixture may appear curdled). Remove from heat; cool.

3. Stir in remaining bar ingredients until well blended. Spread evenly in pan.

4. Bake 30 to 35 minutes or until toothpick inserted in center comes out clean. Cool completely.

5. Run a knife around the edge of the pan. The whole thing should pop out of the pan pretty easily- pop onto a cutting board and carefully turn upright.

6. Prepare icing: In a medium bowl, mix all glaze ingredients until smooth and spreadable. Spread icing over bars. Let cool. Drizzle chocolate patterns on top if you'd like. Let cool completely before cutting. They'll cut into neater squares if the bars have been chilled for a while.

Tips:

*If you'd like to add a chocolate drizzle, melt about 1/2 cup chocolate chips with about 1 teaspoon of shortening. Microwave and stir until smooth. Pour into a small zip top baggie, snip the end and drizzle away into your desired pattern.