A family-favorite at my house > Wild Rice with Snowpeas
Wild Rice with Snowpeas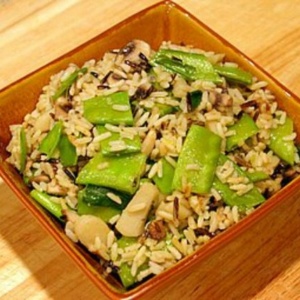 Yield:
6 servings
Prep Time: 25 min
Cook Time: 45 min
Ingredients:
1 cup wild rice
2 chopped green onions
1 tablespoon butter
1 teaspoon salt
2 cups chicken broth (or more)
One 6-ounce package frozen snow peas, thawed and drained
1 can chopped water chestnuts, drained
1 cup fresh sliced mushrooms
2 tablespoons vegetable or canola oil
1/2 teaspoon salt
1/4 teaspoon freshly ground black pepper
Directions:
1. Rinse rice well and drain.
2. Cut the green onion stems into 2-inch lengths. Finely chop the white part of the green onions.
3. Melt butter in large saucepan. Add white onion and sauté. Add rice, 1 teaspoon salt and 2 cups chicken broth. Bring to a boil, stir and reduce heat. Cover and cook over low heat until rice is tender and the liquid is absorbed (about 35 minutes). If necessary, add more broth as rice cooks.
4. Heat oil in separate skillet. Add mushrooms and sauté for a few minutes. Add green onion stems, peas and water chestnuts and sauté lightly.
5. Add sauteéd vegetables to the cooked rice. Add salt and pepper. Keep warm in oven until ready to serve.
Tips:
*If you are preparing this recipe as GLUTEN-FREE, just be sure to use brands of wild rice and chicken broth that are known to be GF.
*If you are using packaged wild rice, leave out the herb seasoning packet.