This recipe has been featured in a step-by-step, how-to post on The Recipe Girl blog: How to Make Won Ton Soup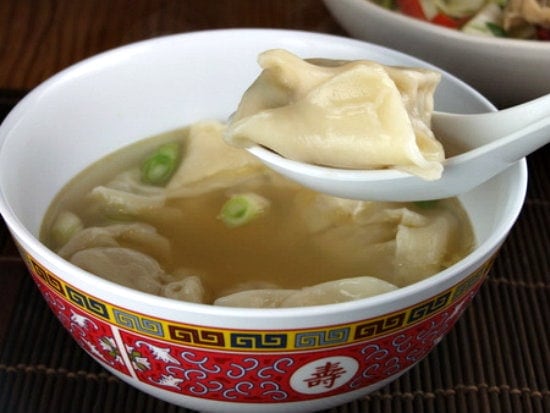 Wonton Soup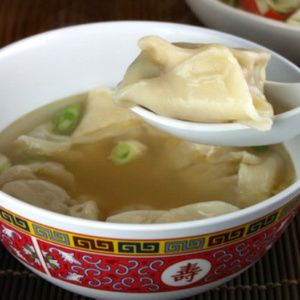 Yield:
4 servings
Prep Time: 45 min
Cook Time: 6 min
Ingredients:
WONTONS:
1/2 cup finely chopped napa or Savoy cabbage
coarse salt
6 ounces ground pork, not all lean
3 whole green onions, finely chopped
1 tablespoon finely chopped and peeled fresh ginger
1 teaspoon soy sauce
1 teaspoon toasted sesame oil
Twenty Four 3 1/2 by 3-inch rectangular or square wonton wrappers
SOUP:
Two 14.5-ounce cans reduced-sodium chicken broth
coarse salt
3 whole green onions, thinly sliced on the diagonal
2 to 3 teaspoons rice vinegar
1/2 teaspoon toasted sesame oil
Directions:
1. Prepare filling: In a medium bowl, toss cabbage with 1/2 teaspoon salt. Let stand for 10 minutes. Wrap cabbage in a double layer of paper towels; firmly squeeze out excess liquid. Return cabbage to bowl; add pork, green onions, ginger, soy sauce, and sesame oil. Mix well with a fork. Filling may be refrigerated for up to 2 days.
2. Make the wontons: Work with one wrapper at a time, and keep the rest covered with a damp towel. Spoon one rounded teaspoon of filling in center.
3. With dampened fingers, wet the four edges. To make a triangle, fold wrapper in half over filling, making sure the ends meet and filling is centered; press edges down firmly to seal.
4. Moisten one tip on long side of triangle. Then bring together both tips on long side, overlapping them slightly; press tips together to seal.
5. Fold remaining top corner back. Transfer to an oiled plate; cover with a damp towel to keep moist. Repeat with remaining wrappers and filling.
6. Make the soup: In a large pot, combine broth, 4 cups of water, and 1 teaspoon salt; bring to a boil. Add wontons one at a time; return to a boil. Reduce heat to medium, and simmer until wontons are just cooked through, 4 to 6 minutes. Stir in green onions, vinegar, and sesame oil; season with salt. Serve.