To prepare this recipe as Gluten Free, please see tips at the end of the recipe…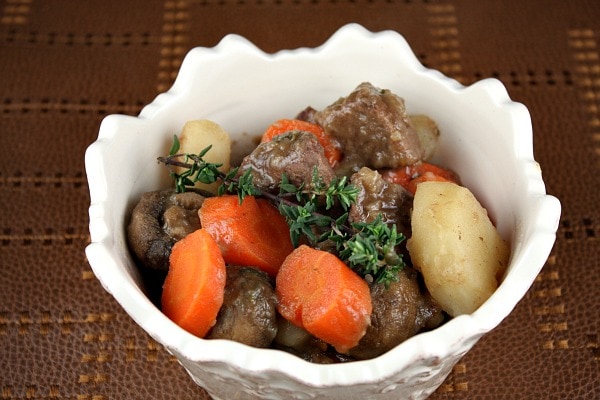 Yield: 8 Servings (Serving Size: About 1 cup)
Prep Time: 30 min
Cook Time: 2 hr, 30 min
Basic Beef Stew
My mother (a self-proclaimed stew-expert) gave this one the thumbs up. She especially liked it the next day when the flavor had time to seep into the vegetables.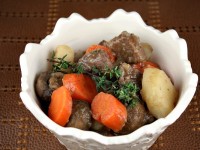 Ingredients:
1 Tablespoon olive oil, divided
1 pound small cremini mushrooms
2 cups chopped onions
3 cloves garlic, minced
1/3 cup all-purpose flour
2 pounds lean beef stew meat, cut into bite-sized pieces
3/4 teaspoon salt, divided
1 cup dry red wine
1 Tablespoon chopped fresh thyme
2 (14-ounce) cans less-sodium beef broth
1 whole bay leaf
2 cups 3/4-inch cubed peeled white skinned potato (about 1 pound)
1 1/2 cups 1-inch slices carrots (12 ounces)
1/2 teaspoon freshly ground black pepper
fresh thyme sprigs (optional)
Directions:
1. Heat 1 teaspoon olive oil in a large Dutch oven over medium-high heat. Add mushrooms, and sauté for 5 minutes or until mushrooms begin to brown. Spoon mushrooms into large bowl. Lightly coat pan with cooking spray. Add onion; sauté 10 minutes or until tender and golden brown. Add garlic; sauté 1 minute. Add onion mixture to mushroom mixture.
2. Place flour in a shallow bowl or pie plate. Dredge beef in flour, shaking off excess. Heat remaining 2 teaspoons oil in pan over medium-high heat. Add half of beef mixture; sprinkle with 1/8 teaspoon salt. Cook 6 minutes, browning on all sides. Add browned beef to mushroom mixture. Repeat procedure with remaining beef mixture and 1/8 teaspoon salt.
3. Add 1 cup wine to pan, scraping pan to loosen browned bits. Add thyme, broth, and bay leaf; bring to a boil. Stir in beef mixture. Cover, reduce heat to medium-low, and simmer for 1 hour or until beef is just tender.
4. Stir in potato and carrot. Simmer, uncovered, 1 hour and 15 minutes or until beef and vegetables are very tender and sauce is thick, stirring occasionally. Stir in remaining 1/2 teaspoon salt and pepper. Discard bay leaf. Garnish with thyme sprigs, if desired.
Tips:
*If you are preparing this recipe as Gluten Free, sub GF flour for the all-purpose and be sure to use a brand of beef broth that is designated as GF.
*Purchase pre-cut lean stew beef, or cut lean beef sirloin or chuck into bite-sized pieces.
*White skinned potatoes hold up well in soups and stews; you can substitute red potatoes too.
Nutritional Information per serving:
Serving size: 1 cup
Calories per serving: 308
Fat per serving: 14.5g
Saturated Fat per serving: 5.2g
Sugar per serving: 4g
Fiber per serving: 3g
Protein per serving: 21.5g
Cholesterol per serving: 44.23mg
Carbohydrates per serving: 24.5g
WW POINTS per serving:
Points Plus Program: 8 Old Points Program: 7
Leave a Comment