Rosemary- Sea Salt Italian Bread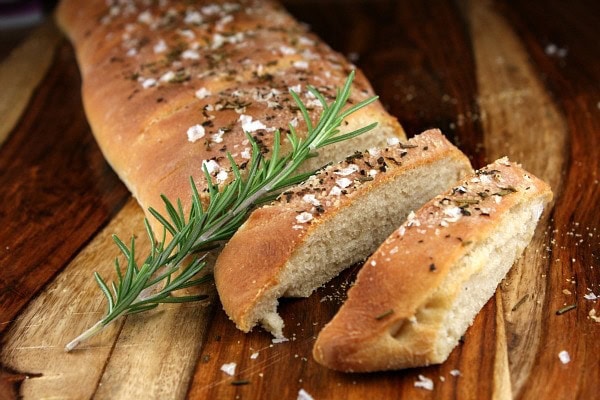 Yield: 12 servings
Prep Time: 25 min + rising time
Cook Time: 40 min
Rosemary- Sea Salt Italian Bread
There's nothing like a little homemade bread to dunk into soup on a chilly winter's day. This one has the perfect amount of flavor sprinkled on top.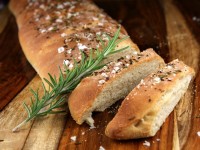 Ingredients:
BREAD:
One (.25-ounce) envelope active dry yeast
3/4 cup lukewarm (105-115 degrees F) water
2 cups all-purpose flour, plus extra for dusting
1/4 cup whole-wheat flour
1 1/2 teaspoons salt
1 teaspoon cornmeal
TOPPING:
nonstick cooking spray
1 tablespoon finely chopped fresh rosemary
1/2 tablespoon flaky sea salt
Directions:
1. In a small bowl, sprinkle yeast over 1/4 cup of the water. Let stand until foamy, about 5 minutes.
2. In a food processor, combine flours and salt. With the machine running, scrape the yeast mixture and the remaining 1/2 cup water through the feed tube until the dough just forms a ball. Knead the dough by pulsing until it is smooth and no longer sticky, about 30 times.
3. Spray a large bowl with nonstick spray; place the dough in the bowl. Cover loosely with a clean dishtowel and let the dough rise in a warm, draft-free place until it doubles in volume, about 1 hour.
4. Punch down the dough; lightly sprinkle a work surface with flour and turn dough out onto the surface. Roll the dough out into a 12x16-inch rectangle. Fold into thirds, lengthwise, and pinch seams to seal, forming into a 12-inch tapered oval loaf.
5. Spray a baking sheet with nonstick spray; sprinkle the cornmeal in a 12-inch strip down the center. Place the loaf on the baking sheet; cover loosely with plastic wrap or a damp towel and let it rise in a warm, draft-free place until doubled in volume, about 30 minutes.
6. Spray loaf with nonstick spray; sprinkle with rosemary and sea salt. With a serrated knife, cut 2-3 slashes into the top. Place in the upper third of a cold oven; set the oven to 400 degrees F. Bake about 20 minutes; reduce oven temperature to 350 degrees F. Bake until loaf sounds hollow when tapped on the bottom, 20 to 25 minutes longer. Remove from the baking sheet and cool completely on a rack before slicing
Nutritional Information per serving:
Serving size: 1 slice (1/12th of the loaf)
Calories per serving: 89
Fat per serving: 1g
Saturated Fat per serving: 0g
Fiber per serving: 1g
Protein per serving: 3g
Cholesterol per serving: 0mg
Carbohydrates per serving: 18g
WW POINTS per serving:
Points Plus Program: 2 Old Points Program: 2
Leave a Comment