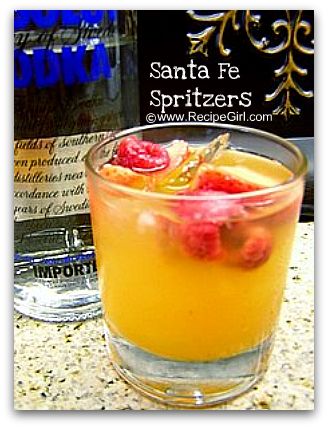 SANTA FE SPRITZERS
www.RecipeGirl.com
2 cups fresh strawberries and fresh raspberries
2 cups apricot nectar, chilled
2 cups seltzer, chilled
2 cups ginger ale, chilled
2 cups white grape juice, chilled
1 ½ cups vodka (optional)
1. Spread the strawberries and raspberries in a single layer on a baking sheet. Freeze for 8-10 hours. Remove the berries to a resealable plastic freezer bag and place back into the freezer.
2. Combine apricot nectar, seltzer, ginger ale, grape juice and vodka in a large pitcher or punch bowl and mix well. Add the frozen berries just before serving and pour into glasses or ladle into punch cups.
Servings: 8
PRINT THIS RECIPE using your browser's 'print' function. It's automatically formatted to print recipe & picture only.
RATE THIS RECIPE[ratings]
Leave a Comment