Slashed Chicken with Bacon- Herb Butter
Lovely family-friendly recipe: Slashed Chicken with Bacon-Herb Butter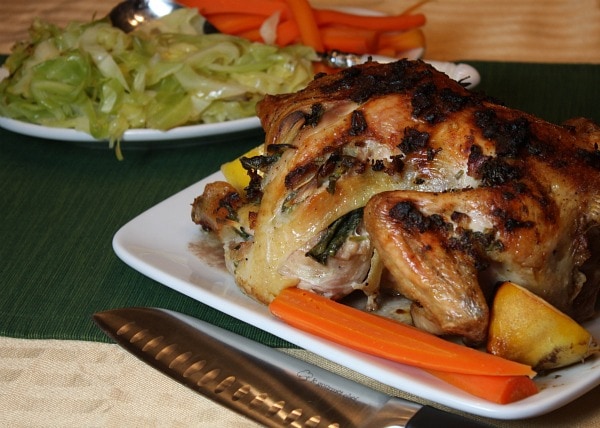 Yield: 4 servings
Prep Time: 30 min
Cook Time: 60 min
Slashed Chicken with Bacon- Herb Butter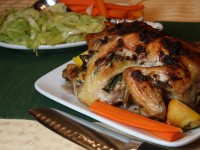 Ingredients:
8 tablespoons (1 stick) unsalted butter, at room temperature
2 slices raw bacon, chopped into small pieces
1 tablespoon chopped fresh chives
1 tablespoon chopped fresh sage
1 teaspoon chopped fresh thyme
1 teaspoon grated lemon zest
1 teaspoon sea salt, plus more to taste
1/2 teaspoon freshly ground pepper, plus more to taste
1 whole chicken (about 5 pounds)
8 fresh sage leaves
2 garlic cloves, sliced thinly
Directions:
1. Put a 5-quart oval Dutch oven in a cold oven and preheat the oven to 450 degrees F. After the oven has preheated, continue to heat the oven and pan for 20 more minutes.
2. Meanwhile, in a small bowl, combine butter, raw bacon, chives, sage, thyme, zest, salt and pepper. Stir until well blended and set aside.
3. Rinse the chicken well and pull out gizzards, etc. from inside the cavity. Pat dry with paper towels. Using a sharp knife cut 6 three-inch long slashes (1/2-inch deep) along legs, breast and back. Rub herb butter all over the chicken with your hands, pushing the butter into the slashes. Push a sage leaf and a slice of garlic into each of the slashes. Season the chicken with salt and pepper.
4. Carefully place the chicken, breast side down, in the hot pan. Roast until an instant-read thermometer inserted into the thickest part of the thigh, way from the bone, registers 165 to 170 degrees, 60 to 75 minutes.
5. Transfer the chicken to a cutting board and cover loosely with aluminum foil; let rest for 15 to 20 minutes. Carve the chicken and arrange on a warmed platter.
Tips:
*If you have bacon grease available to you, use that in place of the raw bacon. Just add a scoop of bacon grease to the butter & you'll impart some of that bacon flavor into the mix.
*If you are preparing this recipe as GLUTEN-FREE, just be sure to use a brand of bacon that is known to be GF.
*Why roast the chicken upside down? The breast meat stays more tender when the chicken is roasted upside down 🙂
More chicken with bacon recipes you might enjoy:
Easy Jack Chicken with Bacon by Oh Sweet Basil
Creamy Lemon Chicken with Bacon by Culinary Covers
Barbecue Chicken and Bacon Pizza by RecipeGirl
Spicy Bacon-Wrapped Cheese-Stuffed Chicken by Handle the Heat
2 Responses to "Slashed Chicken with Bacon- Herb Butter"
Leave a Comment