This is one of our favorite recipes to make for dinner:  Chicken with Cider and Bacon Sauce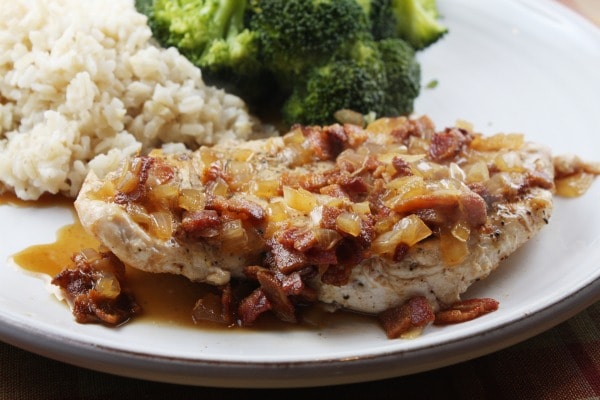 It's time to eat a little healthier and cut back a bit.  I picked up what looks to be a good cookbook at Costco the other day-  Cooking Light:  Way to Cook– the Complete Visual Guide to Everyday Cooking.  It has pictures- LOTS of them (850 to be exact- for 200 recipes).  And it has process pictures, which are tough to find nowadays.  The cookbook goes through ways to do things… way to saute, way to grill meats, way to make yeast breads, way to braise, way to cook healthy, etc.  I'm really diggin' this one.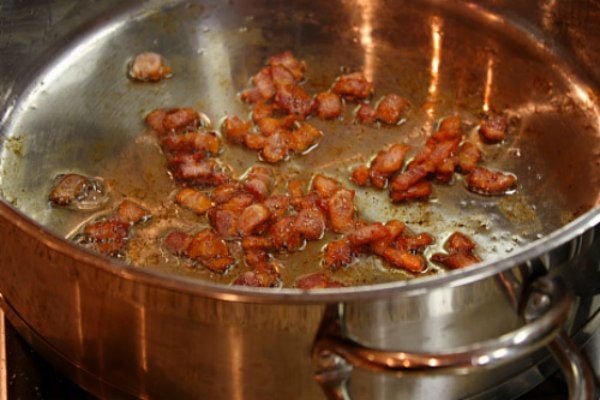 Chop up two slices of bacon and sizzle away until it's nice and crisp. Use the real stuff (2 slices of regular- not turkey-bacon aren't going to kill you, are they?) You'll need the bacon grease to do the next part.
While your bacon is cooking, pound out chicken breast halves to 1/2-inch thickness (for two reasons… ONE: the chicken cooks more evenly and will stay nice and moist, and TWO: It will make your serving of chicken look really big and therefore you will be more satisfied ???? )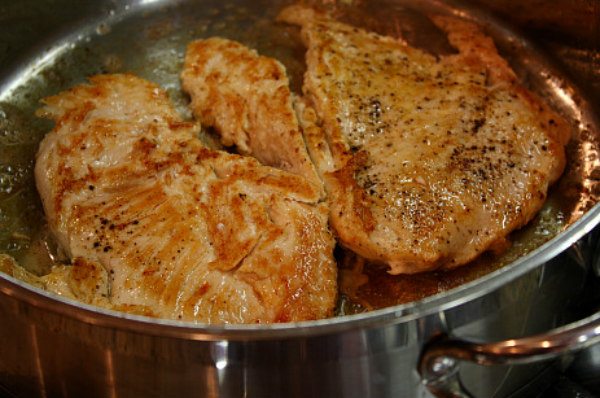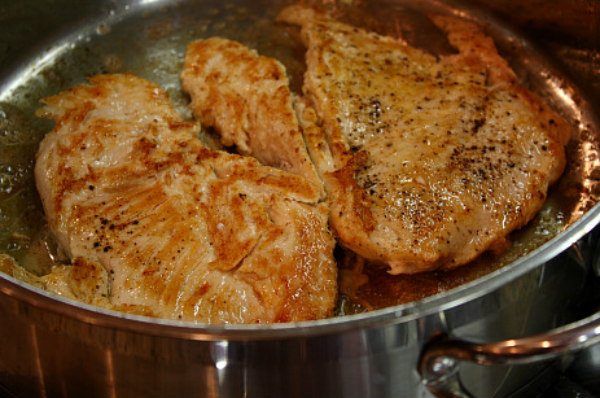 Remove the bacon from the pan & fry up that chicken in the small amount of bacon grease that accumulated.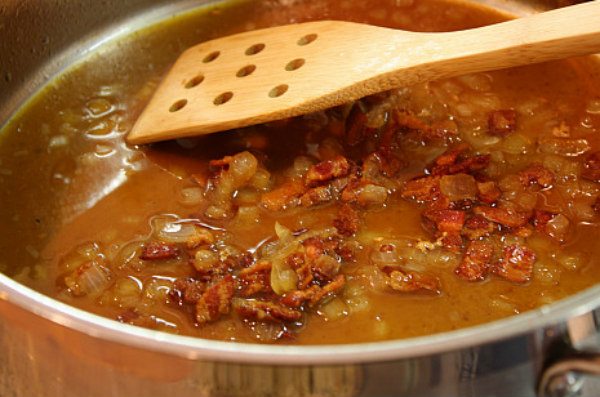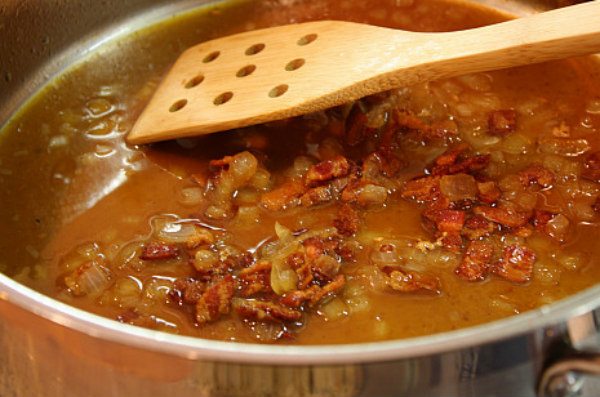 Remove the chicken and tuck it into some foil to keep it warm. Add onion, apple cider and chicken broth to the pan and boil until it reduces a bit. Add the bacon and the sauce is done.
Serve it over the chicken and you've got yourself a yummy, quick, healthy chicken dinner. Rice is a good choice to tuck underneath the chicken and absorb some of those sauce juices too.
Chicken with Cider and Bacon Sauce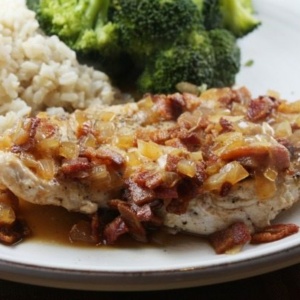 Rice is a good choice to tuck underneath the chicken and absorb some of those sauce juices too.
Yield:
4 servings (1 chicken breast & 2 Tablespoons sauce)
Prep Time: 20 minutes
Cook Time: 25 minutes
Ingredients:
4 (6-ounce) skinless, boneless chicken breast halves
1/4 teaspoon salt
1/4 teaspoon freshly ground black pepper
2 slices bacon, finely chopped
1/4 cup minced sweet onion
3/4 cup unsweetened apple cider
1/2 cup fat free, less-sodium chicken broth
Directions:
Place each chicken breast half between 2 sheets of heavy-duty plastic wrap (or waxed paper); pound to 1/2-inch thickness using a meat mallet or rolling pin. Sprinkle chicken evenly with salt and pepper.
Cook bacon in a large nonstick skillet over medium heat until crisp. Remove bacon from the pan. Add chicken to drippings in pan; cook 6 minutes on each side or until done. Remove chicken from pan and tuck it inside some foil to keep warm.
Add onion to pan; saute 2 minutes or until tender, stirring constantly. Add cider and broth; bring to a boil, scraping pan to loosen any browned bits. Cook until broth mixture is reduced to 1/2 cup (about 5 minutes). Stir in cooked bacon; serve sauce over chicken.
Tips:
If preparing this recipe as GLUTEN FREE, just make sure you are using brands of bacon and chicken broth that are designated as GF.
Nutrition:
Nutritional Information per serving (Serving Size: 1 chicken breast half & about 2 tablespoons sauce)
Calories 269, Fat 7.2g (sat 2.3g, mono 2.8g, poly 1g), Protein 41g, Carbohydrates 7g, Fiber .2g, Cholesterol 106mg, Iron 1.3mg, Sodium 412mg, Calcium 22mg
Weight Watchers POINTS per serving:  SmartPoints: 4, Points Plus: 6 Old Points Program: 6
Disclosure:  This post contains Amazon affiliate links.