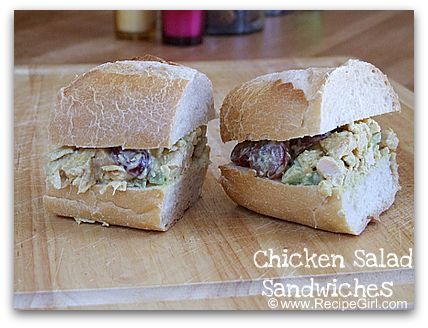 CHICKEN SALAD SANDWICHES
www.RecipeGirl.com
2 cups chopped cooked chicken
1 cup seedless grapes, cut into halves
½ cup chopped celery
½ cup slivered almonds or chopped cashews
¾ cup mayonnaise
1½ to 2 tsp curry powder
2 tsp soy sauce
2 tsp fresh lemon juice
Four 5 to 6-inch baguettes, French bread or rolls, cut lengthwise into halves
1. Combine chicken, grapes, celery, almonds and water chestnuts in a bowl and mix well.
2. In a separate bowl, mix mayo, curry, soy sauce and lemon juice in a bowl and stir into the chicken mixture a little at a time until you reach desired creaminess. Chill, covered, for 2 hours or longer. Serve chicken salad on bread.
Servings: 4
Cooking Tips
*If you don't already have some cooked chicken, marinate 2 chicken breasts in the refrigerator in a mixture of olive oil, lemon juice, garlic, salt and pepper for 1 hour or longer. Bake at 400 degrees for 30 minutes. Cool slightly, chop and add to the salad.
**Use light mayonnaise if you'd like to lighten up this recipe.
Recipe Source: California Sol Food: Casual Cooking from the Junior League of San Diego
PRINT THIS RECIPE using your browser's 'print' function. It's automatically formatted to print recipe & picture only.
RATE THIS RECIPE[ratings]
Made these and took them to an outdoor summer evening concert. They were fabulous!
-San Diego, CA