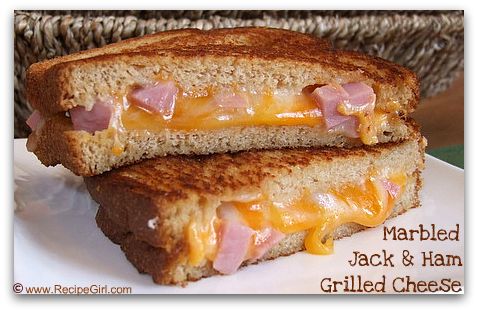 MARBLED JACK & HAM GRILLED CHEESE
www.RecipeGirl.com
Note: This is a very simple grilled cheese recipe that you don't need a recipe for, but since my little one proclaimed it The Ultimate Grilled Cheese, I simply had to include it.
soft wheat bread (or any other bread)
soft butter
several sliced of Marbled Jack cheese
slice of ham, cut into chunks
1. Butter both slices of bread. Place one slice butter-side-down in medium-heated skillet. Layer cheese, ham chunks and more cheese. Top with 2nd slice of bread, butter-side-up.
2. Heat sandwich until golden brown, then flip and do the same on the other side.
Cooking Tips:
The cheese will melt more quickly if you place a lid on your skillet.
PRINT THIS RECIPE using your browser's 'print' function. It's automatically formatted to print recipe & picture only.
RATE THIS RECIPE[ratings]