In-Your-Face Banana Bread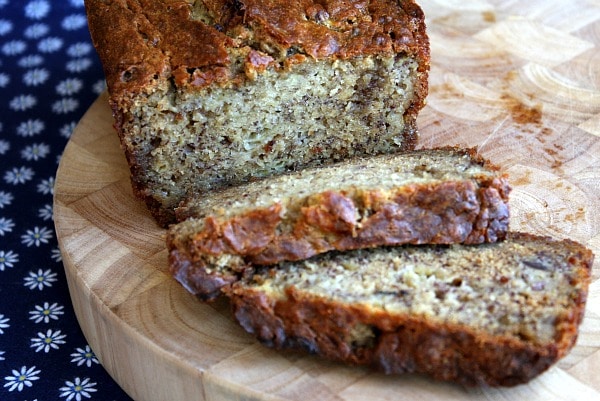 Yield: 1 loaf
Prep Time: 15 min
Cook Time: 60 min
In- Your- Face Banana Bread
If you're looking for a moist, dense banana bread that is full of banana flavor, this is it. Our whole family really enjoys this one.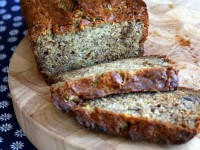 Ingredients:
2 cups all-purpose flour
1 teaspoon baking soda
1/4 teaspoon salt
1/2 cup butter, softened
3/4 cup (packed) brown sugar
2 large eggs, beaten
2 1/3 cups mashed over-ripe bananas (about 5 bananas)
Directions:
1. Preheat oven to 350°F. Lightly grease 9x5-inch loaf pan.
2. In a large bowl, whisk together flour, soda and salt; set aside.
3. In a separate bowl, cream together butter and brown sugar. Stir in eggs and mashed bananas until well blended.
4. Stir banana mixture into flour mixture; stir just to moisten.
5. Pour batter into prepared loaf pan. Bake 60- 65 minutes, or until toothpick inserted in center of loaf comes out clean.
6. Allow bread to cool in pan for 10 minutes, then turn out onto a wire rack to cool completely.
Tips:
*This is a banana bread recipe that is full of banana flavor. Don't skimp on the bananas though- you really do need 2 1/3 cups or it won't be any more special than an average banana bread.
*You can add a little vanilla extract or cinnamon if you'd like.
*This bread tastes best the next day.
7 Responses to "In-Your-Face Banana Bread"
Leave a Comment