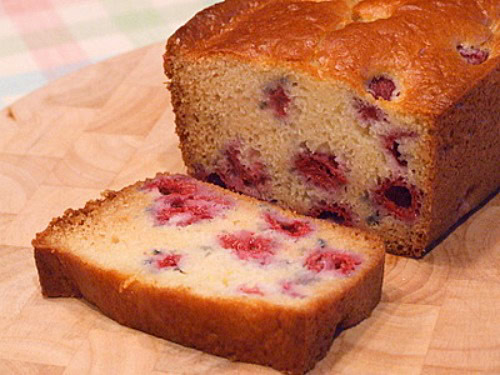 Yield: 12 servings (1 loaf)
Prep Time: 15 min
Cook Time: 50 min
Raspberry- Lemon Loaf
I eat this and I just can't believe it's low fat. It's incredibly moist (must be the yogurt?), and everyone loves it.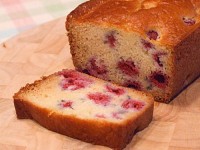 Ingredients:
1 3/4 cups all-purpose flour
1/2 cup granulated white sugar
2 teaspoons baking powder
1 teaspoon baking soda
1/2 teaspoon salt
1 cup low-fat, lemon- flavored yogurt
1/4 cup vegetable or canola oil
1 large egg
2 large egg whites
1 teaspoon finely grated lemon zest
1 cup fresh raspberries (or frozen)
Directions:
1. Preheat oven to 350°F. Spray a 9×5-inch loaf pan with non-stick spray and set aside.
2. In a large bowl, whisk together flour, sugar, baking powder, baking soda and salt. Set aside.
3. In a medium bowl, whisk together yogurt, oil, egg, egg whites, and lemon zest. Add wet ingredients to flour mixture and stir just until moistened. Gently fold in raspberries.
4. Pour batter into prepared pan and bake for 50 minutes, or until a toothpick inserted in center of loaf comes out clean. Cool loaf in pan for 10 minutes. Remove from pan and let cool completely before slicing.
Tips:
*If the loaf begins to brown during baking, cover the loaf lightly with a piece of foil until finished. This will prevent it from darkening too much.
Nutritional Information per serving:
Serving size: 1/12th of the loaf
Calories per serving: 170
Fat per serving: 5.5g
Saturated Fat per serving: .63g
Sugar per serving: 8.91g
Fiber per serving: 1.18g
Protein per serving: 4g
Cholesterol per serving: 18.5mg
Carbohydrates per serving: 26.4g
WW POINTS per serving:
Points Plus Program: 5 Old Points Program: 3.5
Leave a Comment