Yield: Servings: 10
Prep Time: 20 min
Total Time: 20 min
Apple- Bacon Salad
Don't be afraid of the garlic messing with the flavor of the apples... you'll be pleasantly surprised. This is a delicious salad recipe!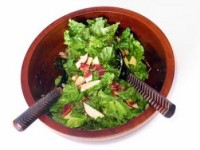 Ingredients:
SALAD:
1/2 pound turkey bacon, cooked 'till crisp
1 bunch green or red leaf lettuce
1 clove garlic (large)
3 red delicious apples- skin on, sliced
1 large lemon
croutons, optional
DRESSING:
1/3 cup fresh Parmesan, grated
1/4 cup olive oil
1/2 teaspoon dry mustard
1/4 teaspoon freshly ground pepper
Directions:
1. Mix together dressing ingredients in lidded jar or tupperware bowl. Shake well & refrigerate.
2. Cut garlic clove in half and rub the inside of the salad bowl. Place lettuce and apple slices in bowl. Juice the lemon and pour over the top of the salad/apple mix. Crumble bacon on top.
3. Toss with chilled dressing. Croutons are optional.
Nutritional Information per serving:
Serving size: 1/10th of the salad
Calories per serving: 145
Fat per serving: 11g
Saturated Fat per serving: 2.5g
Sugar per serving: 4.5g
Fiber per serving: 1.5g
Protein per serving: 5g
Cholesterol per serving: 23mg
Carbohydrates per serving: 8g
WW POINTS per serving:
Points Plus Program: 4 Old Points Program: 4
5 Responses to "Apple- Bacon Salad"
Leave a Comment